Zimbabwe election: Zanu-PF has most seats, incomplete results show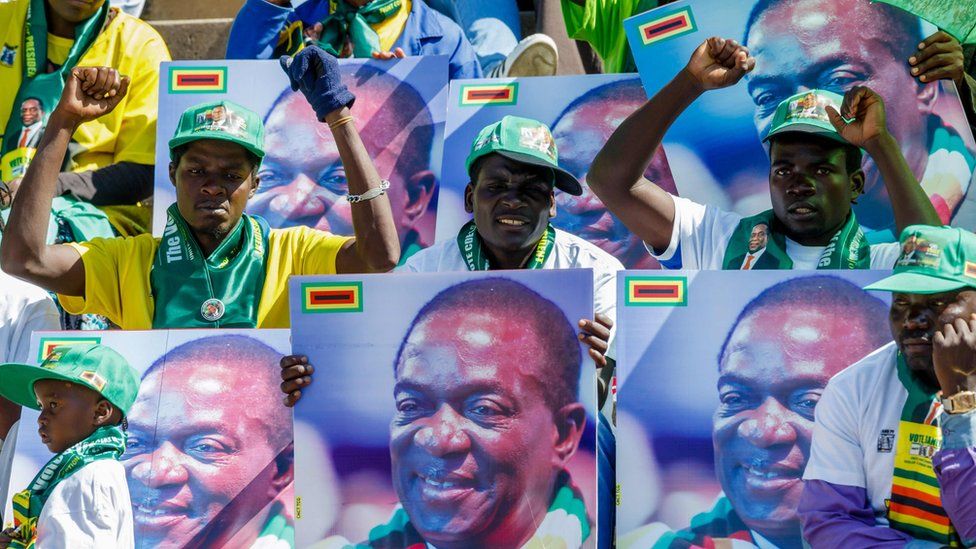 Zimbabwe's ruling Zanu-PF party has won the most seats in parliament, according to incomplete official results.
President Emmerson Mnangagwa's party is poised to win a substantial parliamentary majority in Monday's poll - the first elections since long-serving ruler Robert Mugabe was ousted.
The result of the presidential vote is not yet known.
Meanwhile, clashes have broken out between supporters of the opposition MDC Alliance and police in Harare.
Water cannon and tear gas were deployed as crowds began burning tyres in the centre of the capital city.
The MDC Alliance says the vote has been rigged, and that its candidate Nelson Chamisa won the election.
President Mnangagwa has urged patience and calm, but European Union election monitors have questioned why it is taking so long to declare the presidential result.
At this crucial time, I call on everyone to desist from provocative declarations and statements. We must all demonstrate patience and maturity, and act in a way that puts our people and their safety first. Now is the time for responsibility and above all, peace

— President of Zimbabwe (@edmnangagwa) August 1, 2018
What results have been declared?
The Zimbabwe Electoral Commission (Zec) has announced 122 seats for Zanu-PF so far, and 53 for MDC Alliance, ZBC state media reported. There are 210 seats in the National Assembly's lower house.
More than five million people were registered to vote - with a high turnout of 70%.
State broadcaster ZBC had reported that the electoral commission would announce the presidential results at 12:30 local time (10:30 GMT), but only parliamentary results were read out.
The BBC's Shingai Nyoka reports that the announcement on the presidential poll was not made because representatives of some of the 23 candidates had failed to turn up to verify the results.
A presidential candidate needs more than 50% of the vote to win outright. Otherwise, a run-off election will be held on 8 September.
What are election observers saying?
The EU mission has criticised the delay in announcing the presidential results. Zec has until Saturday to do so.
It said it had observed several problems, including media bias, voter intimidation and mistrust in the electoral commission, adding that there was an "improved political climate, but un-level playing field and lack of trust".
This is the first time in 16 years that the government has allowed EU and US election monitors into the country.
The African Union mission has said the elections "took place in a very peaceful environment" and "were highly competitive".
It added that it could not confirm opposition parties' complaints of vote-buying, intimidation by the state and bias by traditional leaders.
A preliminary report by the Southern African Development Community (Sadc) observers said the elections were largely peaceful and conducted in accordance with the law.
Opposition splits show in votes
By Pumza Fihlani, BBC News, Harare
Watching the results trickling in from the Zimbabwe Electoral Commission (Zec) in the early hours, it became apparent that the ruling Zanu-PF would have a majority in parliament.
Races in some constituencies were so close that they could have gone to the opposition Movement for Democratic Change (MDC), had it not been split between Nelson Chamisa's MDC Alliance and Thokozani Khupe's MDC-T.
The MDC broke into factions after the death in February of its veteran leader Morgan Tsvangirai as his deputies battled over who his successor should be. In the polls that split showed. It is a lesson for the opposition that in future they should not lose sight of the bigger prize.
What are the parties saying?
Zimbabwe's main opposition has said Mr Chamisa won the presidential election, sparking street celebrations by supporters on Tuesday.
The MDC Alliance said the ruling Zanu-PF party was attempting to rig the vote to allow President Mnangagwa to win, and the delay in releasing official results was unacceptable.
MDC Alliance's Tendai Biti said there was a clear attempt by Zanu-PF to interfere "with the people's will" and warned the party not to "plunge Zimbabwe into chaos".
However, Douglas Mwonzora, a top MDC Alliance official, told the BBC's Andrew Harding that the endorsement on Sunday of their candidate by Mr Mugabe had cost the party votes. He also alleged that the ruling party had bribed voters in rural areas.
A Zanu-PF spokesman dismissed the opposition's allegations of interference, telling the BBC he had "no clue" what Mr Biti was talking about.
More on post-Mugabe Zimbabwe
Emmerson Mnangagwa, Zanu-PF
Known as "the crocodile" because of his political shrewdness - his party faction is known as "Lacoste"
Accused of masterminding attacks on opposition supporters after the 2008 election
Thought to be 75 years old, he promises to deliver jobs and is seen as open to economic reforms
Survived several alleged assassination attempts, blamed on supporters of ex-President Mugabe.
Nelson Chamisa, MDC Alliance
His skull was fractured when beaten up by state security agents in 2007
Became an MP at 25, a cabinet minister at 31 and could become the youngest president at 40
A recently qualified pastor, he has been using the hashtag #GodIsInIt for his campaign
Has promised to rebuild the country's devastated economy, but has been criticised for making extravagant promises - such as the introduction of a high-speed bullet train and bringing the Olympics to Zimbabwe.