DR Congo ex-warlord Jean-Pierre Bemba welcomed home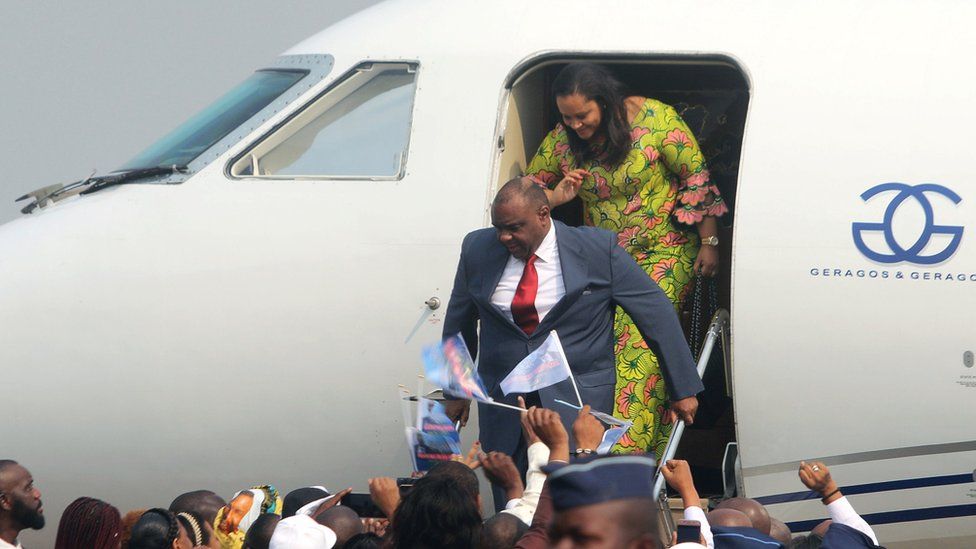 Former Democratic Republic of Congo Vice-President Jean-Pierre Bemba has arrived home in the capital, Kinshasa, after 11 years in exile and prison.
The ex-rebel leader had a war crimes conviction by the International Criminal Court overturned in June.
Crowds of his supporters in T-shirts, hats and scarves bearing his face met him at the airport.
He has declared his intention to contest the long-delayed presidential election in December.
But President Joseph Kabila's government says he is not eligible because of a corruption conviction.
Mr Bemba is currently appealing against that conviction, which relates to witness tampering during his trial at The Hague. No date has been fixed for the verdict.
He told the BBC that the government did "not have the right" to decide who could be a candidate in the election.
Mr Bemba landed at Kinshasa airport on a private jet from Belgium after a decade trying to clear his name.
Police fired tear gas at his supporters to clear the streets for the presidential hopeful's vehicle.
Correspondents say he has a loyal base in DR Congo and an invalidation of his candidacy could anger supporters in the unstable African country.
He lost presidential elections to Mr Kabila in 2006 and was accused of unleashing violence in the capital after the vote - charges he has always denied.
He was then accused of treason after his bodyguards and the army clashed in Kinshasa in March 2007, prompting him to flee the country.
His case at the International Criminal Court (ICC) related to crimes committed by his fighters, when he was leader of a rebel group, committed in the neighbouring Central African Republic (CAR) from 2002 to 2003.
This year's election is meant to choose a successor to Mr Kabila, whose second and final term in office ended two years ago.
The constitution bars him from running again, but his intentions are unclear. The deadline for people to register their candidacy is 8 August.
Who is Jean-Pierre Bemba?
A well-connected businessman and the son of prominent Congolese businessman Bemba Saolona
1998: Helped by Uganda to form MLC rebel group in Democratic Republic of Congo
2003: Becomes vice-president under peace deal
2006: Loses run-off election to President Joseph Kabila but gets most votes in western DR Congo, including Kinshasa
2007: Flees to Belgium after clashes in Kinshasa
2008: Arrested in Brussels and handed over to ICC
2010: Trial begins
2016: Found guilty of war crimes and crimes against humanity
2018: Conviction overturned on appeal.
Mr Bemba was arrested in Belgium in 2008. He was accused of failing to stop his rebel forces from killing and raping people in CAR when he led the MLC rebel group.
He was convicted in 2016, and sentenced to 18 years in prison after the first ICC trial to focus on sexual violence as a weapon of war.