Zimbabwe election: Opposition calls poll results a 'coup'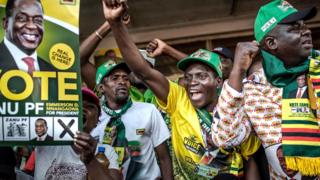 Zimbabwe's opposition leader has said President Emmerson Mnangagwa's election victory is a "coup against [the people's] will".
Nelson Chamisa repeated his claim that the results announced late on Thursday night were fake, and said he had won Monday's presidential poll.
Responding, Mr Mnangagwa called for peace but said people were free to challenge the result in court.
This was the first election since long-term leader Robert Mugabe was ousted.
Earlier, in a tweet, the president urged Zimbabweans to unite to create "a new beginning" after a vote that was intended to set Zimbabwe on a new path following years of repressive rule.
What is Nelson Chamisa saying?
Addressing journalists on Friday afternoon, Mr Chamisa called on his rival not to accept "corrupted results". He added that his MDC Alliance would pursue all legal and constitutional avenues to challenge the official result.
The opposition leader said he had evidence that ballot boxes were being transported in open trucks allowing them to be tampered with.
He questioned the discrepancies in the numbers of votes tallied in the parliamentary elections compared with the presidential poll. Both elections took place at the same time.
Mr Chamisa also said that his election agent was not allowed to verify the results on Thursday.
What is Emmerson Mnangagwa's response?
An hour after Mr Chamisa's press conference ended, the president spoke to journalists at state house.
He did not address the opposition leader's specific allegations, but said that under the country's constitution people were "free... to approach the courts".
Addressing Mr Chamisa directly, the president said: "You have a crucial role to play in Zimbabwe's present and in its unfolding future."
"Let us call for peace and unity in our land," he added.
He said he would be the president of all Zimbabweans, "for those who voted for me and for those who did not".
A test for the new democracy
By Pumza Fihlani, BBC News, Harare
Opposition leader Nelson Chamisa struck a defiant and resolute mood. But his press conference almost did not happen. It was delayed by nearly an hour after riot police stormed the hotel premises and tried to disperse journalists.
Pounding on their shields with their batons they screamed "get out, take your things" as some journalists scurried for cover while others kept their cameras rolling. If something was going to go wrong here, the world would see it happening.
Under Robert Mugabe's rule, state security was known to target the media, there was no freedom. And on Friday afternoon - on a day where you'd expect President Mnangagwa's government to be celebrating victory and ushering in a new Zimbabwe - it seemed the old Zimbabwe was still very much alive.
Ironically just this morning the police had driven through town announcing "Zimbabwe is open for business". So which is it? A democracy, or the same old Zimbabwe?
What is the situation in Harare?
The authorities have apologised for the riot police's behaviour at the MDC Alliance press conference, saying they thought an unlawful public gathering was being organised.
President Mnangagwa tweeted that what the police tried to do had "no place in our society".
Police have been patrolling the streets of city after clashes between protesters and police on Wednesday left six people dead.
A police vehicle with a loudspeaker was broadcasting the message: "Zimbabwe is open for business. We are here to protect you. Feel free to walk and open your business. All is well, fear not."
The city, which is seen as an opposition stronghold, is quieter than normal as people are digesting the outcome, correspondents say.
But there were celebrations in one part of Harare. The president's supporters in the suburb of Mbare took to the streets to welcome the news.
How close was the result?
Mr Mnangagwa avoided a run-off by just 36,464 votes out of more than 4.8 million cast.
Official results show he took 50.8% of the vote to Mr Chamisa's 44.3%. The 21 other candidates took up the remainder.
At the last election, Mr Mugabe won 61% of the vote, with the opposition's main candidate, the late Morgan Tsvangirai, winning 34%.
The Zimbabwe Electoral Commission (Zec) finished announcing the presidential election results in the early hours of Friday morning, after days of waiting.
Zec acknowledged that the wait had caused anxiety, and international observers had earlier urged the commission to speed up the announcement. Under the constitution, the commission had until Saturday to declare the result.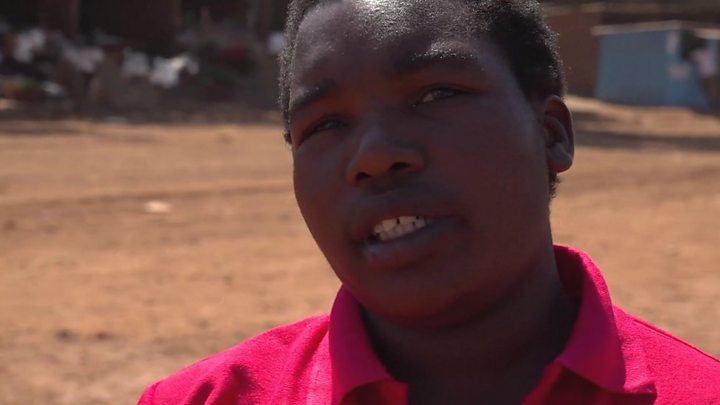 The results of the parliamentary election were announced earlier in the week. They gave Mr Mnangagwa's Zanu-PF 144 seats; the MDC Alliance, which is made up of seven parties, 64 seats, and one seat to the National Patriotic Front, formed by Mugabe loyalists.
Although Zanu-PF won by a landslide, its majority has shrunk since the 2013 election when it obtained 160 seats and the MDC 49.
A respected Zimbabwean independent monitoring group has added weight to the official result.
The Zimbabwe Electoral Support Network said, according to its sample survey, that Mr Mnangagwa had probably won enough support to avoid a run-off, though it left room for some doubt.
Mr Mnangagwa has vowed to revitalise Zimbabwe's tattered economy after decades of international isolation under Mr Mugabe.
The country has suffered from rampant inflation and high levels of poverty. The unemployment rate last year was as high as 90%, according to Zimbabwe's biggest trade union.
What do other countries think?
Neighbouring South Africa's President Cyril Ramaphosa has congratulated the president on his victory, and has appealed to political leaders and the Zimbabwean people to accept the outcome of the election.
China, a key ally, endorsed the results and urged "parties to put the interest of the country and the people first and respect the choice made by the Zimbabwean people," its foreign affairs spokesman Geng Shuang said.
European Union observers said they had found an "un-level playing field and lack of trust" in the election process.
"There were a lot of shortcomings in the campaign and [on] election day," EU mission chief Elmar Brok told BBC Newsday.
Who is the president-elect?
Emmerson Mnangagwa is known as "the crocodile" because of his political shrewdness - his Zanu-PF party faction is known as "Lacoste"
Accused of masterminding attacks on opposition supporters after the 2008 election
Thought to be 75 years old, he promises to deliver jobs and is seen as open to economic reforms
Survived several alleged assassination attempts, blamed on supporters of ex-President Mugabe.