Is South Africa's land reform an election gimmick?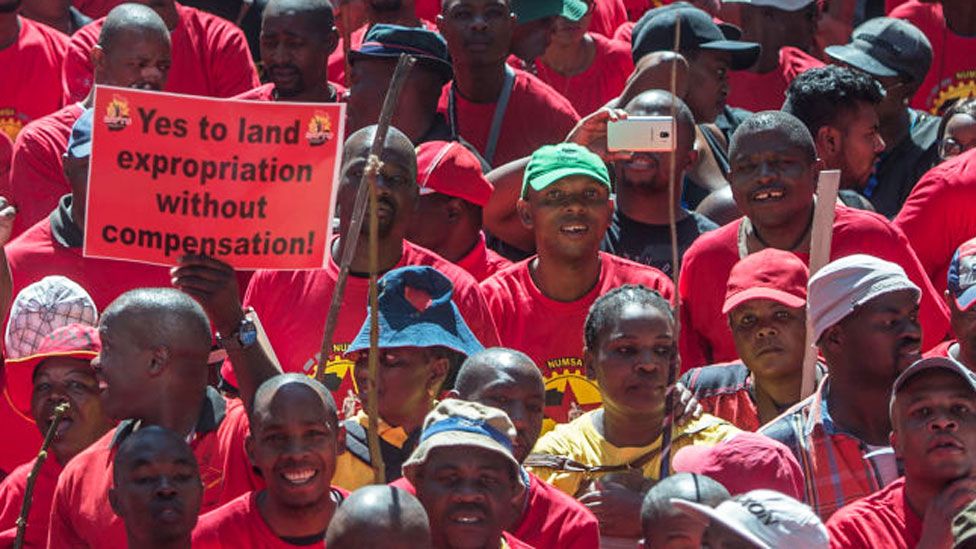 Shockwaves are still being felt in South Africa after President Cyril Ramaphosa's controversial announcement that the country's constitution is to be changed to explicitly allow for the expropriation of land without compensation.
Markets reacted negatively and the currency, the rand, has continued to plummet over the last week.
This is because the plan has invited comparisons with the chaotic land reform programme across the Limpopo River in neighbouring Zimbabwe, which saw scenes of violent evictions of mainly white farmers.
But the move will be welcomed by those tired of waiting for reforms promised when white-minority rule ended in South Africa in 1994.
Nearly a quarter of a century on, the racial differences are still stark, nowhere more so than in the area of land ownership.
White people, who make up just 9% of the population, own 72% of the farmland that is held by individuals, government figures show.
The redistribution of land was a fundamental principle of the governing African National Congress (ANC) during its struggle against apartheid, which enshrined racial discrimination in law.
'This country must be African'
The party has found it impossible to ignore the calls to go beyond its willing-seller-willing-buyer approach to land reform.
And Mr Ramaphosa appears to have bypassed a parliamentary consultation when he said in a television address that the constitution should be amended.
Section 25 of the constitution deals with property issues and there has long been a debate about whether it allowed the state to take land without money being paid for it.
A parliamentary committee has been looking into changes to the constitution to allow expropriation in the public interest.
Its nationwide televised public hearings have been a show of emotion by people of all racial groups, regardless of class or political affiliation.
During a session held this week in Cape Town's Goodwood suburb one woman representing the South African Homeless People's Association said: "Twenty-four years of liberal democracy [has] increased poverty.
"The masses are worse off because of the willing-buyer-willing-seller principle."
Another person who gave testimony said: "We are going to take the land, even if it means we're going back to the dark ages. This country must be African. We are African."
A man wearing a T-shirt of the right-wing Freedom Front Plus party said that his Afrikaner people had been farming in the Western Cape for the past 300 years.
"When my forefathers came, they found no-one but the Khoi and the San. My people got what they have in this country not by theft, not by genocide, but by fair means."
Some land owners threatened war to defend their farms and their opponents vowed to respond in kind.
South Africa's land problem
The Natives Land Act of 1913 restricted black people from buying or renting land in "white South Africa", leading to the forced removals of black people
After the end of apartheid in 1994, the ANC government said it wanted to return 30% of this land to its previous owners by 2014
It is estimated that 10% of commercial farmland has been redistributed.
So why has the president gone ahead even before the committee has concluded its work?
Observers point to a small opposition party - the radical Economic Freedom Fighters (EFF) led by the outspoken Julius Malema.
The party is only five years old but it has been a thorn in the side of the 106-year-old liberation movement, the ANC. It is the EFF which has been driving the agenda on land reform.
When I once asked its leader whether this was an election gimmick, Mr Malema said, "No.
"We took a decision when we were formed in 2013 that our first non-negotiable cardinal pillar is expropriation of land without compensation. So we were not talking elections, we were talking why we formed the EFF."
Could it be a case of the tail wagging the dog ahead of elections next year?
When the pro-business and pragmatic Mr Ramaphosa became the leader of the ANC last December his commitment to a radical approach to land reform seemed more equivocal.
He spoke about expropriation without compensation, but with the proviso that it should not have a negative impact on the economy. That was seen by some as a tactic that could allow it to be put off.
But eight months on he is under pressure to pursue a much more radical economic policy from hardliners who are seen as supporters of his predecessor Jacob Zuma.
When the ANC came into power it said it would transfer 30% of land in the first five years of being in office. But so far only about 10% has been transferred.
Land reform expert Ruth Hall describes the ANC's commitment to land redistribution as lacklustre.
"The budget for land reform has never exceeded 1%. It's clearly been undervalued as an area of government programming.
"Right now the land reform budget is sitting at 0.4% of the national budget.
"The pace of redistribution has been slowing down since 2007, the height of land reform."
'We will not allow anarchy'
Defending itself the ANC said the process of willing-buyer willing-seller had not worked.
Land owners, particularly white famers, are accused of increasing the price of the land each time the government tried to buy it for redistribution or indeed restitution.
"It has become patently clear that our people want the constitution to be more explicit about expropriation of land without compensation, as demonstrated in the public hearings," Mr Ramaphosa said in his TV address.
"The intention of this proposed amendment is to promote redress, advance economic development, increase agricultural production and food security."
But the concern is that South Africa's poor majority could have their hopes raised by objectives that are almost certainly unattainable.
There is no evidence to show that most Zimbabweans became better off after the land grabs we saw in the early 2000s.
Between 1890 and 1980 black people were moved to less fertile areas during the colonial era
In 2000, 20 years after independence, 4,000 mainly white farmers owned 70% of prime land, many of which were then occupied by war veterans
Between 2000 and 2009, agricultural revenue declined by $12bn, according to the commercial farmers' union
The value food exports has fallen since 2000, whereas food imports have grown significantly, according to the UN
But there has been a recovery in tobacco production in the last decade, its data shows.
If anything, millions of them left their country seeking better economic opportunities across the border here in South Africa because of the hardships they faced as a result of the anarchy created by the land invasions.
In response, Mr Ramaphosa has sought to reassure the naysayers.
"We will not allow land grabs or anarchy. I am saying we will handle this challenge. Once we addressed and resolved the land question, the country will take off," he said.
"I have full confidence that if we could negotiate the death of apartheid, we will be able to find a solution that will put the land issue to bed so that this country can really unleash its power."