Tendai Biti: Zambia denies Zimbabwe politician asylum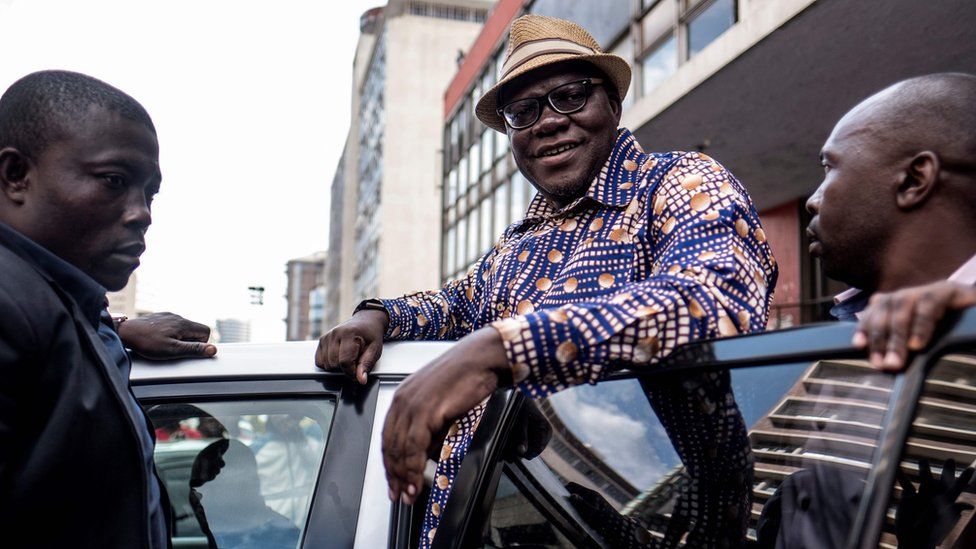 A senior member of Zimbabwe's opposition MDC Alliance, Tendai Biti, has been denied asylum by neighbouring Zambia.
Zimbabwe's police accuse Mr Biti of inciting violence following last month's election.
Zambian Foreign Minister Joe Malanji told the BBC that Mr Biti's grounds for asylum were weak.
He was being kept in "safe custody" until he returned to Zimbabwe, the minister said.
Earlier, his lawyer said his client had been detained at the border with Zambia by the Zimbabwean authorities.
An alleged Zambian police report circulating on social media states that Zimbabwean officials tried to detain Mr Biti after he had crossed into Zambia.
The opposition politician shouted out for help and about 300 Zimbabwean travellers blocked their government's security officers from making an arrest, the report says.
Zambian officials then intervened and threatened to arrest the Zimbabwean officers for "executing their mandate on Zambian soil".
Zambia's foreign minister told the BBC that Mr Biti's grounds for asylum were "not meritorious".
There was great optimism that July's election would bring real change after the end of Robert Mugabe's 37-year rule last November.
But last week six people were killed after the military intervened to curb opposition protests in the capital, Harare.
Correspondents say there is a climate of fear in Zimbabwe, with some members of the opposition going into hiding.
The electoral commission declared that President Emmerson Mnangagwa won the poll but the MDC Alliance alleges it was rigged.
The opposition says its candidate, Nelson Chamisa, was the victor and the results were manipulated.
Mr Biti's arrest warrant, seen by the BBC, says he "unlawfully" announced that Mr Chamisa had won the presidential election.
He was the minister of finance in a unity government formed after disputed elections in 2008 - and is credited with helping stabilise the economy after years of hyperinflation.
The MDC Alliance has confirmed that it will challenge the presidential election result in court.
A party lawyer, Thabani Mpofu, was quoted by AFP news agency as saying the official outcome had been a "total negation of the will of the people".
Altogether the police are hunting for nine senior opposition officials in connection with post-election violence.