Central African Republic concert attack: Grenade survivor sings for peace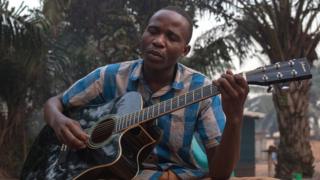 Emmanuel Ngallos and his band who sing for peace in the Central African Republic (CAR) came under attack at a concert last year, writes Brenna Daldorph.
"I'm the only survivor who actually saw the grenade," says Ngallos, who was on keyboards at the time looking out at the excited crowd packed into the small bar to see his band, Nouvelles Écritures.
It came flying through the air towards him, hit the speakers and bounced.
"When it rolled off the stage, it fell into a little hole. That's what saved me. I was hurt, but alive."
Muslims and Christians dancing together
That was 11 November 2017 - a perfect Saturday night for a party in the capital, Bangui - which unlike the rest of the country had not witnessed serious violence for more than a year.
The air had been thick with anticipation.
Band leader Ozaguin, one of the country's most popular musicians, was making a rare appearance in the volatile PK5 neighbourhood, notorious for numerous outbreaks of inter-religious violence between militia groups.
Muslims and Christians from different neighbourhoods had been dancing together in the bar, a rare sight.
Ngallos was lucky to survive the explosion, which killed four people and injured more than 20 others.
It is still not clear who was behind the grenade attack but rumours spread like wildfire, triggering reprisal attacks.
'Condolences can't raise the dead'
Several Muslim people were killed in retaliation, including a teenager who was dragged off his motorcycle by an angry mob.
The interior minister later said the attackers had probably wanted to whip up tensions between communities.
Ngallos, meanwhile, lay in his hospital bed consumed with horror by the unfolding events.
"I had expected a party and a good time, but it turned into the opposite," he said at the time.
"That's how terrorists work - they replace joy with sadness."
As chaos raged in the capital, Ngallos had a series of important visitors including the interior minister, the European Union ambassador plus a senior official from the UN's peacekeeping force in CAR, Minusca.
But these visits just made him angry. Like many Central Africans, Ngallos blames the authorities for letting the conflict drag on.
"The government just comes to give their condolences," he says now, looking back. "Condolences don't bring people back to life."
Shrapnel wounds in his chest, stomach and back as well as the lacerations on his legs confined him to hospital for days on end.
To pass the slow, painful hours in between surgery he began dreaming up songs with messages about peace. Whispering melodies to himself, he would improvise lyrics as he went along.
"A lot of blood has spilled in our beautiful country," he would quietly sing to himself, "we want peace."
'The man who came back to life'
As the days passed, calm slowly returned to the capital. The streets bustled with market stalls, motorcycle taxis and pedestrians again.
On a hot, sunny Thursday a week after the grenade attack, the horror seemed far away.
That day there was a party atmosphere in central Bangui where people gathered for a beer festival, talking and drinking.
Ngallos' band members prepared to go on stage for the first time since the attack.
Roots of a conflict:
President François Bozizé overthrown in 2013 by "Seleka" rebels from mostly Muslim areas in the north who complain of being marginalised
Bozizé supporters, from mostly Christian south, set up "anti-balaka" militias
Violence takes religious turn in the mainly Christian nation, with mass displacements, reprisal attacks and ethnic cleansing
Half the population is in need of humanitarian assistance
Seleka handed power to a transitional government in 2014 under pressure but months of violence followed and the country was effectively partitioned, in spite of the presence of UN and French troops
The government holds little power outside the capital. More than a dozen militias control about 80% of the countryside
Efforts to broker a peace deal between the rebel groups are being led by the African Union
Russia has been leading its own peace process, organising a meeting with a numbers rebel leaders in Sudan in August.
Read more: Central African Republic profile
Although Ngallos was too weak to play, as he was still using crutches just a few days after leaving hospital, he could not resist going along to watch.
A steady stream of friends and musicians greeted him with hugs and slaps on the back, calling him "le ressuscité" - the man who had come back to life.
Ngallos believes this whole experience was part of his fate. "Nothing happens by chance," he says.
"I have no hate for the Muslim community or anyone else. God knew something like this would happen and I would experience a shock."
'Our choice and passion'
Seven months after November's grenade attack, the Nouvelles Écritures set off on a peace tour of 14 different cities in CAR.
A UN-backed initiative to bring rival communities together - each performance has taken place under the watchful eye of by peacekeepers.
One of the band's newest songs, called Carrefour de la Paix after the name of the bar where the grenade attack happened, tells the story of the ordeal.
Translated from the original Sango, the lyrics include: "I gathered my musicians and we went to play. There was a good vibe, the people there could really dance.
"Suddenly, I heard a noise. I thought the fuse box had blown. When I turned around, I saw everyone was on the ground. The plastic chairs were broken. That day, I cried so much. I thought, it is my fault that the people there were injured and lost their lives."
Ngallos says it was important to commit those difficult memories to song.
"Even after I was injured in the grenade blast, we didn't want to stop making music.
"It's our career, our choice, our passion. We'd rather be martyrs for peace in the Central African Republic than stop," he adds.
The trauma is something Ngallos is trying to come to terms with.
Find out more about CAR:
"Whenever someone hits something or slams a door, I hear the sound of the grenade in my head.
"At night, I can't sleep. When I close my eyes it's like I'm watching a movie of what happened."
The CAR is still locked in conflict, with 14 active armed groups fighting over land and resources.
The band had to cancel a scheduled appearance in the town of Bambari when clashes broke out there just hours ahead of the show.
The second half of the tour was meant to take place this summer but was suspended after a new outbreak of fighting across the country.
Ngallos says that despite everything he still thinks there is hope for peace.
In the meantime he'll keep playing. And, one day, he vows, he will finish the tour.