President Trump: Is the South African government seizing farmers' land?
By Reality Check team
BBC News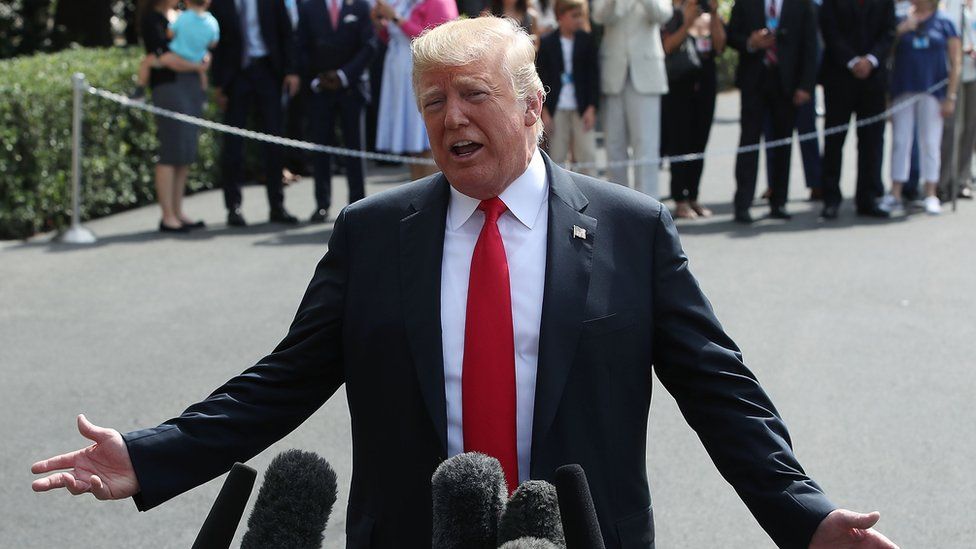 Claim: The South African government is seizing land from farmers.
Verdict: It's not currently being seized, but the government has said it intends to introduce measures that would lead to the redistribution of land without compensation.
President Trump said on Twitter that he had directed his Secretary of State Mike Pompeo to look into "land and farm seizures" and "the large-scale killing of farmers" in South Africa.
He appeared to reference a report on Fox News, including the quote "South African government is now seizing land from white farmers".
Mr Trump's message was rebutted by the South African government who tweeted in response a rejection of Mr Trump's perception that "seeks to divide our nation".
Is white farmers' land in South Africa being seized and is there "large-scale killing of farmers"?
The US president's words came at a significant time in South Africa, where the issue of land is high on the political agenda.
Most of the country's farms and agricultural holdings are owned by white farmers - 72% according to government statistics. White people make up 9% of the population.
While the land "seizure" currently being discussed is not happening right now, the South African government has proposed changing its constitution making the redistribution of land - without compensating the owners - a strong possibility.
The pattern of land distribution in South Africa can be traced back to the colonial era. The Natives Land Act of 1913 restricted black people from buying or renting land in "white South Africa", leading to the forced removals of black people.
In 1994, after the collapse of apartheid, the ANC, South Africa's first democratically elected government, committed to redistributing 30% of white-owned agricultural land to black farmers by 2014. But so far only 10% has been transferred.
The government has followed a "willing-seller, willing-buyer" model where the government buys white-owned farms for redistribution. But the ANC accused land owners of inflating farm prices to a point where it made it difficult for the government to afford the land for redistribution purposes.
In 2016, parliament approved a bill which allows the government to expropriate land when it is in the public interest. This would involve paying the owner a value agreed by a government adjudicator.
Under pressure to keep the party's promises of land reform, ANC leader and South African President Cyril Ramaphosa announced plans in July this year to amend the constitution, making it possible for the state to take ownership of land without paying for it.
Mr Trump's tweet comes at a particularly sensitive time. This week Mr Ramaphosa spoke in parliament outlining the significance of the reforms.
A programme of land redistribution is required to heal the historical "festering wound" of land dispossession, he said.
Land owners would be able to challenge any government moves to take land without compensation in court.
South African farmers themselves, both white and non-white have expressed growing concerns for their safety in the current political climate, many taking extra security measures to protect themselves and their employees.
In the year ending April 2017, police recorded 19,016 murders in South Africa.
Each year there are dozens of murders on the country's farms and hundreds of attacks are reported.
According to South Africa's police service, 74 people were murdered on farms between April 2016 and March 2017, up from 58 in the previous year.
These figures count murdered farmers, farm workers and visitors to farms - irrespective of race.
AgriSA, an association of agricultural organisations, also records murders and attacks on farms. It found that in the year to April 2018, there were 47 murders, with their data showing a decline from a high in 1998, when 153 people were killed.
AgriSA says its data includes "crimes against commercial farmers, but also smallholding owners involved in a farming activity, emerging farmers, farm workers, their family members and visitors".
Although farm murders have declined, there has been an increase in the number of attacks on farms in the past two years.
AgriSA say this increase is "extremely worrying" and suggests there remains a serious threat to the agricultural community.
There is no reliable data to support a claim that farmers are more likely to be murdered than other South African citizens.