Uganda's Bobi Wine crisis: The president and the pop star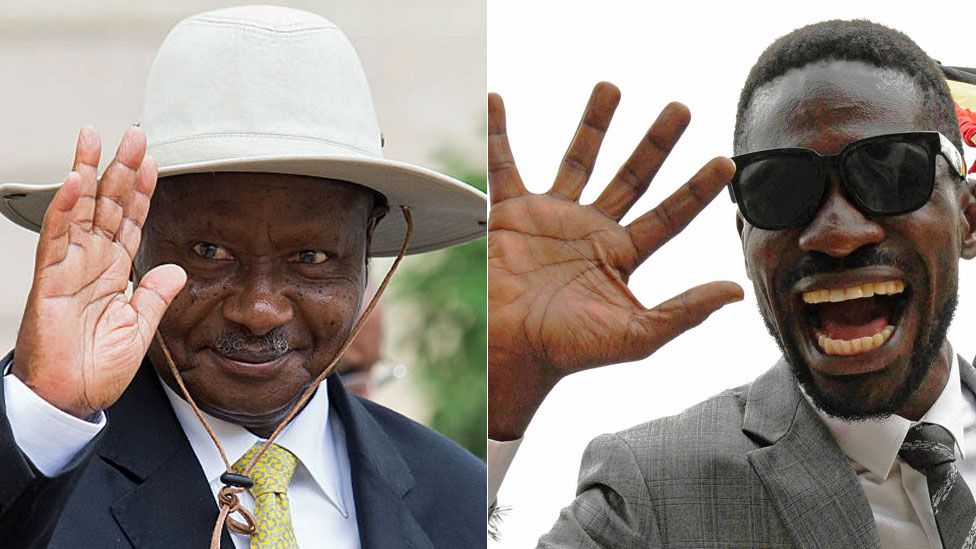 Uganda's President Yoweri Museveni seems to be worried about the popularity of musician-turned-politician Bobi Wine.
Not long after I arrive at the recording studio of the Afrobeats star, a pick-up truck with soldiers pulls up.
Bobi Wine was charged this week with treason - and tension is high in Kamwokya, a slum where he grew up in the capital, Kampala.
But is the 36-year-old, affectionately known as the "ghetto president", really a threat to Mr Museveni's three-decade rule?
The show of force indicates the authorities are taking no chances.
The officers file past a wall mural of Bobi Wine as they march into Kamwokya, past a small shop belonging to 26-year-old Idd Kibirige.
He sells everything from music downloads, DVDs, phone chargers and power banks, things any self-respecting millennial would not be without.
Outside speakers blare out Bobi Wine's biggest hits.
"We're playing him because he is in prison," Mr Kibirige says.
Bobi Wine, whose real name is Robert Kyagulani, started his music career here more than 15 years ago.
When he recently turned to politics, he won a seat in parliament by a landslide in a June 2017 by-election.
Since then he has gone on to campaign for several parliamentary candidates who won seats from President Museveni's National Resistance Movement (NRM).
The tension in Kampala stems from a bitterly fought by-election in the north-western town of Arua earlier this month which saw Bobi Wine and the president campaign for rival candidates.
Bobi Wine's driver was found shot dead in a car. The police allege he was hit by a stray bullet as officers fought opposition crowds who were throwing stones at Mr Museveni's motorcade.
The facts are still disputed but the pop star is now charged with treason, alongside 32 others.
Born four years before Yoweri Museveni became president
Describes his music as "edutainment" - entertainment that educates
One of his earliest hits, Kadingo, was about personal hygiene
Even after becoming famous, kept his recording studio in Kamwokya slum
Nicknamed "the ghetto president"
He and his wife have backed education and sanitation projects
Became MP for Kyadondo East in June 2017
Led a campaign against a social media tax
Charged with treason August 2018.
Soldiers are accused of torturing him whilst in detention - a charge the authorities deny.
When he appeared in court, he was unable to walk or stand by himself.
Treason attracts the death penalty, although Uganda has not executed anyone since 2005. And they may not be convicted - veteran opposition leader Kizza Besigye has faced a treason charge and been freed, and is currently on bail following another charge of treason in 2016.
For many in Kamwokya, Bobi Wine's whirlwind political career, as well as his socially conscious music, are inspiring.
"We want him because now he is our voice," says Mr Kibirige, who started his business after failing to find a job despite having a degree.
"[We want] Bobi Wine to be the next president."
Uganda's politics today is not just about power but demographics and access to opportunities.
More than three-quarters of Uganda's 35.6 million people are below the age of 30.
Although data varies, youth unemployment is high. Some like the charity Action Aid puts it at 62% while the African Development Bank says it is 83%.
These people are Bobi Wine's support base.
President Museveni, 74, has not been watching from the sidelines. Despite championing a social media tax, he has used Facebook to reach out to young Ugandans and address their anger over Bobi Wine's detention.
In the process, he has angered some by referring to young people as "bazukulu", meaning grandchildren - further highlighting the gap in age and possibly perception of much of the electorate.
"Our unemployed youth are a problem but a good one given that we have already laid the basis for resolving unemployment," he wrote.
But Fred Muhumuza, an economist who used to work at Uganda's finance ministry, believes Mr Museveni is running out of time.
You cannot make a promise to 20-year-old and the make him wait 10 years, he says.
"At 30 if he has not seen the promise come true, he becomes jittery. [Young people] become nervous for all the right reasons," he adds.
'Every struggle has a cost'
The weakness of Uganda's opposition parties has also helped Bobi Wine's rise.
They have often been criticised for not working together and lacking strong ideas on how to govern.
In recent months the biggest of these, the Forum for Democratic Change (FDC), has been wracked by bitter and public infighting.
And some political commentators say Bobi Wine's emergence could spell the beginning of the end for Mr Besigye, who has been Uganda's most high-profile opposition figure for many years.
He has been the FDC's candidate against Mr Museveni in the last four elections - and some feel he needs to make way for others to challenge the 74-year-old president.
But Mr Besigye says to suggest that he feels threatened by Bobi Wine just creates divisions.
"[It's not about] Besigye and Museveni, Bobi Wine and Museveni or even Bobi Wine and Besigye," he told the BBC.
"This is the contestation of the people of Uganda for their liberation."
Mr Besigye, who has suffered harassment, arrests and months in detention over many years, has some advice for Bobi Wine.
"It has to be understood that a struggle has a cost. Every struggle has a cost and every liberation has a cost and that cost must be borne by some people. And I don't regret doing my small bit."
Despite the events of the last week, some in the ruling party are dismissive of Bobi Wine.
"If you want to gauge his support politically, let him stand for president. Otherwise the fact that people may sympathise does not mean they support you," says Moses Byaruhanga, the senior presidential adviser on political affairs.
And despite the hopes of Mr Kibirige and Bobi Wine's other supporters, the pop star has not declared any ambitions to run for president.
Ugandans will give you a list of other young charismatic opposition leaders whose political rise has been cut short, so there is no guarantee that Bobi Wine will survive this hurdle.
Nevertheless, his emergence as a potent political figure has highlighted how the next election in 2021 is likely to be fought and won - winning the hearts and minds of young, frustrated Ugandans.