Morocco: Arrests made in Khadija rape and torture case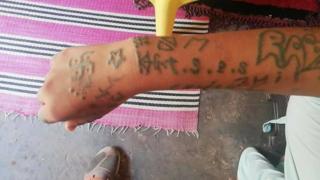 Police in Morocco have arrested 12 young men over allegations by a 17-year-old woman that she was brutally raped and tortured over a two-month period.
She described in a TV interview last week how she was abducted by a gang in June.
"I will never forgive them - they have destroyed me," she said.
The case caused outrage in Morocco and led to an online campaign to bring those responsible to justice.
A judge-led investigation is under way in the city of Beni Mellal - those arrested are aged between 18 and 27, an official told the AFP news agency.
The main suspect, 20, faces charges of rape, torture, kidnapping, making death threats and forming a gang. The others could face similar charges.
The young woman, Khadija, appeared on Moroccan station Chouf TV last week.
She showed scars, cigarette burns and tattoos on her body, which she said were inflicted on her by her captors.
"I tried to escape several times, but I was caught and beaten," she said. "They tortured me, they did not give me food or drink, and they did not even allow me to take a shower."
In response to the TV interview, thousands have signed an online petition calling for help for Khadija and the hashtag #JusticePourKhadija has become popular.
But there has been a backlash too as relatives of the suspects have accused Ms Okkarou of lying in Moroccan media, accusing her of living a "depraved" lifestyle.
Many women in Morocco are the victims of violence in a deeply conservative society, human rights groups say.
More than 20% of Moroccan women have been sexually abused at least once in their lives, Morocco's National Human Rights Council reported in 2015.
In 2014, an article of the penal code allowing rapists of underage girls to avoid prosecution by marrying their victims was amended by Morocco's parliament.
You may also be interested in: