Anger as Italy arrests Tunisian fishermen 'rescuing migrants'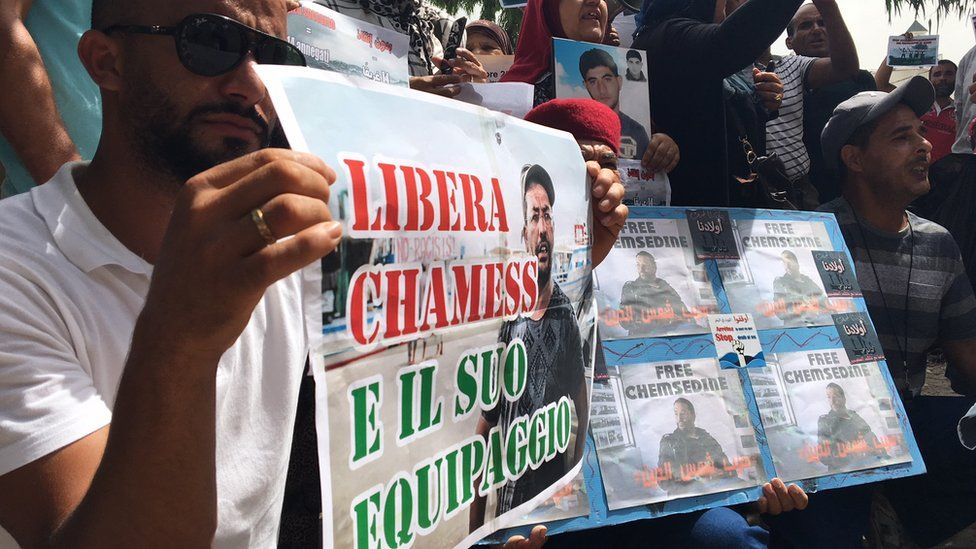 Italy has been urged to release six Tunisian fishermen who were arrested at sea on suspicion of smuggling migrants.
Supporters of the fishermen, from the south-east coastal town of Zarzis, say their colleagues were simply aiding a boat in distress.
The boat, carrying 14 people, was trying to reach the Italian island of Lampedusa last week.
One of the arrested fishermen is Chamseddine Bourassine, president of the Association of Fishermen in Zarzis.
He is a local legend in the town, reports the BBC's Rana Jawad in Tunis.
A small protest was held outside the Italian embassy in the Tunisian capital, calling for the men's release.
One of those present was Mohamed Murad, 22, who is also from Zarzis and was on the boat in distress. He told our correspondent that the engine stopped working, and they were "floating in the middle of the sea and there were children with us crying... it was a situation you couldn't even imagine".
He said Mr Bourassine and his fellow fishermen found them, and gave them something to eat.
After failing to persuade the migrants to return to Tunisia, the fisherman then said he would try to contact the Italian authorities, with no luck.
"So he tugged us a little further where the Italian coastguard can find us, and it was at a time when our boat would have only lasted for a short time and capsized and we would have died... then the Italian coastguard came and took us."
Mr Bourassine, he said, should not be in prison, "he should be honoured" for preventing the deaths of 14 people.
The Italian coastguard doubts the story given, saying it has no record of an SOS call being made to the Italian coastguard either by the fishermen or the migrants.
The men now stand accused of aiding illegal migrants and could face a 15-year sentence if convicted.