Migrant crisis: Scores drown off Libyan coast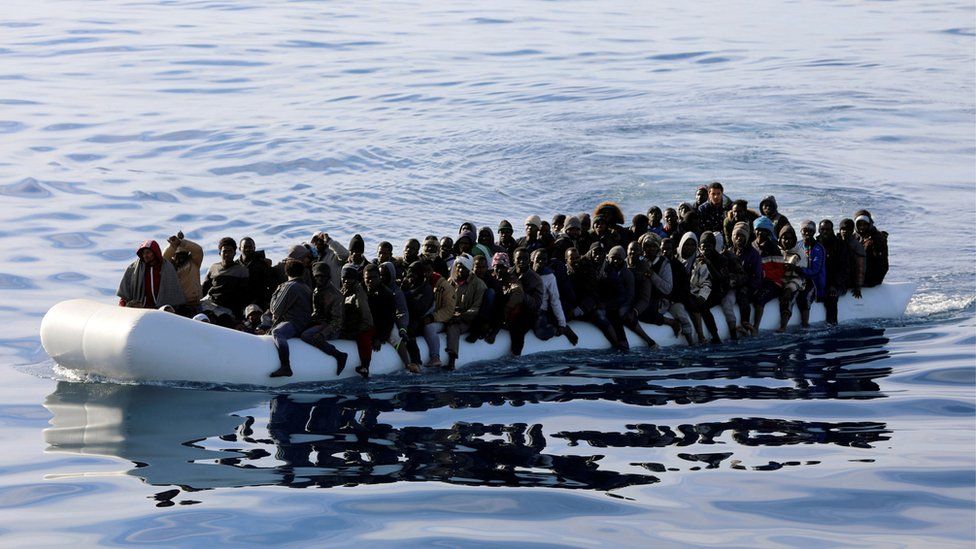 More than 100 migrants died in a shipwreck off the Libyan coastline earlier this month, an aid agency says.
Two rubber boats set off on 1 September but one of the vessels deflated and sank, Medecins Sans Frontieres (MSF) says.
The 276 survivors were eventually taken to the Libyan port city of Khoms, around 100 km (62 miles) to the south-east of the capital Tripoli.
MSF says the group is now being held in "arbitrary detention".
The survivors, including pregnant women, children and infants, have been treated by MSF for pneumonia or burns from leaked fuel.
It appears to be the largest migrant death toll in the Mediterranean in several months.
Over 1,500 migrants have died while attempting to cross the Mediterranean so far this year, according to the International Organization for Migration (IOM).
Many more have been rescued, although Italy, a primary destination for migrants travelling from Libya, has recently started to refuse entry to migrant ships.
The numbers of those crossing the Mediterranean has fallen from the peak of over one million in 2015, but the journey is becoming deadlier: while fewer deaths have been reported, more people are dying as a proportion of those who reach Europe.
Although these numbers do not include the increasing numbers who are now being returned to Libya, the rise can be explained by the shift from the shorter sea route between Turkey and Greece in 2014-15 to the much longer and more dangerous route between Italy and Libya.
Meanwhile, concerns remain for migrants who remain in Libya, with reports emerging late last year of sub-Saharan African migrants being kidnapped for ransom or sold as slaves in the northern African country.
Libya remains unstable since the overthrow of long-term leader Muammar Gaddafi in 2011.