Zimbabwe cholera outbreak: Anger at crowdfunding scheme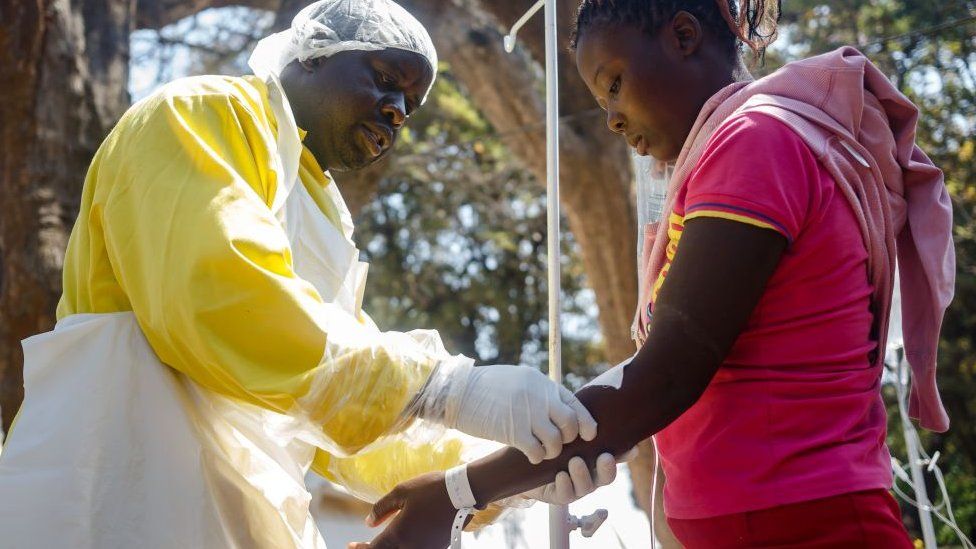 Zimbabwe has launched a crowdfunding campaign to deal with an outbreak of cholera that has so far killed 25 people, mostly in the capital, Harare.
New Finance Minister Mthuli Ncube sent an appeal on Twitter, sharing a mobile payment account number.
An emergency has been declared and public gatherings banned in Harare to prevent the spread of infection.
Some Zimbabweans have criticised the fundraising plan on Twitter, accusing the state of misusing public money.
If crowdfunding for cholera outbreak by the central govt @MthuliNcube while they spend millions $$ on luxury cars & private jets doesn't scare or freak you out then NOTHING will. Irresponsible, insensitive and indefensible act.

— Munya Dimairo (@mdimairo) September 14, 2018
In 2008, a cholera outbreak killed some 4,000 people and at least 100,000 people fell ill.
This was a key factor in persuading President Robert Mugabe to agree a power-sharing government with the opposition, as the government did not have the money to deal with the outbreak.
The current outbreak began on 6 September after water wells were contaminated with sewage in Harare.
Tests found the presence of cholera and typhoid-causing bacteria which has so far infected over 3,000 people, Health Minister Obadiah Moyo told reporters on Thursday.
According to the World Health Organization (WHO), patients were not responding to first-line antibiotics.
"Relevant medicines should be purchased as a matter of urgency as soon as resistance patterns have been ascertained," it said.
WHO also said the disease has spread to five of the country's 10 provinces.
The health emergency has forced the opposition Movement for Democratic Change (MDC) to postpone this weekend's mock inauguration of its leader, Nelson Chamisa, as president.
Mr Chamisa has refused to back down from his claim that he won the 30 July election, even after the Constitutional Court dismissed his legal challenge against President Emmerson Mnangagwa's victory.
The police had earlier withdrawn their permission for it go ahead, citing the ban on public gatherings imposed because of the cholera outbreak.
His party now says the swearing in will be held at a "later date".
Guaranteed healthcare pledge
The cholera outbreak can be traced to Harare city council's struggle to supply water to some suburbs for more than a decade, forcing residents to rely on water from open wells and community boreholes, according to Reuters news agency.
Health officials are advising people to wash their hands regularly, drink only safe water, wash food, cook it thoroughly and avoid shaking hands.
The Zimbabwe Red Cross Society has launched its own appeal.
Mr Ncube's plan has been condemned on social media:
Three days in his new job our finance minister wants to crowdfund for a national disaster but just yesterday car dealers where exhibiting cars at parliament. The money to buy cars for ministers and MPs is available but the govt needs donations for a cholera outbreak 🤷🏾‍♀️

— Queen of Skies (@thandimuringa) September 13, 2018
Lawyer Fadzayi Mahere wanted to remind newly elected President Emmerson Mnangagwa of his campaign promise:
This user saw the campaign as another ploy from the political class:
Don't overwork your brain with this crowdfund!

Zanu-PF supporters will likely contribute to that crowdfund nonsense just like the MDC supporters contributed to the gofundme!

There are NO ANGELS here folks. So LOOK BOTH ways because we are screwed! #Zimbabwe #NoAngels

— BigYoutt Masie 🇿🇼 🇿🇼 (@masiemsoko) September 14, 2018
While Twitter user Bruce Zvandasara said it was more worthwhile than the opposition's call for funds to pay for their legal challenge to Mr Mnangagwa's July election victory:
Politics aside Zimbos @MthuliNcube call to crowdfund for Cholera outbreak is a good initiative...we r faced w this tugether it's not time to oppose...it's funny u donate GoFundMe n don't crowdfund yet everyone's life z at risk...it's time for humanitarian approach over politics

— Bruce Zvandasara (@tozvitaura) September 14, 2018
This Twitter user wondered why the government had the money to charter a private plane to bring back former first lady Grace Mugabe from Singapore when her mother died, but does not have funds to deal with a public health emergency:
I'm sorry to say but this yo request, Mr Ncube, really borders on stupidity! Yo party Zanupf has money to charter a new jet for grace mugabe from Singapore, buys new 4X4s for chiefs, puts up expensive billboards all over Zim for campaign and you nw u crowdfund for cholera? Please

— admire nyamwanza (@anyamwanza) September 13, 2018
Correction 19 September 2018: This story was amended to say that the Zimbabwe Red Cross has set up its own cholera appeal rather than contributing to the crowdfunding scheme.