Al-Shabab in Somalia: US air strike 'kills 60 militants'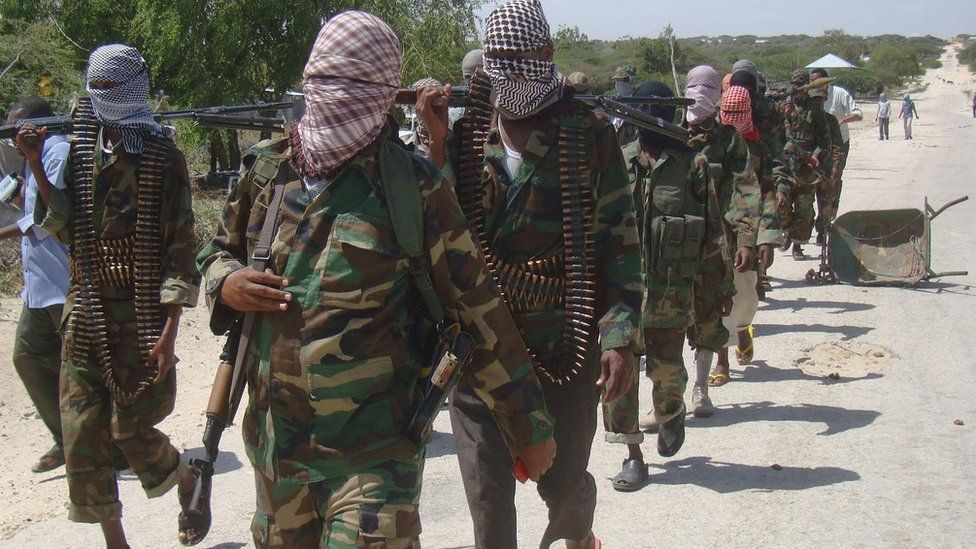 The US military says it believes some 60 al-Shabab militants were killed by one of its air strikes in central Somalia on Friday.
The "precision" strike around Harardere did not injure or kill civilians, it added in a statement.
The US said the attack was carried out as part of a joint effort with Somali forces to hit the al-Shabab group.
This was the deadliest air strike since November 2017 when 100 militants were killed, the statement added.
Al-Shabab, which is linked to al-Qaeda, has not yet commented.
"Alongside our Somali and international partners, we are committed to preventing al-Shabab from taking advantage of safe havens from which they can build capacity and attack the people of Somalia," the US Africa Command said.
The US military has conducted more than two dozen air strikes, including drone strikes, in Somalia this year, the Associated Press news agency reports.
A major setback for militants
Analysis by Will Ross, BBC News Africa editor
The US military is claiming to have had significant success against al-Shabab, which would represent a major setback for the al-Qaeda-linked group.
It is however hard to independently verify the impact of these air strikes which have become more frequent under Donald Trump's presidency.
They are controversial as previous attacks have often been followed by accusations that civilians were also been killed or injured. This latest strike was not in southern Somalia like most have been, but further up the coast near Harardere - which used to be a piracy hub.
Al-Shabab has become more powerful in central Somalia since Ethiopian troops withdrew from the area last year.
US President Donald Trump expanded military operations against al-Shabab in March 2017.
Traditionally, US presidents have been wary of intervening in Somalia since 18 special forces soldiers died fighting militias in the capital Mogadishu in 1993, a battle dramatised in the film Black Hawk Down.
Al-Shabab was forced out of Mogadishu in August 2011 following an offensive spearheaded by African Union (AU) troops.
But it still has a strong presence in regions around the capital.
The port town of Harardere was the hub for piracy in the region when the hijacking of ships off the Somali coast was at its peak in 2009-2011.