Kenyan crypto-currency pioneer: 'I make my money from Bitcoin and tasty roast meat'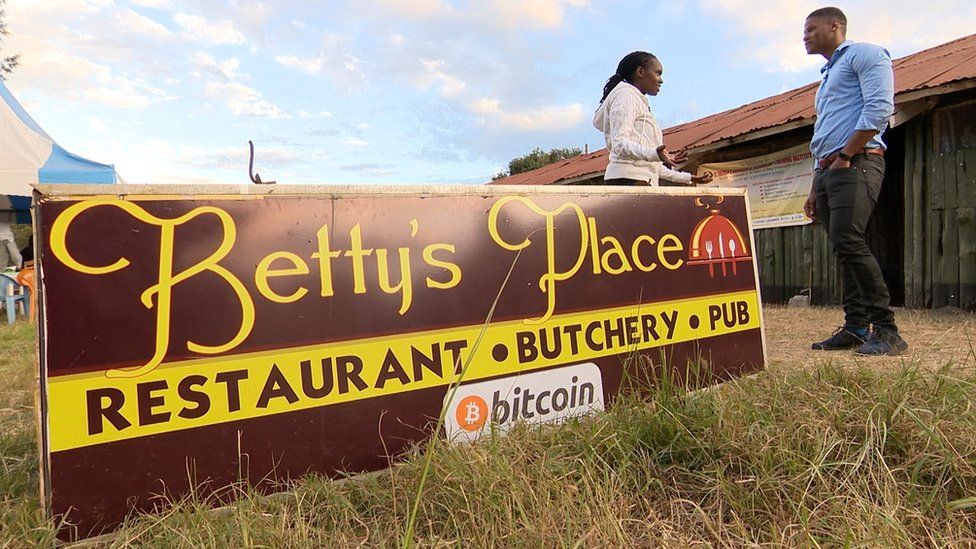 The towering vista of Mount Kenya provides an unlikely backdrop to a tech-savvy Kenyan restaurant that has embraced crypto-currencies as a form of payment.
Betty's Place specialises in "nyama choma", a lip-smacking goat meat barbeque that is a firm favourite amongst Kenyans.
Located in the rural town of Nyeri, about 150km (90 miles) outside the capital, Nairobi, it is one of the few businesses in the country that allows customers to pay with not one but two crypto-currencies - Bitcoin and Dash.
"Since the world is becoming more global, my place is also becoming a global restaurant," says Beatrice Wambugu, the owner of the restaurant.
"I attract different customers from different parts of the world, whichever coin they have. As long as it's a viable coin we accept it."
Ms Wambugu started trading in Bitcoin two years ago and and within a year she made enough money to buy the two-storey Nyeri hotel, which she converted to Betty's Place.
Located on Nyeri town's busy main road, the restaurant is unmistakable with its bright mustard-coloured walls and big glass windows providing a welcome invitation to hungry patrons, who are greeted by a pleasant aroma of meat on the grill and the sounds of local music.
Betty's Place is not only a place for tasty Kenyan cuisine, but it has become something of a local attraction for people wanting to know more about Bitcoin.
When it comes to embracing new technology, Ms Wambugu describes herself as "a crypto-currency pioneer".
What is Bitcoin? It is a crypto-currency that has no notes or coins. It is digital and largely exists online and is not issued by governments or traditional banks
What is blockchain? It is the technology that underpins Bitcoin - a method of recording data, a digital ledger of transactions, agreements and contract. Distributed across computers around the world, no one person or entity can control the data, which makes it transparent
However, her payments in Bitcoin have been modest - about 30,000 Kenyan shillings (£230, $300) in sales from about 20 people.
To encourage more take up, she holds classes in how to trade in Bitcoin every Sunday at her restaurant.
"I've set aside one day where I can teach my customers. Whoever asks about crypto-currencies: 'How does it work? What is Bitcoin?' I train them," she says.
Mobile phones make paying with crypto-currency at Betty's Place and other retailers easy.
In Africa the mobile phone has been instrumental in transforming the way people conduct business, and the growth of Bitcoin could one day rival mobile banking platforms like M-Pesa as a viable form of payment.
Bitcoin presents an "opportunity to do what people are calling 'banking the unbanked'", says James Preston, head of the publication SA Crypto, referring to more than 350 million Africans who do not have access to traditional forms of banking.
"There's been such a history of poverty in Africa that so many rural communities are yet to be developed with normal banking infrastructure," he told the BBC.
"Now all of a sudden they can get a Bitcoin wallet on their phone and in essence they can have a bank in their phone, and that's what crypto-currencies and crypto assets do, they allow you to be your own bank," he told the BBC.
The surge in popularity of Bitcoin and other crypto-currencies has led many experts to believe that Africa will once again leapfrog the digital divide, bypassing traditional banking much like it did with the fixed-line telephone.
According to the African Development Bank, smart phone penetration is set to hit 50% by 2020.
Yet even in the famed Kenyan tech hub of "Silicon Savannah" there are few if any businesses that allow customers to buy with Bitcoin - and there are cautionary tales.
Smart Money is the new BBC weekly business programme for Africa
Look out for it on partner stations from 22 October.
Peter Oduba, a would-be investor from Kenya, fell for a Bitcoin Ponzi scam called Crypto Wealth and lost a significant amount of money in the process.
He told the BBC the scam had involved "six pots" investors could "jump into".
"The first pot when you get in, you have to bring two people, then those two people bring in another two," he explained.
"Once the other two bring more people it means you have like seven or eight people, which means once you have seven people, someone has to jump to the next pot.
"They were saying once you jump to pot number two they will give you some money in Bitcoin. We didn't know it was a scam, and we did it for quite some time and then it just collapsed."
Original investors are initially rewarded with a high rate of return on their investment, but they need more investors in the scheme to maintain that level of return
More investors are conned into joining, but as their investments are used to pay the original investors returns and inflate the scheme, they receive less money from their investments. They in turn seek more investors to increase their returns
Scheme collapses when the number of new investors dwindles and returns dry up
Blockchain 'incorruptible'
Bitcoins, and the blockchain technology that underpins crypto-currencies, are often touted as presenting an opportunity to transform business and the way governments run in Africa.
Transparency and accountability are key aspects of the blockchain system - two qualities citizens seek in African countries that have been mired in corruption and maladministration.
Pan-African telecommunications company Liquid Telecom said in its blockchain report this year, that the technology was a "truth engine that represents a new opportunity to improve processes and drive efficiency".
If all government contracts, tenders and budgets were available in an incorruptible blockchain network there would be an exponential decline in corrupt practices and shady deals.
But it is important to note that blockchain technology is not the panacea to the governance problems seen in parts of Africa.
"Blockchain is no magic wand," said Carlos Santiso, who heads the Innovation in Citizen Services Division of the Inter-American Development Bank.
"It will not replace the need for stronger institutions and, in fact, it can be most effective when strengthening them."
'Crypto-currency is a gamble'
Much of the appeal of Bitcoin and other crypto-currencies for investors is that they are free from the strictures of regulatory authorities, partly because legislation has not caught up with the technology yet.
South Africa's central bank trialled a system earlier this year called Project Khokha, which used blockchain technology, to process interbank payments and settlements.
It found that "the typical daily volume of the South African payments system could be processed in less than two hours" with full confidentiality of transactions assured.
In Nigeria - home to the continent's largest Bitcoin market with more than $4m-worth traded daily - regulators have taken a much stronger stance than their South African counterparts.
Earlier this year, the country's Senate ordered an investigation into Bitcoin trading and central bank governor Godwin Emefiele warned: "Crypto-currency or Bitcoin is like a gamble, and there is a need for everybody to be careful."
Business instinct and pioneering endeavour has led Ms Wambugu to invest in Bitcoin and make it a payment alternative for her customers.
She does not need regulators to tell her how to best use the technology.
Betty's Place is at the confluence of traditional food and modernity in a rural setting, and that is exactly how Ms Wambugu wants it to be.
"At my place, it's 'nyama choma' and 'nyama Bitcoin'," she added.