Nnamdi Kanu, Nigerian separatist leader, resurfaces in Israel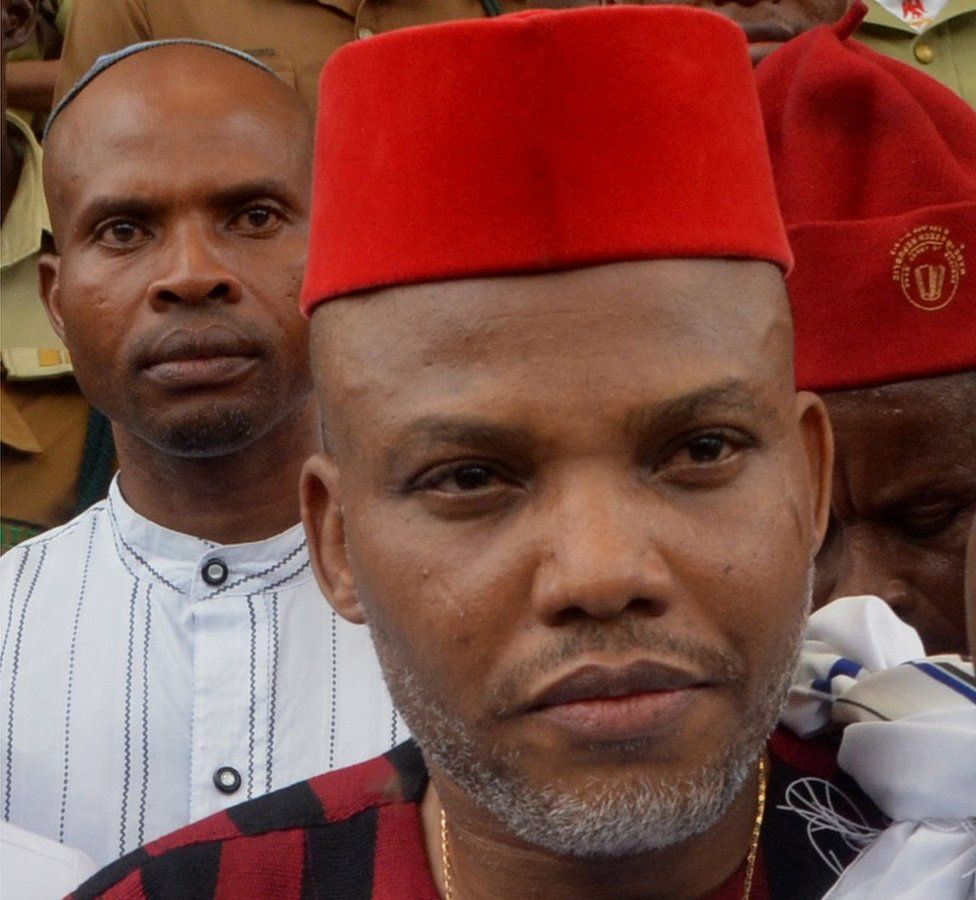 Missing Nigerian separatist leader Nnamdi Kanu has resurfaced in Israel more than a year after soldiers stormed his home.
"I'm in Israel," Mr Kanu said on Sunday in a broadcast on his outlawed pirate radio station - Radio Biafra.
A video of the Indigenous People Of Biafra (Ipob) leader praying at the Western Wall in Jerusalem has also been shared online.
Mr Kanu holds both Nigerian and British nationality and says he is Jewish.
His wife, Uchechi Kanu, told the BBC in February that she believed the government knew where her husband was being held after his home was raided by soldiers.
Mr Kanu has been campaigning for an independent state called Biafra in south-eastern Nigeria.
In 2015, Mr Kanu was charged with "criminal conspiracy, intimidation and membership of an illegal organisation" - charges that could amount to treason.
He was released on bail last year after spending more than 19 months without trial on treason charges.
He then renewed his campaign for independence, before his house in the south-eastern Abia state was raided by the military.
He was a relatively obscure figure until 2009 when he started Radio Biafra, a station that called for an independent state for the Igbo people and is broadcast to Nigeria from London.
Though he grew up in Nigeria's south-east and went to the University of Nsukka, Mr Kanu moved to the UK before graduating.
Soon after setting up Ipob in 2014, he spoke to gatherings of the large Igbo diaspora, calling for Biafran independence. In some of his comments, he urged Biafrans to take up arms against the Nigerian state.
"We need guns and we need bullets," he said in one such address. This comment is what brought him to the attention of Nigeria's security services.
The plan for a Biafra state is not new.
In 1967 Igbo leaders declared a Biafran state, but after a brutal civil war, which led to the deaths of up to a million people, the secessionist rebellion was defeated.
Mr Kanu is the latest in a line of ethnic Igbo activists taking up the cause of pushing for an independent state, saying the Igbos have been marginalised by successive Nigerian governments.
First republic of Biafra was declared by Nigerian military officer Odumegwu-Ojukwu in 1967
He led his mainly ethnic Igbo forces into a deadly three-year civil war that ended in 1970
More than one million people lost their lives, mostly because of hunger
Decades after Biafra uprising was quelled by the military, secessionist groups have attracted the support of many young people
They feel Nigeria's central government is not investing in the region
But the government says their complaints are not particular to the south-east
Mr Kanu said in Sunday's broadcast that he was still pushing for a referendum to create a breakaway state in the south-east.
He urged his followers to boycott next year's elections in Nigeria unless the government agrees to the push for a referendum.
"Ipob will liberate Biafra and we will not take part in any elections until we get a referendum, it is not negotiable, we will do it by any means," he said.
"I will be back soon in the land of Biafra and I will bring hell with me," he said.
"I owe my survival to the state of Israel," he added. He mentioned Mossad, Israel's spy agency, in the broadcast, without elaborating if it had assisted him in any way.
The BBC has contacted Mossad for its comments.
It is, however, unclear how Mr Kanu was able to get to Israel, as he had to surrender his Nigerian and British passports after his arrest.
The Ipob leader says he is an Igbo Jew, part of a group who believe they are descendants of the lost tribe of Israel who settled in West Africa. According to Jewish tradition, the tribes were scattered after the conquest of the Kingdom of Israel by the Assyrians in the 8th Century BC.
However, it is unclear how and when he converted to Judaism and if it has been accepted by mainstream Jewish authorities.
Can Igbos trace their line back to Israel?
By Chimezie Ucheagbo, BBC Igbo Service
Nnamdi Kanu has been dressing and acting as though his conversion to Judaism was complete since his release from prison last year.
The video of him praying at the Western Wall in Jerusalem whilst draped in a prayer shawl was just the latest example of his public expression of his new-found faith.
Most Igbo people are however Christian and Judaism is only practiced by a minority. The number of those who claim to be Jewish is unclear.
The Jewish connection can be traced from a legend that a descendant of the biblical Jacob, Abraham's grandson, moved to West Africa.
It says Eri, one of the sons of Gad, Jacob's seventh son, migrated from Egypt and travelled by water and arrived at a confluence of the Ezu and Omambala rivers which is located in present day Aguleri in Anambra state, one of the Igbo states in Nigeria.
Eri's eldest son Agulu was the one who appended the name of his father to his own name after taking over from his father and that's how the name of the present day Agulueri was derived.
Some researchers also point to cultural similarities between Igbo and Jewish people: they circumcise their male children, name them after eight days and also have a seven-day mourning period.