Why Cape Town's trains are on fire in South Africa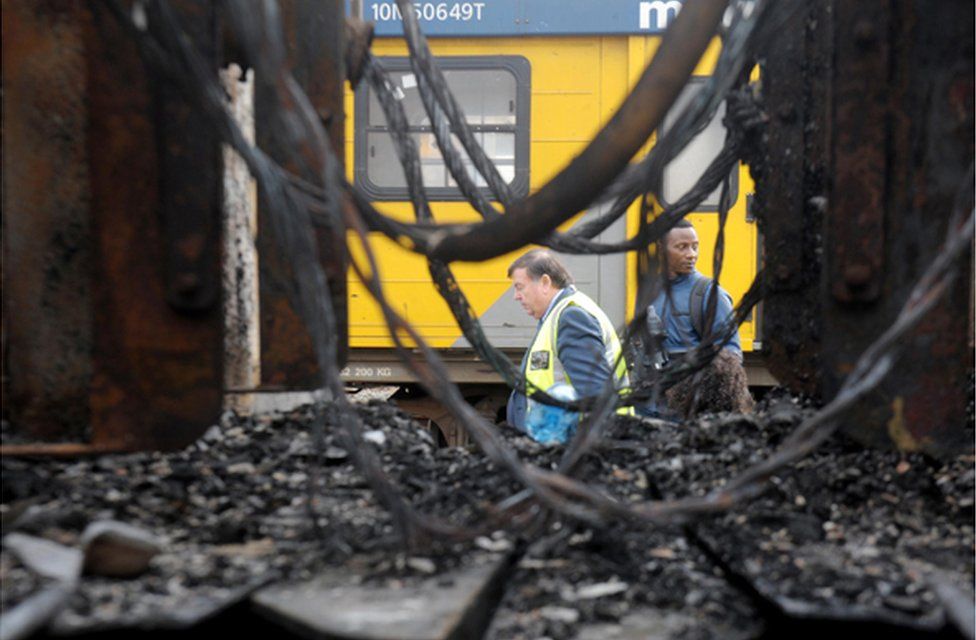 Something mysterious, queasily spectacular, and extremely dangerous is happening in Cape Town.
In the space of a few months, half of the city's entire stock of more than 80 suburban trains has been set on fire and taken out of action.
That has prompted chaos and frustration for thousands of commuters, and deep unease for officials unsure if the arsonists are petty criminals, sophisticated gangs, or maybe even political forces seeking to discredit their rivals.
Viral videos have shown a series of burning carriages - billowing with black smoke while electric cables crack and fizzle overhead - screeching to a gentle halt in different train stations in the South African port city, as commuters rush to escape the fires.
So far, no-one has been hurt.
Yet despite growing pressure on investigators, and the introduction of undercover police on many trains, the authorities have yet to crack the mystery of Cape Town's burning trains. The impact on the city - still recovering from a crippling drought - has been severe.
"In my mind there is some sort of campaign, or sinister force, that is behind this," said Brett Herron, who oversees the city's transport systems in the mayor's office.
"For me, it's not random - it just seems to be too well orchestrated. We've had about 140 carriages destroyed [in] an almost weekly occurrence."
"Our system is operating at about a third of the capacity required, so there is a massive decline in passenger numbers," he added.
On a recent morning, hundreds of passengers who had waited for over an hour at Retreat station, in the shadow of Table Mountain, rushed to cross the lines and scramble onto a graffiti-covered train that arrived, without warning, on the wrong platform.
"It's been a nightmare for us," said one young woman. "It's very unsafe - you take your life in your hands every time you get on a train.
"Always late. Always late for work now," said an elderly woman beside her.
"Maybe it's sabotage. I don't know," said an undercover police officer who, like the other people in the carriage, declined to give his name.
Initially, the dominant theory in Cape Town was that powerful criminal gangs were destroying the trains, either in order to secure contracts for corrupt companies looking to replace the carriages, or to win control of lucrative contracts to guard the trains and train lines.
That theory remains firmly in play, along with the suspicion that small-time criminals and vandals may be copying the arson attacks in order to express their frustration with local services in general, and with an underfunded and struggling train service in particular.
But Cape Town and the surrounding Western Cape province is controlled by South Africa's main opposition party, the Democratic Alliance (DA).
Over time, suspicion has grown in some quarters that rival politicians may be deliberately encouraging the train fires to make the DA appear incompetent - even though the train service itself falls under the responsibility of national government.
"The ANC's strategy has always been ungovernability," said Helen Zille, the Premier of the Western Cape and a long-standing critic of the country's governing African National Congress (ANC), citing next year's national elections and the ANC's stated desire to win back control of the city and province.
"Every time there's an election on the horizon the [ANC's] ungovernability strategy comes up. It's the easiest thing of all to do. Make the place ungovernable. Make the infrastructure dysfunctional," she said.
But Ms Zille acknowledged that she had no proof to support that theory, and that "clear commercial interests," "criminal syndicates," and "vandalism" were almost certainly involved in the fires.
Another theory holds that the DA itself might stand to gain if the local rail system were destroyed, since the provincial DA-run government is currently trying to wrestle control of it from the ANC-run national government's corruption-plagued rail network.
"You have a city and provincial government that really doesn't care for the poor," said Faiez Jacobs, the ANC's provincial secretary, describing the arson as "sinister."
Mr Jacobs said he suspected there was indeed a deliberate political plot to "collapse" the rail system, but hinted that the DA was behind it, not the ANC.
"Who would benefit?" he asked, citing the tug-of-war between the province and the government over control of Cape Town's rail system.
For now, the fires remain a mystery. But it is poor communities - living in the crowded, windswept Cape Flats outside the city - who are most dependent on the cheap railway system for transport. They are now being forced to rely on more expensive mini-bus taxis and buses.
"The knock-on effects are that the whole city suffers," said Brett Herron. The rail system is now losing 2.7 million passenger trips a month, and road traffic congestion levels have doubled.
"The city's prospects, and reputation, and economy suffer," he said.