Garden Route wildfire: Seven killed in George, South Africa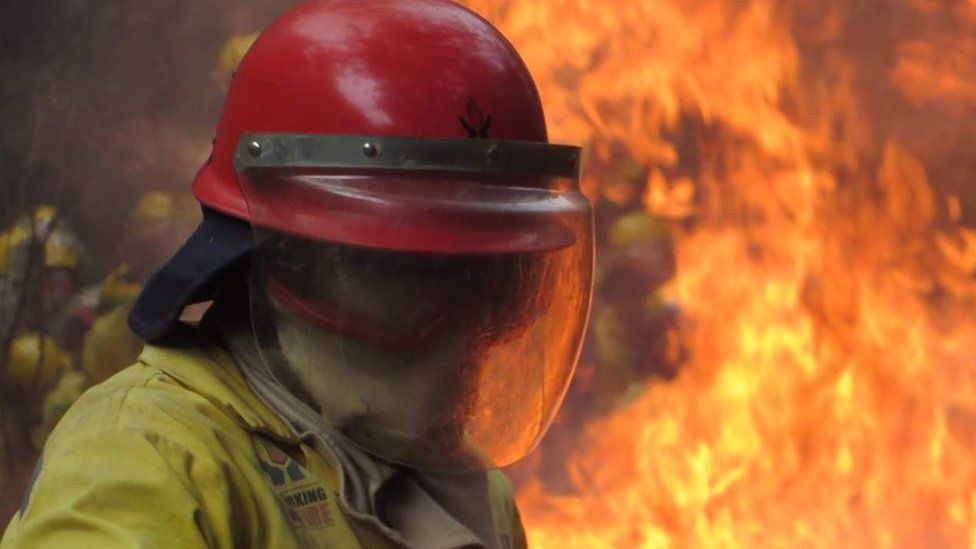 At least seven people have been killed in a raging fire along South Africa's popular Garden Route in the Western Cape province, officials say.
A pregnant woman, two toddlers, and a baby are among the fatalities.
"The fire remains active on the slopes," Lauren Howard from Working on Fire said about their operation in the mountainous suburb in George city.
The Garden Route is a 300km (185 mile) scenic stretch of road popular with tourists.
It is not clear whether any foreign nationals have been affected by the fires.
George city officials say at least 200 residents have been moved to a hall and that three suburbs, housing more than 1,500 people, have been evacuated as a precaution.
"There will be food, a place to sleep and social services... the medical services are there to look at people who may be struggling to breathe. They will be referred to hospitals in the area," Brent-Styan from Western Cape Local Government Department said.
More than 400 firefighters have been battling the blaze 450 km (280 miles) east of Cape Town, which has so far burned over 16,600 hectares since last week.
A fire fighter pilot died last week after his helicopter went down in the Vermaaklikhei area along the Garden Route.
Working on Fire has been tweeting about its operations:
Our Teams are currently active in George, Windmeulnek, Garcia Pass, Jonkersberg, Karatara, Grootvadersbos and Potberg.

Working on Fire Aerial Resources consisting of 2 Huey Helicopters, 2 fixed wing air tractor bombers & spotter plane, will be redeployed to attend to other fires pic.twitter.com/gu5WoPDdd2

— Working on Fire (@wo_fire) October 30, 2018
The pregnant woman who was killed in the fire was eight months pregnant, Colin Deiner, head of Western Cape provincial disaster management services, told AFP news agency.
Students from one campus of the Nelson Mandela University, situated at the foot of the Outeniqua Mountains near George were also evacuated, local media reported.
Windy conditions are however complicating efforts to put out the fire which authorities blame on a heatwave sweeping across the Western Cape.
"The strong winds are our biggest problem at the moment and lightning is also causing more problems," Mr Deiner said.