Kenyans cash in on avocado craze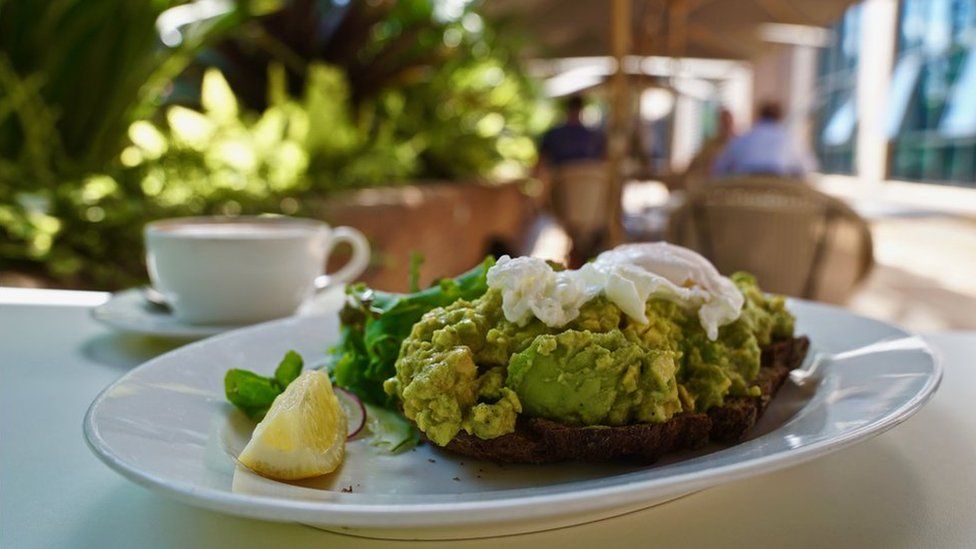 Avocado on toast, in a salad or a smoothie? There are many ways to eat the green fruit which is popular with hipsters across the world - a craze that Kenya is cashing in on.
At Le Grenier à Pain restaurant in the leafy suburb of Riverside in Nairobi, upwardly mobile Kenyans and expatriates enjoy plates of "toast à l'avocat" (avocado on toast).
"It's in every magazine, on every website how good avocado is for your health," says restaurant owner Yan Welffens.
"My father-in-law eats an avocado every day - he doesn't leave the house without his plate of avocado, so, I try to copy him to see if I can age [well] like him."
The growing appetite for ready-to-eat healthy options has seen the demand for avocados increase over the past few years.
That impact is being felt thousands of miles away, on farms in Kenya's highlands where growers' fortunes are changing.
Peter Kariuki has recently finished selling his avocados for the season in Kandara in central Kenya, and has harvested about 400,000 fruits from his farm.
"It has been a very good season - the price per fruit almost doubled compared to last year," he says.
The trees form a continuous canopy above our heads providing a much-needed shade. Birds perched on the branches chirp away as a cool breeze blows our way.
The ground beneath the canopy is almost bare but Mr Kariuki has planted napier grass, some arrow roots and maize a short distance away.
The grass is fed to his dairy cows and they, in turn, provide manure for the farm.
Mr Kariuki says the trees are organic and grow as in the wild - he does not need to spray pesticides or apply commercial fertiliser.
He was the first famer in the area to plant avocados more than 30 years ago.
"I used to work as a clearing and forwarding agent at the airport in the 1980s, that's where I learnt about avocado exports."
Luckily for him, his father worked at the Agricultural Research Institute near their village. He brought the first seedlings to the farm.
Five facts about avocados:
They are in fact berries - as are aubergines, lemons, grapes and tomatoes
Have the highest protein and oil content of any fruit, and the fat they contain is mainly unsaturated
Nutritionists say avocados can help maintain healthy cholesterol levels when eaten in place of foods high in saturated fat
Mexico produces more avocados than any other country - accounting for 45% of the global market. Kenya is Africa's largest producer
The US is the biggest importer of avocados, followed by the Netherlands.
The 200 trees on the farm are mature now, giving him an annual income of about $20,000 (£15,300). And he does not need to do much: "We prune the trees once a year."
He hires casual workers to pick the fruits when they are ready and exporters collect the harvest from the farm.
Small-holder famers like Mr Kariuki produce most of the avocados sold in and outside Kenya.
More and more of them are uprooting traditional cash crops like coffee and tea and planting avocados instead.
Targeting the Chinese market
A long rainy season has meant the production was good for farmers like Mr Kariuki.
But exporters - like Lucy Njeri - are not as happy.
"It hasn't been a good season in terms of sales," says the 30-year-old business and marketing graduate, who runs Saipei Foods with her husband.
At their packing house near Nairobi's main airport, about 35 workers dressed in green or black branded uniforms receive fruits from delivery vans.
They then sort and clean them, load the conveyor belt, weigh the fruits before packing them into small carton boxes ready for export.
Ms Njeri says she has exported more than 1,200 tonnes of avocados this season, mostly to Europe.
"Much as we've had a consistent supply, the market has been saturated and the prices weren't as good as we expected," says Ms Njeri. "But such is business."
Yet forecasts say saturation in the near future is unlikely.
While noting an oversupply in 2018, the CBI predicts that new avocado markets such as China will likely tilt the scales.
You may also be interested in:
"Avocado plantations worldwide are expanding fast but they take time to reach full capacity and catch up with demand," the trade body says in its latest report on the crop.
Kenya has recently overtaken South Africa to become Africa's biggest avocado producer, but globally, its market share is dwarfed by countries like Peru, Chile and Mexico.
But local awareness of the crop's potential is growing.
A Kenyan agronomist, Bernard Kimutai, set out to recruit 10,000 new farmers to grow avocados during the onset of the long-rains season in April.
"I very nearly hit the target," he told the BBC six months later.
As more and more farmers turn to growing the green fruit, Mr Kariuki is wasting no time in increasing his share, and now plans to plant 300 more trees on his farm.
He earns about $0.10 for each fruit, which is then sold for around $10 per plate in cities like New York and London.
It is a huge difference in price, but that means the avocado benefits many more people as it travels from the farmer to the consumer somewhere else in the world, even if that is only an hour's drive away at Le Grenier à Pain.