Coptic Christian attack: Egypt police 'kill 19 attackers'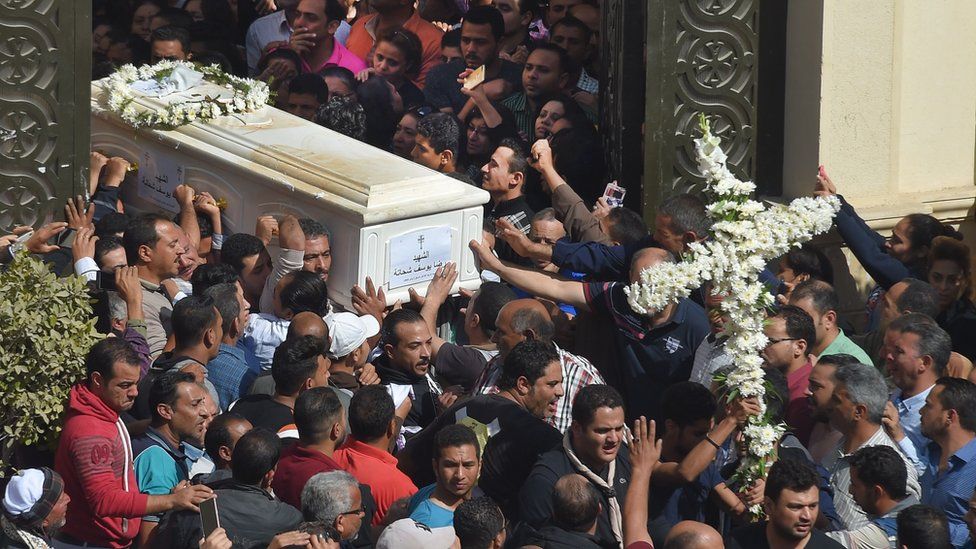 Nineteen Islamist militants accused of carrying out a deadly attack on Christians in Egypt have been killed by police, the interior ministry says.
They died in a shoot-out after police pursued "fugitive terrorist elements" into the desert area west of Minya province, the statement said.
Seven Coptic Christians were killed in an attack on two buses near a monastery in Minya on Friday.
The Islamic State (IS) group has said it carried out the attack.
It was the latest in a series of attacks by extremists on Egypt's Coptic Christian minority.
The ministry said security forces had exchanged fire with "terrorist elements" they were pursuing, although it did not say exactly when the firefight happened.
The ministry posted images of bodies and a tent in which the militants were said to have been hiding. Guns, rifles and IS propaganda can be seen next to the bodies.
Friday's attack near the Monastery of St Samuel the Confessor in Minya also left at least seven other people wounded, including children, according to reports.
"What do these terrorists want? Do they want us to hate Muslims?" said Michel, 23, who lost a neighbour in the attack.
The Copts, who make up most of the Christian minority, have in the past accused the authorities in Muslim-majority Egypt of making only token gestures to protect them from such attacks.
One at the same spot left 28 dead in May 2017.
Who are the Coptic Christians?
The Coptic Orthodox Church is the main Christian Church in Egypt. While most Copts live there, the church has about a million members outside the country.
Copts believe that their faith dates back to about AD50, when the Apostle Mark is said to have visited Egypt. The head of the church is called the Pope, and is considered to be the successor of Saint Mark.
The Coptic Church separated from other Christian denominations at the Council of Chalcedon in 451, in a dispute over the human and divine nature of Jesus Christ.
The current Coptic Pope, Tawadros II, stepped away from social media last month by closing his official Facebook page.