Nigerian President Buhari denies death and body double rumours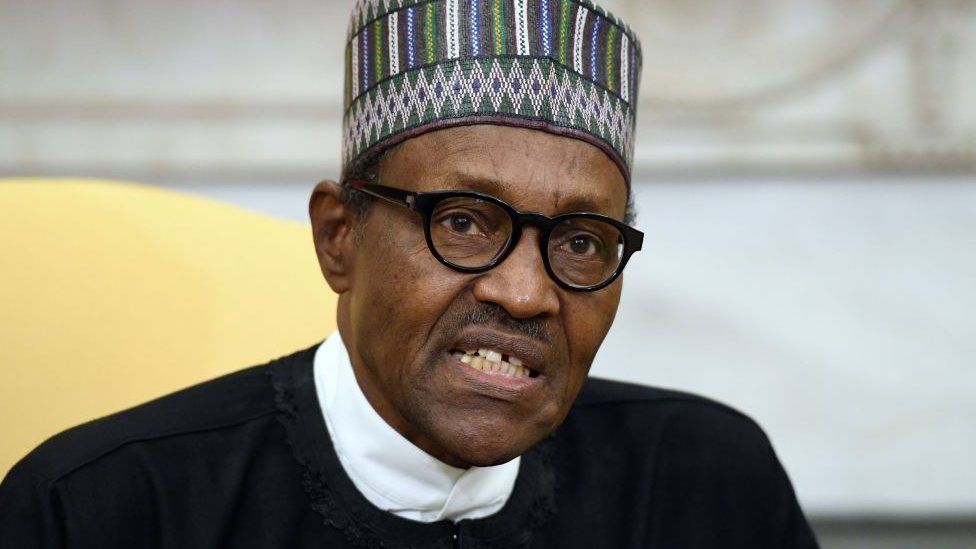 Nigeria's President Muhammadu Buhari has denied rumours that he has died and been replaced by a lookalike.
Some people thought he had been "cloned", but "it's [the] real me, I assure you," Mr Buhari said.
Rumours that he had been replaced with a body double called "Jubril" from Sudan had been widely shared online.
The 75-year-old Mr Buhari, who is seeking re-election in February next year, has been beset by ill health since taking office in 2015.
He was on "medical leave" in the UK for three months in 2017.
He revealed after his return to Nigeria that "I have never been so sick", but did not disclose what he was suffering from. He insists he is now in good health.
A former aide to Mr Buhari's predecessor, Goodluck Jonathan, is among the high profile individuals who have promoted the rumours.
'Ignorant and irreligious'
Nnamdi Kanu, the leader of secessionist group Indigenous People of Biafra (Ipob), has also been fuelling the rumours, AFP found.
In one instance, Mr Kanu shared two images of Mr Buhari, one reversed, to allege that the Nigerian leader, who is right-handed, was using his left hand - "proving" that that meant he was a body double.
Here we have a supposed old man between 76-85 yrs that suddenly switched his writing hand from left to right.

Could the @AsoRock handlers of Jubril clarify this mix-up?

We are patiently waiting for answers and I believe millions of people deserve an explanation.@NGRPresident pic.twitter.com/y0o63ApY5I

— Mazi Nnamdi Kanu (@MaziNnamdiKanu) November 25, 2018
A scene from the 1997 film "Face/Off" has also been used by those promoting the rumours to show how a dead Buhari's face could have been transplanted to a body double.
Mr Buhari, who is in Poland attending a UN climate change conference, was asked about the rumours during a meeting on Sunday with Nigerians in the country.
His personal assistant shared a video of his answer:
VIDEO: " President @MBuhari's response to the rumors [by ignorant and irreligious people] of him being cloned.

"...Somebody just thought I am cloned, ...it is real me I sure you." pic.twitter.com/TCU6Bzziw4

— Bashir Ahmad (@BashirAhmaad) December 2, 2018
Mr Buhari, who will celebrate his 76th birthday on 17 December, said those spreading the rumours about his health and identity were ''ignorant and irreligious.''
''A lot of people hoped that I died during my ill health. Some even reached out to the vice-president to consider them to be his deputy because they assumed I was dead.
"That embarrassed him a lot and of course, he visited me when I was in London convalescing… It's [the] real me; I assure you,'' Mr Buhari added.
A former vice-president, Atiku Abubakar, 72, has emerged as Mr Buhari's main challenger in next year's election.
The opposition is expected to make the president's health a major campaign issue, but Mr Buhari said: "I'm still going strong."
By Ishaq Khalid, BBC News, Abuja
Many Nigerians are surprised that President Buhari chose to respond to the extraordinary claim that he has a body double called "Jubril".
The claim has been an online joke for months, generally dismissed as fake news, and largely ignored by many reputable media organisations.
It has, however, been used by Mr Buhari's detractors to call into question the state of his health.
Contrary to the expectations of the president's aides, his statement that he is "not a clone" may lead to greater focus on his health as he prepares for a gruelling election campaign.