Ebola disbelief widespread in DR Congo hotspots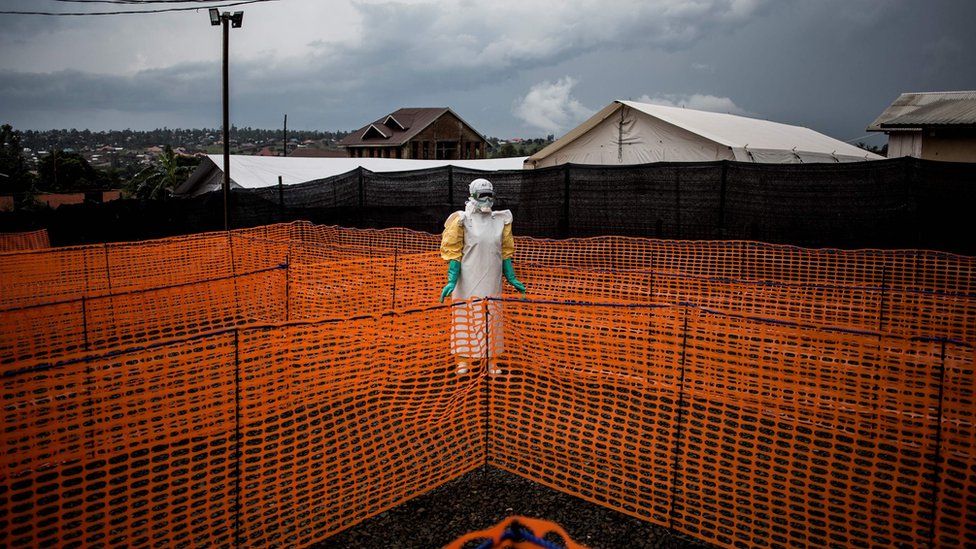 More than a quarter of people surveyed in Ebola-hit areas of the Democratic Republic of Congo told researchers they do not believe the disease exists.
Some 36% of respondents also believed that the disease had been fabricated to destabilise the country.
The authors of the study said this mistrust was a factor in prolonging the epidemic.
The current outbreak started in August and more than 600 people have died, according to the health ministry.
More than 1,000 people have contracted the virus during the current outbreak, which is the second-largest ever recorded.
The study for journal, Lancet Infectious Diseases, surveyed 961 people in the central Congolese cities of Beni and Butembo.
Election officials cited the Ebola outbreak as a reason to cancel the December presidential elections in the affected regions.
Why don't people trust the authorities?
Distrust contributed to four violent attacks on Ebola treatment and transit centres in the past month, reports the BBC's Gaius Kowene from the capital, Kinshasa.
The lead author, Patrick Vinck, from Harvard Medical School, told the BBC's Newsday programme that people don't trust the authorities due to decades of conflict and this has an impact on the disease spreading.
"The lack of trust combines with the epidemic to really make people not want to follow advice, not want to listen to what authorities have to tell them to prevent the spread of the epidemic," he said.
Local militias are active in the area and health workers are often accompanied by police and soldiers for security.
This makes villagers suspicious, Jean-Philippe Marcoux, country director for international aid group Mercy Corps told Reuters news agency.
"We need to - as much as possible and rapidly - scale down the presence of security forces with response teams, because it is creating more harm than good right now," he said.
Health Minister Oly Ilunga told the BBC that the authorities were trying to involve local communities more.
Less than two-thirds of people questioned in the survey said they would take a vaccine for Ebola.
Is suspicion of vaccines a problem elsewhere in the world?
Some Islamist militants oppose the polio vaccination, saying it is a Western conspiracy to sterilise Muslims.
This has had deadly consequences.
Suspicions about vaccinations, accompanied by the growth of the so-called anti-vaxxers movement, have also been seen across Europe and the US.
Some parents refuse to get their children vaccinated against measles because they believe discredited information that vaccines cause autism in children.