Sudan crisis: Three top generals agree to quit as protests continue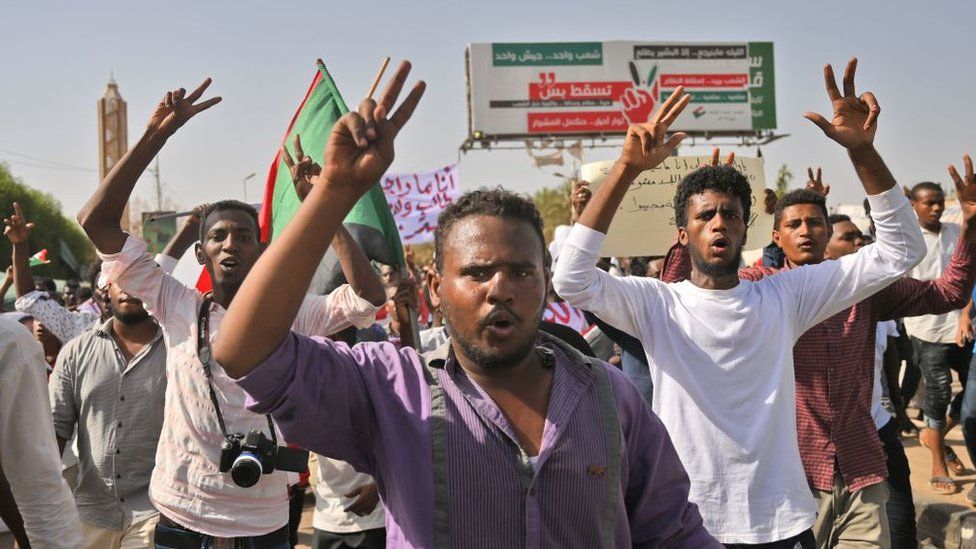 Three of the most controversial figures of Sudan's ruling Transitional Military Council have offered their resignations - one of the key demands of the protest movement.
The three generals were seen as staunch Islamists and allies of deposed President Omar al-Bashir.
It follows talks between the military council and protest leaders.
A "million-strong march for civilian rule" has been called later to maintain the pressure for democratic reform.
Thousands of protesters have arrived in the capital, Khartoum, by train from various cities to take part in the event.
"What we are hoping to do today is to continue our peaceful resistance," said Dr Sara Abdelgalil, of the Sudanese Professionals Association, the main group behind the protests.
She told the BBC: "Regime members and the NCP [the ousted president's party] are trying to show themselves as being legitimate to continue ruling the transitional period."
Protesters demand justice
Mohanad Hashim, BBC Africa, Khartoum
Protesters are in an almost jubilant mood as they flock to the capital demanding civilian rule, accountability and retribution.
"Blood for blood, we will not accept blood money," some have been chanting, as well as "Bashir to ICC".
The ousted president is accused of organising war crimes and crimes against humanity in Darfur since 2003 by the International Criminal Court.
"Who gave the order to drop bombs on us?," said two tearful Darfuri women at Thursday's protest. "We want to see them brought to account".
They and other protesters view the Transitional Military Council (TCM) as part of the same machine that kept Mr Bashir in power for 30 years.
They are amassing outside the army headquarters in Khartoum directing their rage at those they hold responsible.
The three generals stepping down are Omar Zain al-Abideen, Al-Tayeb Babakr Ali Fadeel and Jalal al-Deen al-Sheikh.
Omar Zain al-Abideen, who heads the military council's political committee, served under the head of the national intelligence security service in the early 1990s which was accused of widespread torture of dissidents, activists and civilians.
Police Lt-Gen Al-Tayeb Babakr Ali Fadeel was the brains behind the public order police, who arrest between 40,000 and 50,000 women every year for wearing "indecent" clothing, such as trousers or not wearing a headscarf. The force also polices other "indecent acts" including the drinking of alcohol and has stormed private parties.
Jalal al-Deen al-Sheikh is a former deputy director of security.
Their resignations were announced following talks between the Transitional Military Council and protest leaders who are demanding a transfer of power to a civilian administration.
At a press conference on Wednesday, military spokesman Lt-Gen Shamseddine Kabbashi said the two sides had reached agreement on most of the demands, and that they had decided to set up a joint committee to bridge their differences.
However, protest leaders have not yet commented publicly since the generals' resignations were announced.