Dozens die in petrol tanker blast in Nigeria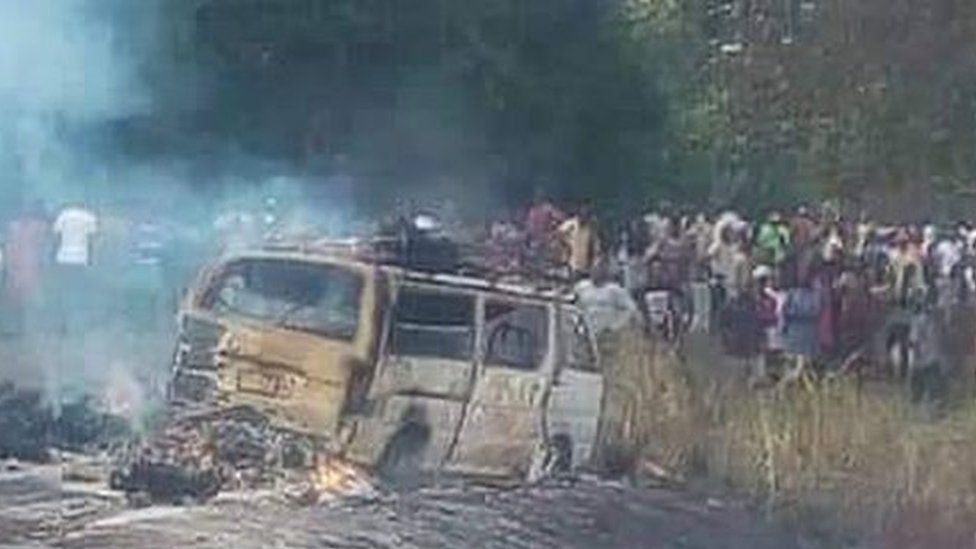 At least 45 people were killed after a crashed fuel tanker exploded in Benue State in northern Nigeria on Monday.
The driver of the tanker had lost control of the vehicle after trying to dodge a pothole, eyewitnesses say.
It reportedly caught fire after an exhaust pipe from a passing bus scraped on the ground, causing sparks to fly.
At least 10 bodies have been recovered and at least 70 people suffered serious fire burns, said local officials.
"From the look of things and considering their condition, many of them might not survive," Federal Road Safety Commission Sector Commander Aliyu Baba told AFP news agency.
People had gathered around the crashed tanker after the crash, with some attempting to salvage fuel, witnesses say.
Despite warnings from security personnel to stay away from the vehicle, many were caught up in the subsequent explosion.
Similar incidents are relatively common in Nigeria, a country where many people live in poverty despite the country's multi-billion-dollar oil and gas industry.
Fires and explosions often occur due to badly maintained roads or because people attempt to siphon off fuel from tankers and pipelines.
Last October, 60 people were killed when a spill at an oil pipeline caused a fire in Nigeria's south-east.