Burkina Faso: Gunmen kill 37 in ambush on mining firm convoy
At least 37 people have been killed and 60 wounded in an attack on a mining company convoy in Burkina Faso, authorities say.
Five buses carrying staff of Canadian firm Semafo were ambushed on Wednesday about 40km (24 miles) from the eastern town of Boungou, reports say.
A military escort vehicle was reportedly struck by an explosive device before gunmen opened fire.
It is said to be the third deadliest attack on Semafo staff in 15 months.
Burkina Faso has been wracked by an Islamist insurgency that has killed hundreds of people in recent years.
The military has struggled to contain violence that spilled over the border from neighbouring Mali.
Following two attacks in August last year, the company updated its security measures near its two mines in the country, as well as the travel arrangements.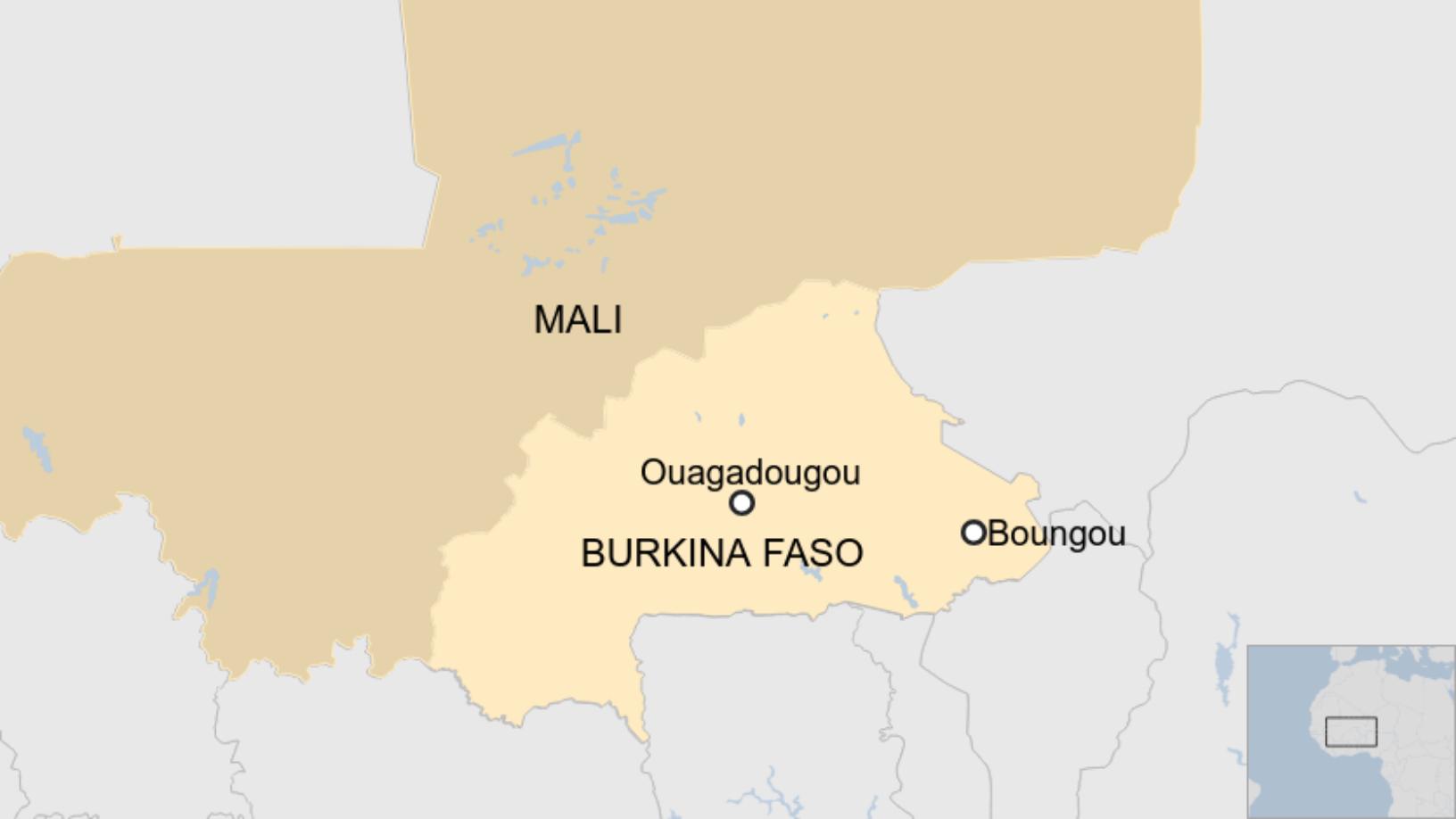 The latest attack happened on a road between Fada and its mine in Boungou, the company said.
Semafo said its operations had not been affected and offered condolences to the families of the victims, none of whom have been named.
"We are actively working with all levels of authorities to ensure the ongoing safety and security of our employees, contractors and suppliers," the firm said.
A failure to stem the violence
Analysis by Louise Dewast, BBC News, Dakar
Once peaceful, Burkina Faso has been suffering from a rapidly deteriorating security situation. Since 2015, at least 500 people have been killed and nearly half a million people have been internally displaced. For most attacks, like this latest one, no group has come out to say it was responsible so it has been difficult to identify perpetrators.
However, at least three known militant groups operate in Burkina Faso: the Group for the Support of Islam and Muslims (linked to al-Qaeda), the Islamic State in the Greater Sahara Group and the locally-rooted Ansarul Islam.
These groups are not the only ones accused of violence in Burkina Faso: so-called self-defence groups and the security forces have both been accused of committing human rights violations.
Nearly a third of the country has been engulfed in violence and this week France announced a joint military operation with the Burkinabé army at the border with Mali and Niger.
For now, military efforts have failed to stem the violence and there is growing concern about this approach, with people saying more needs to be done to address the root causes of the conflict.
The government is not only under pressure from its own people but also from neighbouring countries such as Ivory Coast and Ghana who are worried that the violence could spill over.
What's happening in Burkina Faso?
Jihadist attacks have increased in Burkina Faso since 2015.
The conflict spread across the border from neighbouring Mali, where Islamist militants took over the north of the country in 2012 before the army backed by French troops pushed them out. But the authorities have not established full control over the region.
Last month, 20 people were killed in an attack on a gold-mining site in the north of Burkina Faso.
Days later, thousands protested in the capital Ouagadougou to denounce violence in their country and the presence of foreign military forces in the region.