University of Ghana lecturers suspended after 'sex-for-grades' exposé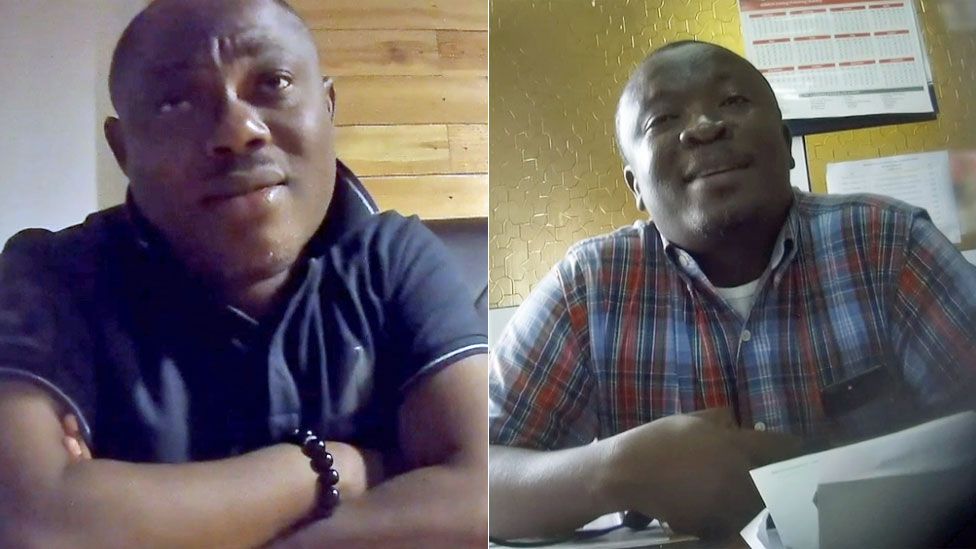 Two Ghanaian university lecturers have been suspended without pay after a BBC investigation reported they had sexually harassed undercover reporters posing as students.
The University of Ghana suspended Ransford Gyampo for six months and Paul Butakor for four months.
Both deny the allegations made last year in BBC Africa Eye's sex-for-grades documentary.
Four academics were secretly filmed as part of a year-long investigation. BBC journalists posed as prospective students to expose sexual harassment and misconduct at both the University of Ghana and the University of Lagos.
WARNING: This story contains graphic sexual references.
In one scene, Dr Butakor is filmed asking an undercover journalist if he could become her "side guy", adding that "a side will see how best to contribute to your career".
Prof Gyampo tells another undercover reporter that he will marry her. He then asks her what school she went to. After she responds, he says: "There is a rumour that the students of that school like penis."
In the aftermath of the film - which sparked widespread social media outrage in Ghana and Nigeria - the University of Ghana lecturers were suspended on full salary pending an internal investigation.
On Monday, the university's disciplinary committee said it had ruled that Prof Gyampo and Dr Butakor had breached the university's code of conduct rules.
The lecturers would undergo training about the university's sexual harassment and misconduct policy and would resume work only after a positive assessment, their statement said.
The pair would also continue to undergo annual assessments for the next five years, the committee added.
'It's like they're going on holiday'
The reaction to the lecturers' suspension has been mixed, reports the BBC's Thomas Naadi from the capital, Accra.
Some believe the punishment is too lenient.
"It makes the whole investigation, a joke. Giving six months and four months to the lecturers as suspension without salary, it makes it look like they're even going on vacation, which doesn't make much sense. This is the reality on the ground and it needs to be tackled," one woman in Accra told the BBC.
But others feel the suspensions are enough to deter others from misbehaving in future.
"I think what the university has done will serve as a form of motivation for students to be confident... because they know that if any lecturer tries to do something which is not in line with the university's rules they will be able to do something about it," a male resident of Accra said.
On Monday, Nigeria's Senate began debating a bill, initiated after the BBC Africa Eye investigation, that aims to prevent the sexual harassment of university students.
It wants five-year jail terms for lecturers found guilty of sexually harassing students.