Nigeria's emir of Kano dethroned for 'disrespect'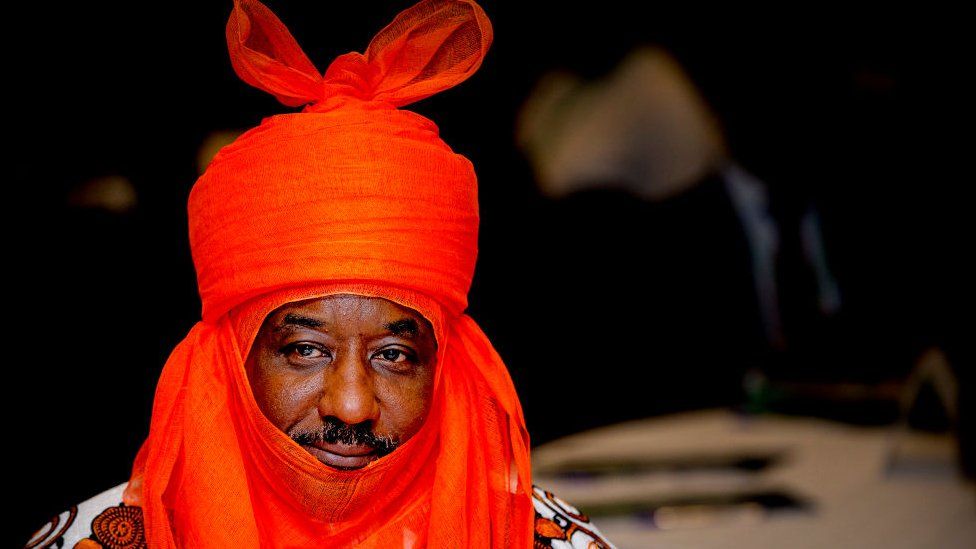 The Emir of Kano, Muhammadu Sanusi II, one of Nigeria's most influential Muslim traditional leaders, has been removed from his throne.
He was deposed for showing "insubordination'' to the authorities in the northern state of Kano.
Mr Sanusi, an ex-central bank chief, has had frosty relations with Kano Governor Abdullahi Ganduje since 2017.
His supporters believe he was sacked for opposing Mr Ganduje's re-election last year.
Traditional leaders in Nigeria hold few constitutional powers but are able to exert significant influence as they are seen as custodians of both religion and tradition.
Mr Sanusi was seen as a reformist and had been critical of some government policies - a stance that frequently put him at loggerheads with ruling politicians, reports the BBC's Nigeria reporter Ishaq Khalid.
The emir has been removed from the palace in the city of Kano by security forces. It is not clear where he has been taken, but by tradition he will be expected to live in exile outside the emirate for the rest of his life, our reporter says.
Aminu Ado Bayero, the son of Mr Sanusi's predecessor who ruled Kano for more than half a century until his death in 2014, has been chosen as the new emir by the local authorities.
The government said he was removed "in order to safeguard the sanctity, culture, tradition, religion and prestige of the Kano emirate", accusing the emir of "total disrespect" of institutions and the governor's office.
Absolute power before British colonial rule
Became part of colonial administration
Few constitutional powers since independence
Seen as custodian of religion and tradition
Revered in the mainly Muslim north
Since the emir and governor fell out, Mr Sanusi has not attended state functions and official meetings, which the government said amounted to "total insubordination".
The emir's refusal to appear before a panel investigating allegations of corruption against him also did not go down well with the government.
He is accused of selling property and mismanaging funds but he secured a court order stopping the probe.
After last year's election, Mr Ganduje, who is a powerful figure within Nigeria's governing All Progressives Congress (APC) party, split the Kano emirate into five and appointed four more emirs - to weaken Mr Sanusi's influence.
Mr Sanusi is not shy about voicing his opinions, which some say is a break with the tradition that an emir be seen and not heard.
Last month, he said fathers who sent their children out to beg for alms should be arrested.
In the past he criticised what he described as the "ultra-conservative interpretation of Islam" in some parts of northern Nigeria that has discouraged the education of girls, family planning and other progressive policies.
Born into the Fulani royal family, Lamido Sanusi became the 14th Emir of Kano in 2014 after the death of Ado Bayero.
He described the post, which carries enormous weight among Nigeria's northern Muslims, as a life-long ambition.
Five things about Muhammad Sanusi II
Born into the Fulani royal family, Lamido Sanusi became governor of the Central Bank of Nigeria in 2009
He was sacked in 2014 after revealing that $20bn (£12bn) in oil revenue had gone missing
TIME magazine named him in its list of influential people in 2011
In 2013, he was awarded a special award at the Global Islamic Finance Awards for his role in promoting Islamic banking and finance in Nigeria
He became the 14th Emir of Kano in 2014 and is the grandson of the 11th Emir
In the mid-1990s he quit a well-paid job as banking risk manager to deepen his knowledge of Arabic and Islamic studies by going to study in Sudan.
Long before he became emir, he opposed the adoption of Islamic law in some northern states, arguing that there were more pressing issues that needed to be dealt with.
But it was as governor of the Central Bank of Nigeria that he gained notoriety.
His whistle-blowing over $20bn (£12bn) allegedly missing from the state oil company caused a storm that led to his suspension by then President Goodluck Jonathan. The government denied that any money was missing.
Mr Sanusi challenged the suspension in court but was still sacked from the role. He later withdrew the court case.
Critics say he has a holier-than-thou attitude and have wondered why he refused to appear before the panel investigating corruption allegations against him.
You may also be interested in: