Coronavirus: Infections rising amid economic downturn in Africa
By Christopher Giles and Peter Mwai
BBC Reality Check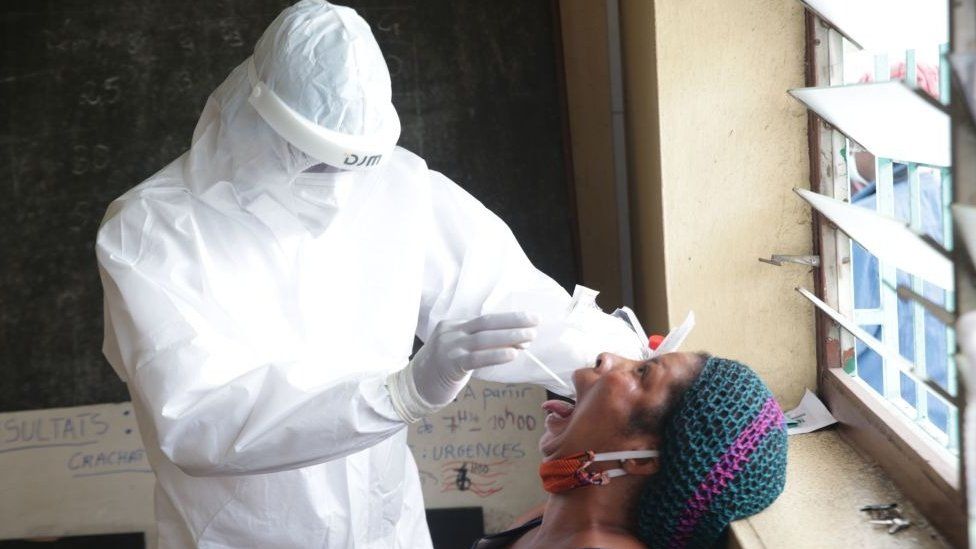 Africa is facing rising coronavirus infections and there is growing economic pressure to ease lockdown restrictions.
The pandemic has triggered the continent's first recession in 25 years, according to the World Bank.
Many countries easing lockdowns
On the whole, African countries are continuing to ease lockdown measures, despite increasing levels of infection and a general lack of testing capacity across the region.
These are some of the current measures across the continent:
South Africa has been worst hit by the virus in terms of the total number of cases and deaths and it imposed strict lockdown measures relatively early. But, despite surging cases, most businesses have now reopened and people can exercise and attend places of worship. Some restrictions on public gatherings remain, however, and a ban on the sale of alcohol has been re-imposed
In Nigeria, where there are concerns the virus is spreading largely undetected because of a lack of testing, government buildings have opened, as have places of worship, and travel is now permitted between states. But schools, restaurants and parks remain closed
Egypt has lifted its night-time curfew and allowed the opening of restaurants, cafes, cinemas and theatres at a capacity of 25%. But smoking shisha pipes, popular in Egyptian cafes, remains prohibited. Mosques and churches, meanwhile, can open for daily prayers but not mass services
The East Africa region has recorded a lower number of infections than elsewhere on the continent. Kenya has removed restrictions on travel but retained a nationwide night-time curfew. Churches and mosques are reopening there but with restrictions on capacity, while the reopening of schools has been delayed to 2021. In Uganda, there is a curfew in force and schools and religious centres are still closed. In Tanzania, schools are open and most social activities permitted. The country never implemented a harsh lockdown and its political leaders have consistently sought to downplay the virus and prevent the publication of coronavirus statistics
Travel restrictions relaxed
There has been a general lifting of international travel restrictions, with governments, especially those with large tourism industries, looking to revive the sector and generate economic growth.
Cameroon, Equatorial Guinea, Tanzania, Egypt, South Sudan, Tunisia and Zambia have resumed international passenger flights.
The Economic Community of West African States (ECOWAS), which has 15 members, is expected to fully open its airspace to passenger travel on 21 July, while Kenya and Rwanda plan to open their airspaces on 1 August.
The World Health Organization (WHO) says countries should be guided by data and health systems' capacity as they plan to reopen borders.
Africa regional director Dr Matshidiso Moeti said: "Air travel is vital to the economic health of countries."
"But as we take to the skies again, we cannot let our guard down."
The WHO has also urged governments to take effective measures, including entry and exit screenings and the practising of:
hand hygiene
cough etiquette
physical distancing
Some countries remain cautious
Dr Moeti said following the easing of measures, "we are seeing as a result an increase in cases."
And Nigeria, Africa's most populous country, has reversed its decision to reopen large parts of the education sector, including for secondary pupils.
The government said it would reopen schools when it was safe.
Elsewhere, Madagascar has re-imposed a lockdown on its capital, Antananarivo, following a new spike in coronavirus infections, two months after restrictions were eased.
No traffic will be allowed in and out of the region where the capital is located.
And only one person per household will be allowed outside during the day.
The Rwandan capital, Kigali, has also seen the reintroduction of lockdown measures, following local spikes in infections.
There has also been a local outbreak in the Moroccan city of Tangier.
Travel in and out of the city has been prohibited and residents told to stay indoors.
African governments had some early success in tackling the pandemic and have experience in mitigating viruses, such as Ebola.
However, the easing of measures appears to have caused a rise in cases and underfunded healthcare systems may struggle to cope.
"No-one doubts that governments should prioritise slowing the spread, as countries' health systems across its regions are far too weak and cannot handle a surge in hospitalisations," John Hopkins University African affairs lecturer Chiedo Nwankwor said.
But increases in testing capacity and the tracking and tracing of infected individuals has largely focused on the countries' wealthier urban areas.
"There is a need to increase access to testing, tracing, and isolation not only for cities but also beyond as the infection has pushed further inwards to semi-urban and rural areas in some cases," Mr Nwankwor said.
"Some governments across the continent are already walking the tight rope of trying to save their ailing economies, now further sickened by the pandemic, and saving the lives of their citizens, which resembles somewhat of a catch-22 situation - challenging even for rich and advanced economies."