Coronavirus: Are African countries struggling to increase testing?
By Christopher Giles and Peter Mwai
BBC Reality Check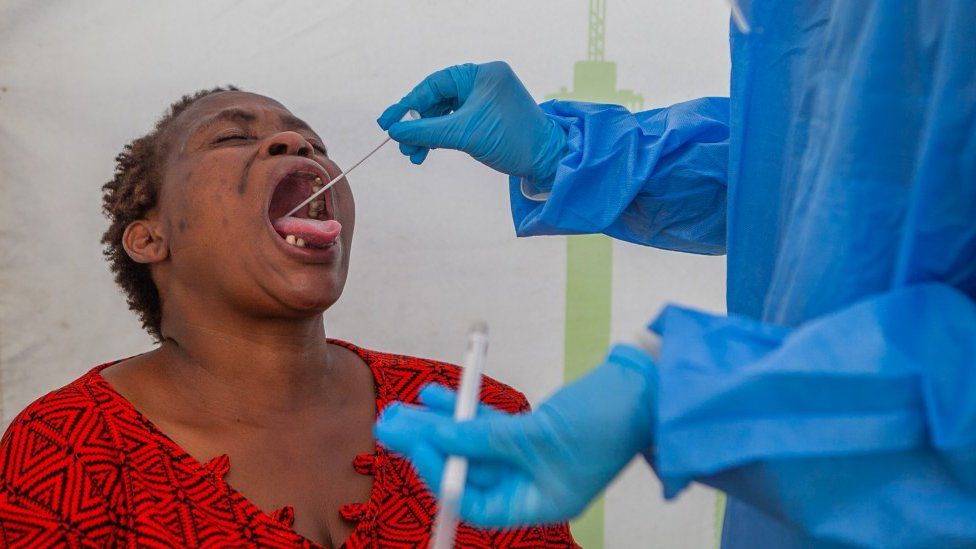 African countries have started to lift lockdown restrictions, raising fears that coronavirus infections could rise.
The World Health Organization has said countries should consider their ability to test and trace before lifting lockdown.
So which countries have been able to ramp up testing?
Nigeria - a huge logistical challenge
Africa's most populous nation has now begun to relax some of its lockdown measures despite having one of the lowest testing rates on the continent,
It's is a major challenge in country of 200 million people, and there are a limited number of laboratories able to process tests.
Chikwe Ihekweazu, director general for the Nigeria Centre for Disease Control, said in late April: "I would rather go a little bit slower and get it right than speed into a situation that we will end up regretting."
The Nigerian government says it's focused on clusters of outbreaks rather than mass testing of the population.
The commercial capital Lagos and northern state Kano are the worst-hit areas - and these regions do have the most laboratories for processing tests.
However, the Nigerian Medical Association has expressed concern that the low rate of testing means the real incidence of the virus remains unknown in the country.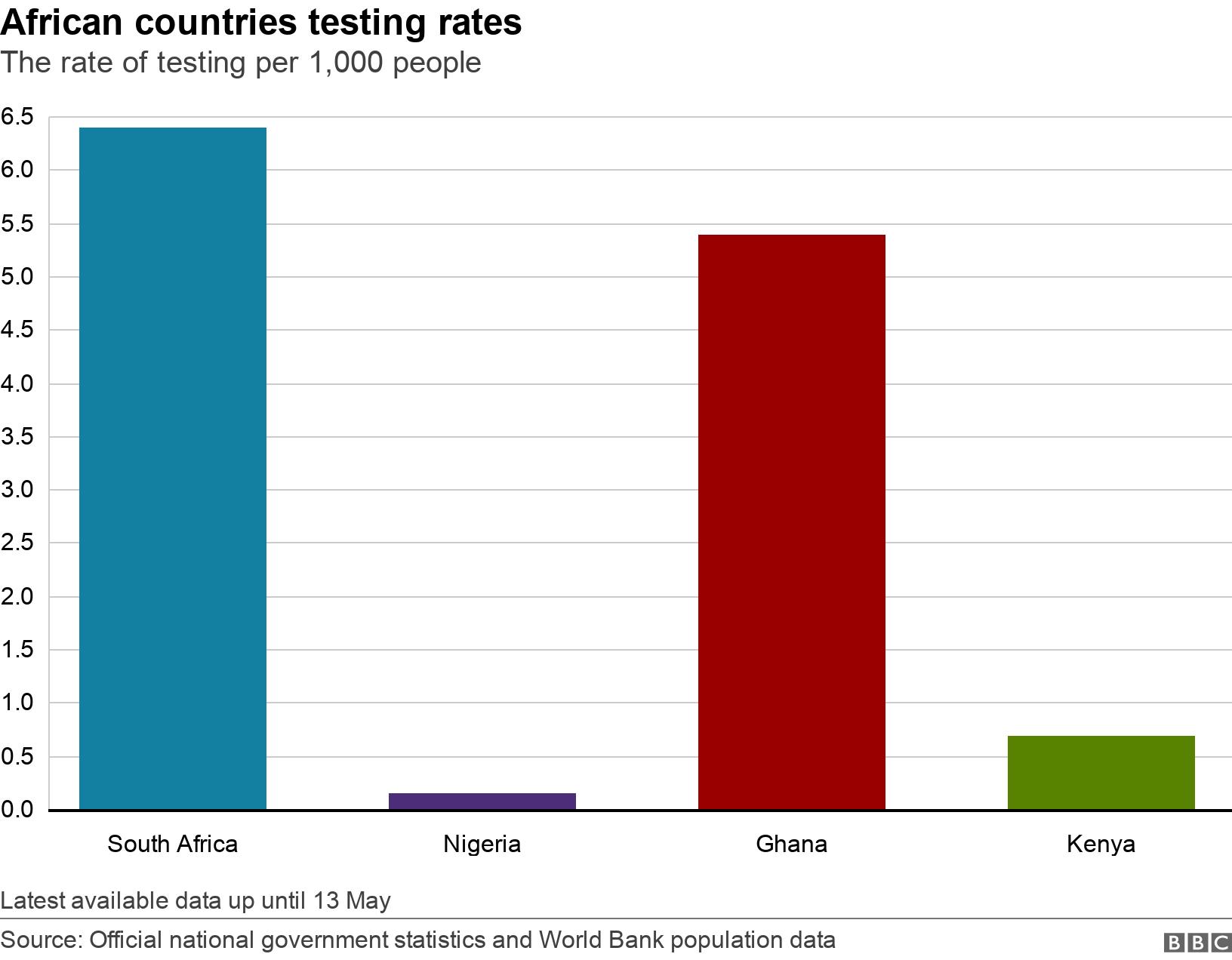 South Africa - high testing but hitting constraints
South Africa has enforced one of the strictest lockdowns anywhere on the continent and has achieved a relatively high level of testing.
The number of tests being carried out - around 16,000 a day - is considerably higher than other African country, but still a long way short of European levels.
Health Minister Zweli Mkhize has raised concerns over the country's ability to scale up testing.
"In relation to the issue of tests, I've called around both public and private laboratories - they are all suffering from the constraints of the availability of test kits,"
Ghana - emphasis on test and trace
The West African nation has put a great deal of emphasis on testing and tracing Covid-19, choosing not to implement harsh lockdown measures to protect the economy.
President Nana Akufo-Addo has eased Ghana's lockdown measures and emphasised the need to test, track and trace coronavirus cases, instead of keeping people at home. The country, much smaller than its neighbour Nigeria, has 11 testing centres, compared with 24 in Nigeria.
The government is using a "pool testing" approach which involves combining a group of samples and testing them together. Only if that produces a positive result will individual samples be tested.
Using this method, Ghana has one of the highest testing rates on the continent, with just over five per thousand of the population - a total of around 160,000 tests.
However, a recent incident at a fish factory, where one worker infected 533 others, has raised concerns about rising infections.
East Africa - shortages of testing materials
Kenya has been criticised for its lack of testing. The government says that a global shortage of testing supplies has affected the country's ability to conduct tests.
Tanzania hasn't released testing data since the end of April. President John Magufuli has said that imported tests have been faulty, claiming that samples from a goat and a fruit tested positive for the virus.
There are concerns that Tanzania, which has chosen not to enforce strict lockdown measures, could be facing a very serious, but as yet unidentified, outbreak. The US government recently warned that the coronavirus threat in Dar es Salaam, Tanzania's main city, is "extremely high".
Uganda has carried out just over 60,000 tests, but the Uganda Virus Research Institute has said they are facing shortages of testing supplies. The government says it's because of the need for increased testing on truck drivers (a suspected source of virus transmission across the region), limited supplies from abroad and delays in delivery.
Two of the Africa's smaller nations, Mauritius and Djibouti, have achieved the highest testing rates on the continent.
Getting hold of kits and the chemical reagents needed to process tests is proving difficult, as African countries don't produce their own and need to compete for limited global supplies.
Some countries also have weak, underfunded health systems, and have been slow to allocate money and resources to tackle the pandemic.
The African Union and the Africa Centres for Disease Control and Prevention (CDC) have launched an initiative, the Partnership to Accelerate Covid-19 Testing (PACT), which focuses on tracking, testing and tracing.
The organisations plan to roll out about one million tests across the continent, and 10 million within the next six months.
Dr John Nkengasong, director of Africa CDC, says the agency has so far distributed 250,000 kits from a depot in Senegal, and will be finalising the distribution of 500,000 kits received from the Jack Ma Foundation to countries over the next few days.
There are also other social and political factors which could be barriers to greater testing.
"In some communities there could be a stigma attached to having the coronavirus," said Ngozi Erondu, an associate fellow at the Centre for Universal Health, Chatham House. "It's also the case that local leaders may push back against testing if they are up for an election."
Acquiring testing kits in a competitive global market, getting tests to where they need to be and setting up the labs to process samples is not a simple task for countries with less economic clout and weaker healthcare systems.