Coronavirus in Tanzania: What do we know?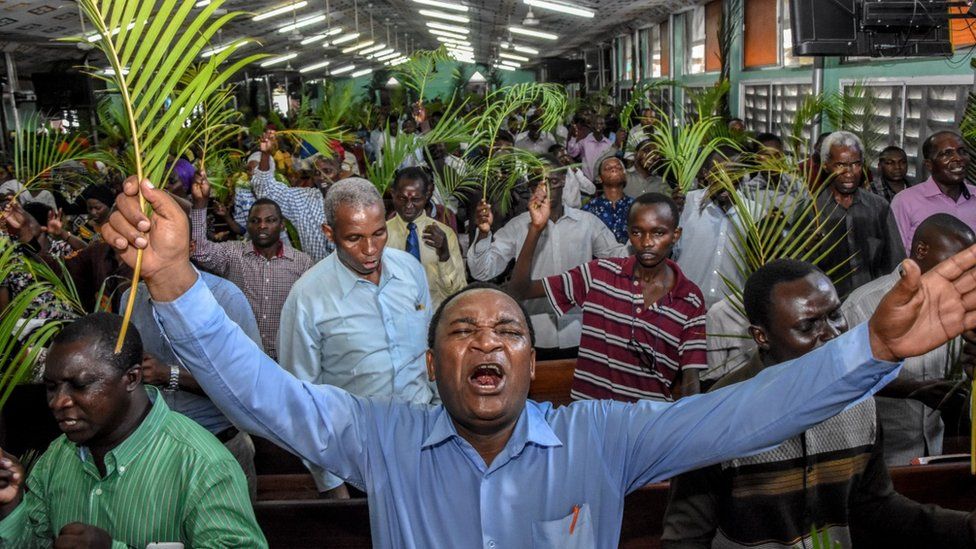 The authorities in Tanzania have not released official figures on the extent of the outbreak there since the start of May.
Schools are due to reopen on 29 June and President John Magufuli has said the virus has been largely defeated, but the lack of data has led to increasing concern over the true level of infections.
Tanzania's neighbours as well as international health organisations have expressed concerns that downplaying the epidemic there could adversely impact the wider region.
In mid-June, the country's prime minister told parliament there were 66 active coronavirus cases, but provided no further details.
Apart from this announcement, the government has not been releasing any data on infections or deaths. The president has said releasing the figures was causing unnecessary panic.
Human rights activists say health workers are afraid to speak out about the extent of the crisis.
"Tanzania has always had very repressive laws against freedom of expression and the press," says Roland Ebole, a regional researcher at Amnesty International.
"We are now seeing these laws being used in a more intensive way to target those who are speaking out, especially about Covid-19," says Mr Ebole.
The Africa Centres for Disease Control and Prevention has "strongly" called on Tanzania to release its latest data on the outbreak.
The last detailed figures, published on 29 April, reported 480 cases and 21 deaths (its island territory Zanzibar later added 29 more cases in early May).
President Magufuli later provided limited data on patients with Covid-19 admitted to hospitals and health centres.
He said the number of patients in two large hospitals in the commercial capital, Dar es Salaam, has dropped from 228 to 18, although he didn't give a timeframe for these figures. He also gave figures for a few other hospitals around the country.
Since then, government officials have provided some data on three occasions but in a way which makes it hard to draw comparisons.
The country's prime minister Kassim Majaliwa late May said the number of patients in the two main hospitals in Dar es Salaam had dropped to only two. The total national tally from the hospitals he mentioned was 32.
The country's health minister Ummy Mwalimu early June told a gathering in the coastal region of Tanga that the two main hospitals treating coronavirus patients in the country only had four patients.
She mentioned other regions that had no cases but didn't give the total number nationally or say whether more deaths had been reported.
"Unless we have a full reporting, in the true spirit of good public health practice, it is difficult to ascertain and validate that," Africa CDC head John Nkengasong told the BBC.
"The risk of contracting Covid-19 in Dar es Salaam is extremely high. Despite limited official reports, all evidence points to exponential growth of the epidemic in Dar and other locations in Tanzania," the alert said.
The government dismissed the warning and summoned the US envoy.
In the most recent alert, the embassy warns that "given the presumed ongoing community transmission in Dar es Salaam and other locations in Tanzania, the risk of contracting Covid-19 remains high."
Tanzania's neighbours increasingly concerned
The transmission of the virus across Tanzania's borders is of particular concern to its neighbours.
These routes are heavily used for transporting goods across the region and the fear is that lorry drivers and other travellers are spreading the virus.
Testing is being carried out on people travelling out of Tanzania and into Kenya, Zambia and Uganda (and in some cases being sent back if they're positive).
Zambia's Nakonde district, which is just south of the border with Tanzania, has experienced by far the most cases in the country, higher than the country's capital, Lusaka.
There is a major trading route that passes through this region, delivering goods from Tanzania's ports into Zambia, which is landlocked.
There is a similar situation in Kenya - officials are testing lorry drivers before they are allowed into the country.
In May, more than 100 people arriving from Tanzania tested positive for coronavirus and were sent back.
At Ugandan border testing points, at least 15 Tanzanian lorry drivers have tested positive in May.
Government under pressure
The government says it is concerned about the economic impact of a lockdown and its effect on its vital tourism industry.
It's also said that tests have been faulty, with samples of a fruit and a goat testing positive.
But there is growing dismay with Mr Magufuli and his resistance to following the advice of international experts.