Uganda social media ban raises questions over regulation in Africa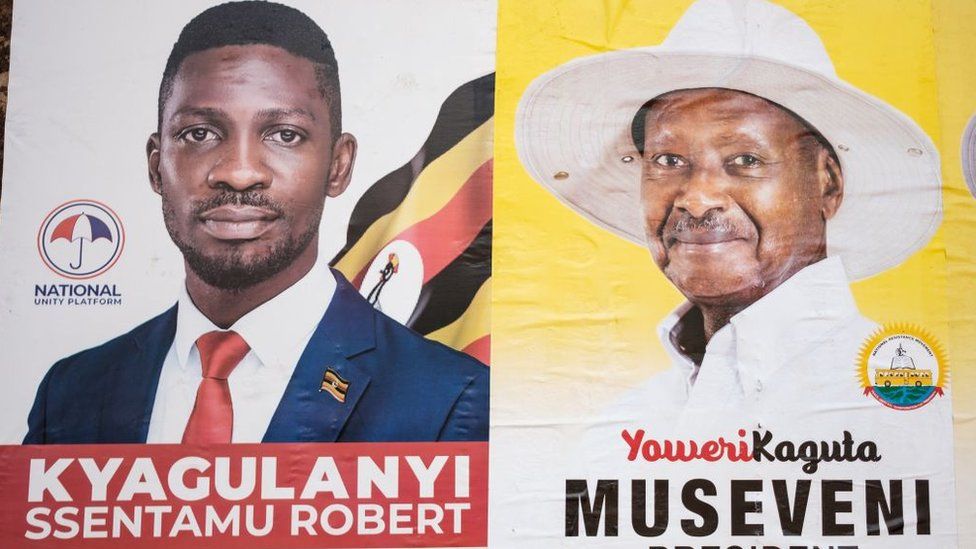 After Facebook's suspension of some Ugandan accounts, followed by the authorities' shutdown of social media and then the entire internet, the BBC's Dickens Olewe looks at the wider implications for Uganda, and elsewhere in Africa.
Facebook has said it was trying to implement its rules but that is not how President Yoweri Museveni saw it.
"There is no way anybody can come [here] and play around with our country and decide who is good [and] who is bad," he said as he railed against the company's decision to remove accounts linked to the ruling National Resistance Movement (NRM) just days before Thursday's general election.
The president accused Facebook, which he and other candidates had been using to campaign, of "arrogance".
His press secretary Don Wanyama, whose account was among those affected, told the BBC that the social media platform was being "dictatorial".
"It is simply a platform, it should not morph into a political party. There must be regulation of these platforms and independent oversight bodies," Mr Wanyama said, adding that Uganda's communications commission should get involved to set a "level playing field".
In a statement, Facebook said it acted after an investigation found that the accounts were involved in a coordinated effort to undermine political debate in the country.
Regardless of the merits of the case, analysts have told the BBC that popular social media platforms like Facebook need to pay attention to the context in which they are operating.
'Network of fake accounts'
They suggest that the companies should hire more people based on the continent and create an election response unit that works with civil society groups to enable them to tailor responses instead of relying on one-size-fits-all policies.
Mr Wanyama accused leading opposition presidential candidate Robert Kyagulanyi - better known by his stage name Bobi Wine - of being behind the removal of the accounts.
"After I completed my investigation, I sent through the data to Facebook. They conducted their own, independent investigation and concluded that the network of accounts were engaged in Coordinated Inauthentic Behaviour (CIB) in an attempt to influence public debate ahead of the election," Ms Knight told the BBC, adding that she did not work with Bobi Wine as alleged.
CIB, as described by Facebook, is when groups of pages or people work together to mislead others about who they are or what they are doing while relying on fake accounts.
In one instance, some of the accounts identified in the Uganda investigation posted exactly the same message on Facebook and Twitter, backing a police crackdown on opposition supporters:
Late last year Facebook announced that it had uncovered similar attacks by France- and Russia-based accounts seeking to influence voters' opinions in the Central African Republic.
But according to Kenyan internet policy researcher Odanga Madung, banning the NRM-linked accounts exposed how sensitive the subject of content moderation can be and handed the Ugandan government the perfect excuse to do what it had already planned.
"Any casual observer of Ugandan politics expected the government to impose internet restrictions ahead of the elections, so Facebook's decision - especially the absence of tact when punishing infringements of its terms of service - offered Museveni a timely ruse to clothe the inevitable shutdown as a retaliation," said Mr Madung.
"What is clear from this fallout is that we'll see more of such collisions in Africa, especially in authoritarian countries, as social media companies come under pressure to implement their terms of service," he told the BBC.
"But I think this is an opportunity for Facebook and other platforms to increase their presence on the continent, beyond the few officials already here, and the fact-checking collaborations," Mr Madung said, adding that "we must remember that these are private corporations so their profit motives comes first".
Some commentators have noted that unlike in the US, where social media platforms banned a president, in Uganda it was the other way round.
Popular Tanzanian cartoonist Gado artfully captured this sentiment.
The BBC is not responsible for the content of external sites.
In justifying the social media ban, the Ugandan government has mimicked the words of the social media companies.
"There has been a lot of misuse of social media to spread unfounded information that has been discrediting government officials... really if we are to practice democracy we need people to present facts as they are," minister Betty Amongi told the BBC.
Political analyst Nanjala Nyabola, who has written extensively about technology in Africa, said the banning of US President Donald Trump from using the main social media platforms had opened a new phase in what had been a "very fraught conversation" internationally.
'Citizens v the government'
She believes that the context in which the action is taken is crucial.
"The social network could take the exact same action in different places and the interpretation would be completely different.
"It all depends on the pre-existing relationship between citizens and the government. In Uganda the government is saying that the ban is undemocratic but so is mass arrest and intimidation of opposition candidates. And the history of violence from the government against civilians changes the perception of the removal of these sites," she told the BBC.
There has also been a history of the Ugandan government trying to limit the use of social media.
In 2018 it introduced a controversial tax on the sites, which President Museveni defended as way of reducing "gossip" on the platforms.
The policy has instead made internet access more costly and resulted in the loss of revenue for telecoms companies.
The economic impact of the current internet restrictions will only compound the situation.
According to recent research by Top1OVPN looking at the cost of internet shutdowns in the year 2020, more than 50 million people in sub-Saharan Africa were affected by a shutdown, resulting in an economic cost of $237m (£173m).
In Uganda, NetBlocks - which calculates the cost of internet shutdowns - estimates the country will lose at least $1.7m (£1.2m) a day, the amount is an aggregated cost of indirect losses as well as a direct consequence of businesses staying offline.
This also raises troubling questions about the relationship between social media companies and governments in places where there are moves towards greater regulation.
Ms Nyabola is concerned that if there is a tightening of rules, then it could tilt the balance even more in favour of the state.
She added that social media companies now need to have a greater presence on the continent with local staff and a commitment to understand the social and political context to prevent the enforcement of their policies playing into the hands of authoritarian governments.
"If these corporations know that their platforms are increasingly going to play a part in elections around the world then they need to have an election response unit," Ms Nyabola said.
"There shouldn't be a single rule but a flexible approach that can be rolled out in different contexts."
The social media platforms would argue that their rules apply equally to everyone, including presidents.
However, the global debate about their power and influence in moderating speech, and whether their policies should be universal, or are fair, will not end with Mr Museveni, or Mr Trump.