Coronavirus: South Africa rolls out vaccination programme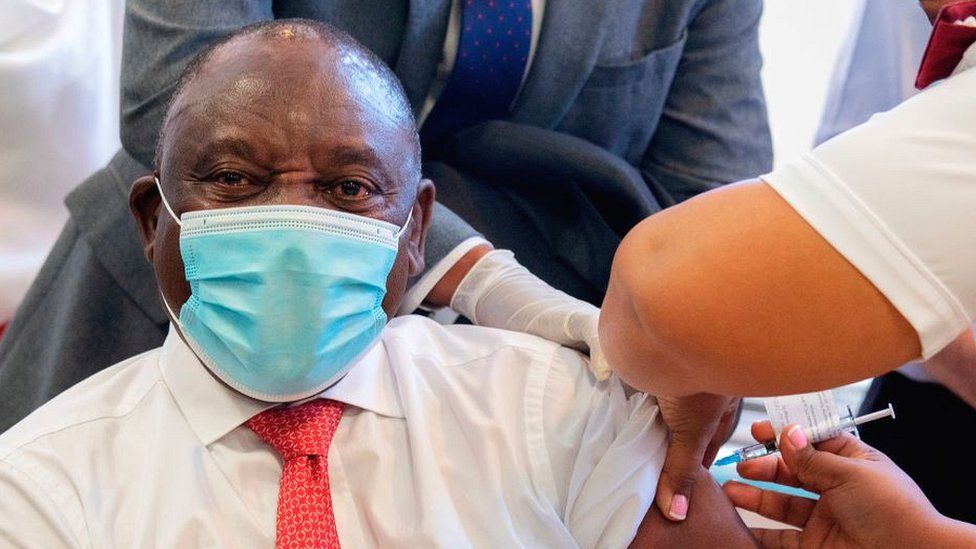 South Africa has started Covid-19 vaccinations following the suspension of an earlier plan to use the Oxford-AstraZeneca vaccine.
More than a third of all Covid-19 cases in Africa have been in South Africa, with a new variant of the virus accounting for most of the new cases there.
What vaccines is South Africa using?
South Africa is using the Johnson & Johnson vaccine which is administered as a single dose.
The country has received 80,000 doses of this vaccine, which has been shown to be effective against the variant first identified in South Africa.
President Cyril Ramaphosa says the country has secured nine million doses in total, and more doses are expected.
Pfizer has also committed 20 million vaccine doses, with deliveries expected at the end of the first quarter of this year.
Early in February, the country received one million doses of the Oxford-AstraZeneca vaccine from India.
The country is now considering administering the vaccine to 100,000 people to monitor its impact before deciding if it should be used more widely.
How is South Africa acquiring vaccines?
South Africa says it has so far secured enough doses for the target population of 40 million.
However, there has been criticism that the government was too slow to act.
Apart from bilateral deals with manufacturers, South Africa is sourcing vaccines from the World Health Organization-backed Covax scheme, as well as through an African Union programme.
Covax is a global initiative in which countries pool their resources to support the development of vaccines with a view to ensure that all countries receive a fair supply of effective vaccines.
South Africa expects to acquire doses for around 10% of the population - 12 million vaccine doses - through Covax and has been told it will receive them from April through to June.
Could South Africa have got vaccines sooner?
There's been concern that many poorer, less-developed countries are being left behind in the global competition to secure vaccine supplies.
However, critics suggest that South Africa - as the richest country in Africa - should not have been in this position.
"The stunning reality is that [South Africa] has neither a secured vaccine supply nor a plan for mass inoculation in the foreseeable future that can withstand scrutiny," the Progressive Health Forum, a group of leading medical experts in the country, said in January.
It claims the government only started to talk to vaccine suppliers in early January.
What does the government say?
Dr Anban Pillay, deputy director-general at the Ministry of Health, says the country was in touch with manufacturers as far back as last September.
"The vaccines that most of the other countries have procured are vaccines that may not be ideal for South Africa from various perspectives," he has said.
And he added that the ministerial advisory committee advised against using this vaccine.
"We were waiting for the other vaccines that we can use as a mass rollout campaign, and those vaccines had not come through the production line yet," he said.
He also said some countries have gone ahead with some vaccines without completed clinical trial data, which wouldn't be allowed by the regulator in South Africa.
The government says it couldn't have signed deals early without knowing whether the vaccines were safe and effective, as this would have been in contravention of national financial laws.
What did other countries do?
And countries who can afford to pay most at the earliest stage of development and production can often secure an advantage, according to experts.
It's unclear whether or not the authorities used this to begin negotiating for supplies from the manufacturer.