Chad's President Idriss Déby dies after clashes with rebels
Chad's President Idriss Déby has died of his injuries following clashes with rebels in the north of the country at the weekend, the army has said.
The announcement came a day after provisional election results projected he would win a sixth term in office.
The government and parliament have been dissolved. A curfew has also been imposed and the borders have been shut.
Déby, 68, spent more than three decades in power and was one of Africa's longest-serving leaders.
An army officer by training, he came to power in 1990 through an armed uprising. He was a long-time ally of France and other Western powers in the battle against jihadist groups in the Sahel region of Africa.
Déby "breathed his last defending the sovereign nation on the battlefield", an army general said on state TV on Tuesday.
He had gone to the front line, several hundred kilometres north of the capital, N'Djamena, at the weekend to visit troops battling rebels belonging to a group calling itself Fact (the Front for Change and Concord in Chad).
A state funeral is due to take place on Friday.
A military council led by Déby's son, a 37-year-old four star general, will govern for the next 18 months.
Mahamat Idriss Déby Itno will lead the council, but "free and democratic" elections will be held once the transition period is over, the army said in its statement.
He later issued a statement naming the 14 other generals who will make up the new governing body.
A BBC Monitoring journalist tweeted a copy of the notice:
The BBC is not responsible for the content of external sites.
Skip twitter post by Beverly Ochieng
Allow Twitter content?
This article contains content provided by Twitter. We ask for your permission before anything is loaded, as they may be using cookies and other technologies. You may want to read Twitter's cookie policy, external and privacy policy, external before accepting. To view this content choose 'accept and continue'.
The BBC is not responsible for the content of external sites.
End of twitter post by Beverly Ochieng
Experts have told the BBC and other broadcasters that the move is unconstitutional, and that the speaker of parliament should take over when a sitting president dies before organising elections.
Ahead of the election on 11 April, Déby campaigned on a platform of bringing peace and security to the region. Provisional results showed he had 80% of the vote.
But there had been growing unhappiness over his government's management of Chad's oil resources.
A death that leaves a vacuum
Idriss Déby was known as that rare thing - a true warrior president. The former rebel and trained pilot was the opposite of an armchair general.
For 30 years, he clung to power in Chad - a vast nation that straddles the Sahara and is surrounded by some of the continent's most protracted conflicts.
And Déby had a hand in every one of them - from Darfur to Libya, Mali, Nigeria and the Central African Republic. His troops were among the most battle-hardened on the planet.
Domestically, he had become an increasingly autocratic figure. His latest election victory saw him claim nearly 80% of the vote.
It is unclear if the poor, feuding, brittle state he leaves behind can manage a smooth transition.
And there are wider concerns too. For years, President Déby was the West's indispensable ally in the war against Islamist militants - in Mali, Niger and beyond.
His death leaves a vacuum that many may now fight to fill.
In a statement, the French presidency described Mr Déby as a "brave friend" and said it affirmed its attachment to the stability of Chad. Over the years, France has deployed troops and fighter jets to push back Mr Déby's opponents.
Chadian forces are considered to be the most effective of the Western-backed "G5" countries fighting Islamist militants in the Sahel region.
And it has often proved to be the more stable country in a region that includes Libya, Sudan and the Central African Republic - where armed groups roam freely and trade in weapons and lucrative resources that fuel conflict, says the BBC's Catherine Byaruhanga.
Founded in 2016 by disillusioned former army officers, the rebel Fact group accuses President Déby of repression in the run-up to the election.
They built up their base in Libya in the Tibesti mountains, which straddle northern Chad and part of southern Libya.
On election day, the group mounted an attack on a border post and gradually advanced on N'Djamena.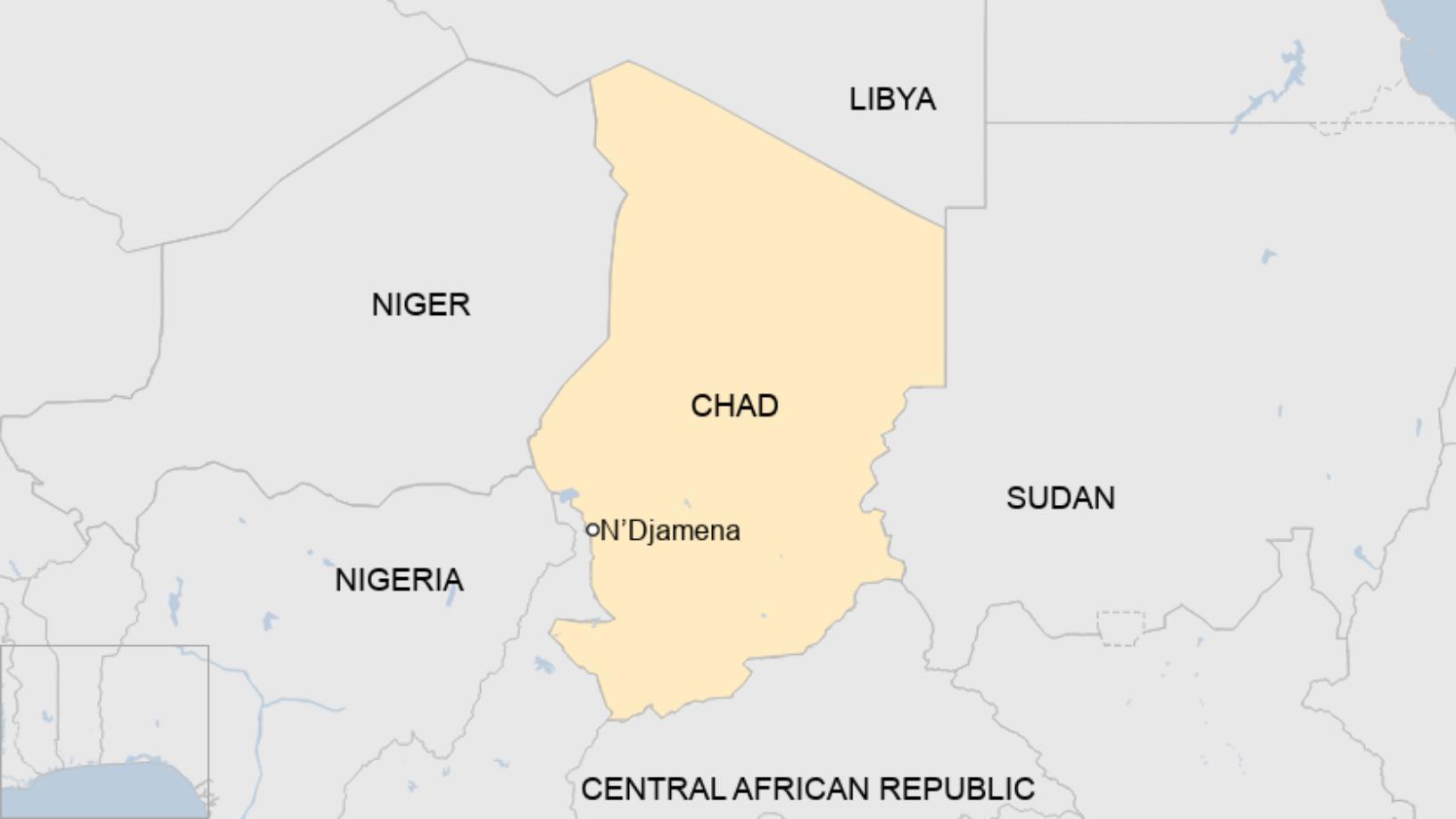 The latest clashes began on Saturday. The army says that 300 insurgents were killed and 150 captured. Five government soldiers were killed and 36 injured, it says. The figures could not immediately be verified.
Some foreign embassies in the capital have urged their staff to leave.
A former BBC journalist in N'Djamena says the situation there seemed relatively calm:
"The news is filtering through to people, but the city is calm and people are just shocked to hear that actually, because many people didn't even know that he [President Déby] was wounded or that he was at the frontline," said Mahamat Adamou.
"In the street in downtown, there are armoured vehicles that are posted at key road junctions. Of course, there is a sense of 'What is going to happen?'. But not more than that."
N'Djamena has come under rebel attack before and there was panic in the city on Monday, with parents taking their children home from school, when tanks were deployed along the main roads.
1) It is named after Lake Chad. This is the second-largest lake in Africa, but has shrunk by 90% since the 1960s. Its basin covers parts of Nigeria, Niger, Chad and Cameroon, and is a water source for between 20 million and 30 million people.
2) The Sahara Desert roughly covers one third of the country. Much of the north is desert and home to a mere 1% of Chad's population. The south has large expanses of wooded savannahs and woodlands.
3) Remains of a seven-million-year-old human-like creature - or hominid - known as "Toumai" were unearthed in 2001. Its discoverers argued that Toumai was the oldest hominid known to science.
4) Chad became an oil-producing nation in 2003, with the completion of a $4bn (£2.87bn) pipeline linking its oilfields to terminals on the Atlantic coast. The industry has been plagued by allegations of corruption.
5) Agriculture is the main source of livelihood for most people - cotton is grown in the south, and exported to Europe and the US.