Endangered South African penguins killed by swarm of bees near Cape Town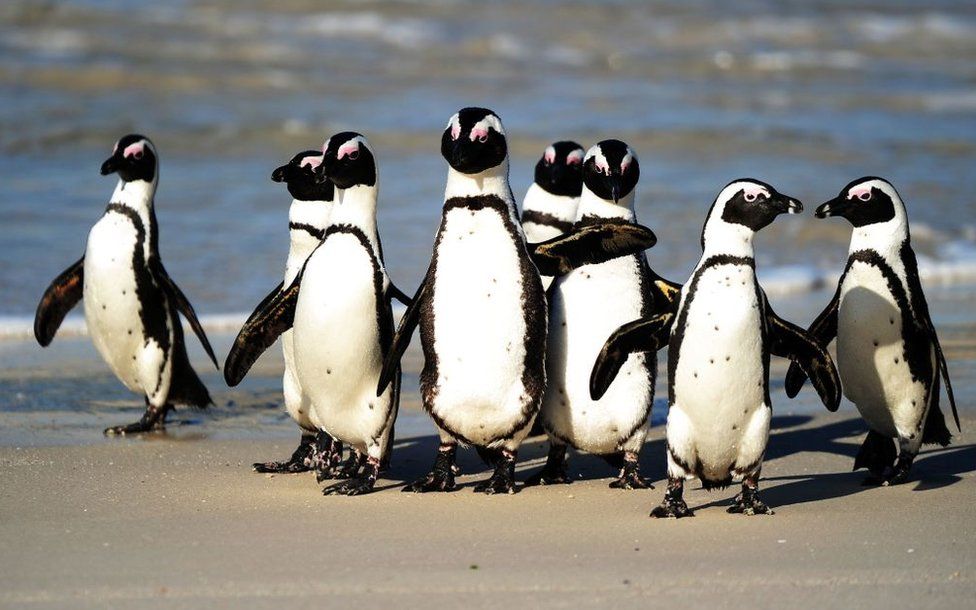 Sixty-three endangered African penguins have been killed by a swarm of bees in a rare occurrence near Cape Town, bird conservationists in South Africa say.
The protected birds, from a colony in Simonstown, were found on the shore with multiple bee-stings.
They had no other physical injuries.
National parks officials told the BBC this was the first known attack at the world-famous Boulders Beach, which attracts up to 60,000 visitors a year.
"Usually the penguins and bees co-exist," said Dr Alison Kock, a marine biologist with South Africa's national parks agency (SANParks).
"The bees don't sting unless provoked - we are working on the assumption that a nest or hive in the area was disturbed and caused a mass of bees to flee the nest, swarm and became aggressive," she added.
"Unfortunately the bees encountered a group of penguins on their flight path."
Post-mortems found that the birds had been stung around the eyes and on their flippers.
That is because "those are the parts that are not covered by feathers," Dr Katta Ludynia, from the Southern African Foundation for the Conservation of Coastal Birds (Sanccob), told the BBC.
Penguins have pink sweat glands around their eyes and "that area is particularly thin - similar to human fingers," explained Shanet Rutgers, senior penguin keeper at Cape Town's Two Oceans Aquarium.
One of the penguins had been stung 27 times.
"Seeing the number of stings in individual birds, it would have probably been deadly for any animal of that size," Dr Ludynia added.
Honeybees die after stinging and a number of dead bees were found at the scene.
"Once a honeybee has stung something, it leaves a pheromone behind so that the target is easily located by other honeybees defending the nest," said Jenny Cullinan of the African Wild Bee Institute, which is asking nearby residents to stop keeping beehives in their gardens.
African penguins are distinctive for their small size, and live on the coast and islands of South Africa and Namibia - though some have been spotted as far north as Gabon.
Their populations are rapidly declining, the International Union for Conservation of Nature says. Food shortages caused by commercial fishing as well as what it calls "environmental fluctuation" are believed to be the main causes.
Cape honeybees are part of the local ecosystem, which features several conservation areas.
A dead penguin was also found on Friday on nearby Fish Hoek which had also suffered multiple bee-stings, according to SANParks.
The national body said in a statement on Sunday that it was still conducting toxicity and disease checks on the birds, and would continue to monitor the situation.
You may also be interested in: