Ukraine crisis and Africa: The effects on oil, students and bread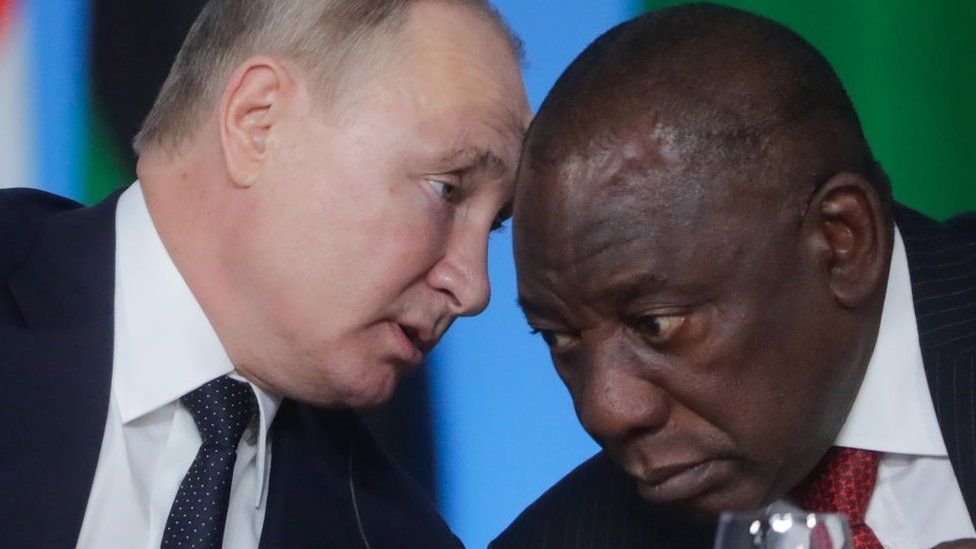 The war in Ukraine could have a devastating effect on some African states, threatening their economies and seeing governments come under diplomatic pressure to take sides in the escalating feud between Russia and Western powers.
As an article in South Africa's Daily Maverick news site noted, war in far-away Europe will "be felt in every village and town of South Africa and the world".
"Even before the first missiles have been fired this war has taken a dreadful toll: diverting billions of dollars into rearmament and away from tackling poverty, pandemics, education, inequality and the burgeoning climate crisis in a critical year," Mark Heywood wrote.
What has Africa's reaction been to the war?
South Africa - which has the continent's most industrialised economy - has called for the immediate withdrawal of Russian troops from Ukraine, saying the dispute should be resolved peacefully.
"Armed conflict will no doubt result in human suffering and destruction, the effects of which will not only affect Ukraine but also reverberate across the world. No country is immune to the effects of this conflict," a government statement said.
South Africa's position is a blow to Russia, which sees it as a key ally in Africa. The two countries have strong economic ties, with both being members of Brics - a grouping made up of the world's emerging economies.
Kenya - the economic powerhouse of East Africa, and a non-permanent member of the UN Security Council - has gone further in condemning Russia.
In a rousing speech, Kenya's ambassador at the UN Security Council, Martin Kimani, said: "The territorial integrity and sovereignty of Ukraine stands breached. The charter of the United Nations continues to wilt under the relentless assault of the powerful."
Ghana and Gabon - the two other African states on the UN security council - also condemned Russia.
No African country has so far come out in support of Russia's intervention, not even Mali and Central African Republic (CAR), where Russian forces are helping the governments fight insurgencies.
But - in a sign that autocratic regimes will stand by it - Sudan's powerful military commander, Gen Mohamed Hamdan "Hemeti" Dagolo, arrived in Moscow just as the war in Ukraine started.
His trip was aimed at strengthening ties with Russia, at a time when the junta has become a pariah in the West for derailing the transition to democracy after the overthrow of long-serving ruler Omar al-Bashir.
Meanwhile, the Russian ambassador to the Democratic Republic of Congo says Moscow is ready to help the Central African nation end the armed violence in the east of the country, state TV has reported.
How will the war affect ordinary Africans?
Oil prices have already surged past $100 per barrel to hit their highest level since 2014.
The budgets of oil-producing countries like Nigeria and Angola might get a boost from the rising prices, but the cost of transport is likely to rise for people across the continent. This will have a knock-on effect on the prices of nearly all other products.
"It becomes a double whammy of potentially higher food prices globally and higher energy prices pushing up inflation. And when central banks respond by hiking interest rates, it becomes a triple whammy," said Charlie Robertson, global chief economist at Renaissance Capital.
But the editor of the UK-based Africa Confidential publication, Patrick Smith, said the war offered massive opportunities for oil- and gas-producing countries.
"Europe has to rapidly find alternatives to Russian gas, and the most reliable alternatives are in Africa. It's a great opportunity for African states to move in, and get new deals done quickly," he added.
He said the biggest danger Africa faced was from the likely rise in bread prices, as Russia and Ukraine supply about 30% of the world's wheat.
"The price of bread has been a driving force of political instability, and triggered the Arab Spring. The Maghreb countries - Egypt, Tunisia, Morocco, Libya and Algeria, which rely heavily on wheat - could be worst-affected by the tightening of supplies and an increase in prices," Smith said.
Kenya is also concerned about the impact the war - and financial sanctions on Russia - could have on its vital tea industry. Russia is among the top five consumers of its tea, helping Kenya earn foreign currency.
"Tea and other beverages are categorised as food items and would normally not be affected by sanctions on trade," said Edward Mudibo, chief executive officer of the East Africa Tea Traders Association (EATTA).
However, he said that some traders may not want to take the risk in case Russia is barred from international payments systems.
What about Africans in Ukraine?
As it has affordable tuition fees and ties with Africa dating back to the Soviet era, Ukraine is a prime destination for African students, with thousands studying at its universities - especially medicine. Other Africans also live and work in Ukraine.
With the outbreak of war, concerns are growing about their safety. Ghana's Ministry of Foreign affairs has urged its more than 1,000 nationals to "shelter" in their homes or in government-designated shelters.
But the National Union of Ghana Students called on the government to arrange for their evacuation, saying the war demands a response similar to that taken when the coronavirus pandemic first hit.
"We believe the model used for the evacuation of students from China at the peak of the Covid-19 pandemic could be adopted in this instance as well," it said in a statement.
The African countries with the most students in Ukraine are Morocco (8,000), Nigeria (4,000) and Egypt (3,500). They constituted - as the pan-African publication Quartz points out - almost 20% of all foreign students studying in Ukraine in 2020.
Nigeria's Ministry of Foreign Affairs said it had "received with surprise" news of Russia's incursion, and measures were being taken to keep its nationals in Ukraine safe and to "facilitate the evacuation of those who wish to leave" as soon as airports re-opened.
A Nigerian medical student in Ukraine, Fatima Halilu, told the BBC that she left Kyiv nearly two weeks ago.
"All my friends are still in Kyiv. They seem stranded, lost and confused," the 18-year-old said.