Félicien Kabuga: Rwanda genocide suspect goes on trial at The Hague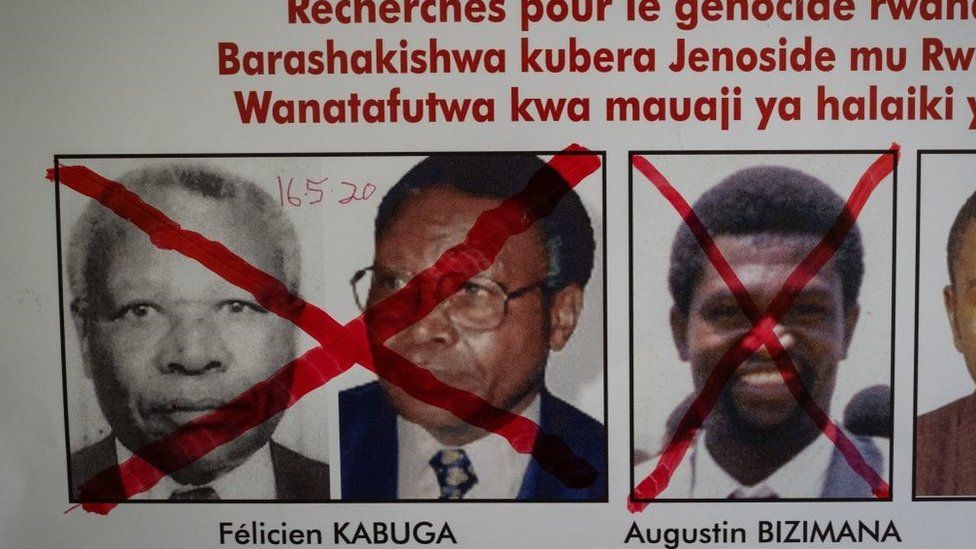 One of the alleged masterminds and financiers of the 1994 Rwandan genocide has gone on trial at a UN tribunal in The Hague.
Prosecutors say Félicien Kabuga aided and abetted hit squads in the slaughter of ethnic Tutsis, and used a radio station to incite hatred against them.
Some 800,000 Tutsis and moderate Hutus were killed in the genocide.
Mr Kabuga's lawyers have filed a not guilty plea for him but he has refused to attend the opening of the trial.
Mr Kabuga, in his late 80s, was once one of Rwanda's richest men and for decades he was among the world's most wanted fugitives.
He was arrested in France's capital, Paris, two years ago after evading capture for about 26 years.
French investigators spied on Mr Kabuga's children to track him down to his third-floor flat in the Paris suburb of Asnières-sur-Seine, where he had been living under a false identity using a passport from an unidentified African country.
He is alleged to have previously lived in several countries in East Africa, including Kenya, where he and his family had business interests.
Mr Kabuga is accused of setting up what prosecutors have described as the most powerful weapon in the genocide's execution - a radio station that was used to mobilize one ethnic group, Hutus, to take up arms against another, Tutsis.
The radio station is alleged to have broadcast hateful messages, describing Tutsis as "cockroaches".
He is also accused of using his status as one of Rwanda's richest businessmen to procure machetes, and provide them to death squads to carry out killings.
"In support of the genocide, Kabuga did not need to wield a rifle or a machete at a road block, rather he supplied weapons in bulk and facilitated the training that prepared the Interahamwe [militia group] to use them," prosecutor Rashid Rashid said.
During a first appearance at the tribunal in 2020, Mr Kabuga's lawyers entered a not guilty plea.
They have argued that he is too frail to stand trial, but judges ruled that it should go ahead but with shorter court sessions.
At the trial's opening, the presiding judge said Mr Kabuga was well but he had decided not to appear in court or to follow proceedings via video link from his detention centre.
Mr Kabuga issued a statement, saying the court had refused to let him choose his own lawyer and he had "no confidence" in his current legal representative.
He is one of the last alleged masterminds of the genocide to go on trial at an international tribunal.
The prosecutor told the BBC the trial showed international justice was often slow but could ultimately prevail.
The Tanzania-based International Criminal Tribunal for Rwanda sentenced more than 60 ringleaders of the genocide before closing down in 2015.
Remaining cases were taken over by the tribunal hearing Mr Kabuga's case. Judges decided he should face trial in The Hague, rather than Tanzania, because the travel could jeopardise his health.
Prosecutors are expected to call more than 50 witnesses in a trial that could last for years.
Survivors of the genocide have called for swift justice, fearing he may die under the presumption of innocence.
More about the Rwandan genocide: