Taiwan works to restore architectural treasures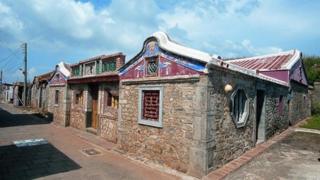 When visitors arrive in Taiwan, many think the buildings look ugly - some stained by the weather and in need of painting, others run-down high-rises.
But in the past few years, the island has begun to cherish its original architectural beauty, especially homes and temples built by early Chinese settlers from the 1600s to 1800s.
Large sums of government and private money have been poured into restoring old mansions, temples and even ordinary family homes.
This is partly because Taiwan is trying to attract tourists - who like cultural relics. A similar trend is happening in other Asian countries which had demolished old structures in their rush to develop.
Taiwan's situation shows the task is challenging, but doable.
Since a cultural heritage protection law was enacted in 1982, around 1,700 structures have been protected.
Some of the most important are:
The Tianhou Gong in the outlying archipelago of Penghu. It is the oldest of Taiwan's approximately 1,000 temples dedicated to Goddess of the Sea Mazu, built in 1592.
The Lin An Tai Mansion in Taipei, built in 1783 by a merchant family and saved from demolition by activists in 1978.
The Wufeng Lin Family Mansion and Garden in Taichung city, built in 1864, is nearing completion after a 27-year renovation.
But the law's enactment in 1982 came rather late. Many priceless structures were destroyed beginning in the 1960s as the island rushed to modernise.
There used to be many old mansions belonging to rich families in Taiwan, but now experts estimate only 10 are left.
"It's a shame. Many things, including some of the best, have been destroyed. Those destroyed include very beautiful mansions that were even better than the ones we've saved," said Lee Chian-lang, an architecture professor at Chinese Culture University.
One of the most pitiful demolitions, Mr Lee said, was a five-section mansion built by the wealthy Lin family of Banciao, near Taipei, in 1875.
The descendants gained government permission to tear down the better half of it in 1979 and build a tall building in its place to make money.
Subsidies
When Taiwan's government began trying to protect some of the remaining architectural heritage, one of the biggest obstacles it encountered were the owners.
"Many people didn't want their property to be protected as heritage sites because that meant they couldn't sell the land or knock it down to build a big building in its place," said Shy Gwo-long, deputy director of the Council for Cultural Affairs' cultural heritage administration.
But six years ago, Taiwan began adopting a method used in the US - getting developers who want to build high-rises in other parts of town to pay the owners of the cultural heritage sites the equivalent of what they would earn if they were allowed to knock down the site.
The owners benefit because they are paid a lot of money and still can use their ancestral home. The developers benefit because they get to build a much taller building than they originally would have been allowed to.
The government also benefits because it gets to protect the city's cultural heritage without having to pay large sums.
At the same time, the government has been paying owners to restore their properties. The council's cultural heritage administration spends $10-$15m (£6.3-9.4m) a year subsidising restorations. This does not include funding from local governments and private donors.
"This plan is working well," Mr Lee said. He credits it with saving Taipei's entire Dihua Street - one of its earliest commercial districts - from being destroyed.
This method works mainly in Taipei because of the market for tall skyscrapers, Mr Lee said. In villages or small cities, developers do not have the incentive to build high-rises because the land is cheaper.
But in scenic parts of Taiwan, the hunger for tourists has led to many owners agreeing to use government subsidies to renovate their ancestral homes into bed and breakfast hotels or small shops, even if they can no longer sell the property.
Some of the most beautiful and successful cases include the Mediterranean-lookalike large stone houses that line the coastal area of Matsu Island's Qinbi neighbourhood; the ornate and colourful red-brick homes on Kinmen Island; and the homes made with coral stones in the Penghu archipelago.
These outlying islands hold some of Taiwan's most valuable architectural gems because they were the earliest settlements of Chinese immigrants.
As the islands' economies have developed at a much slower pace than mainland Taiwan's, there are more traditional homes intact.
In Penghu's Erkan neighbourhood, an entire village's 51 houses have been preserved. The "laogushi", or coral stone houses, were painstakingly built by settlers in the early 1600s.
Too poor to import wood, and with few trees on the windswept archipelago, Penghu's earliest residents went to the seashore when the tide receded to pluck coral stones.
They transported them inland by oxcarts and laid them out to dry for days.
It took years for families to collect enough stones and save up enough money to hire expert builders to stack the stones one by one to build a house. Plaster was used to fill the gaps and make walls.
Looking at the homes, it is not easy to tell from the outside they are made of coral stone. Porcelain tiles painted with flowers, birds, and characters from Chinese legends adorn the exterior.
Sixty-two-year-old Chen De-huang, an 11th generation resident of Erkan, came back with his wife to live in the village after working for years in a big city.
"Penghu is better. The air is fresher. There's no pollution," said Mr Chen as he roasted squid for tourists - a retirement job for him.
But of the 1,000 people from the village, only about 70 still live there, mostly the elderly.
Many young people like Mr Chen's grown children work in the cities because they cannot earn a good living in Penghu.
This points to one of the challenges of preserving cultural heritage sites, Mr Lee said. After renovations, they need to be used and not left empty.
Eco-tourism
But what preservationists find encouraging is that an increasing number of private citizens are putting money into protecting Taiwan's historical treasures.
The famous Longshan Temple in central Taiwan's Lugang town, for example, was renovated with a donation of $6.6 million from two brothers from that town.
The fairy-tale-like Taipei Story House and the Taipei Futai Street Mansion, an office building during the Japanese colonial era, were preserved with donations from a lawyer passionate about reviving heritage sites.
But more needs to be done, including preserving heritage sites of Taiwan's indigenous tribes, according to deputy director Mr Shy.
They lived in Taiwan for thousands of years before settlers arrived from overseas. While the indigenous peoples built few structures, those that exist, including stone slate houses, old tribal settlements and archaeological sites, should be saved, he said.
In Penghu, residents are developing eco-tourism - taking advantage of the area's scenic beauty. Because of this, more young people are moving back to open small businesses such as bed and breakfast hotels, or to work as tour guides.
But as to what will happen to Erkan's homes in the future, Mr Chen said there was no guarantee. His children still like to visit Penghu when they have time.
"We can't demand that they don't sell our family home. Our ancestors never asked that of us. We, of course, hope they will keep and protect it forever," he said.