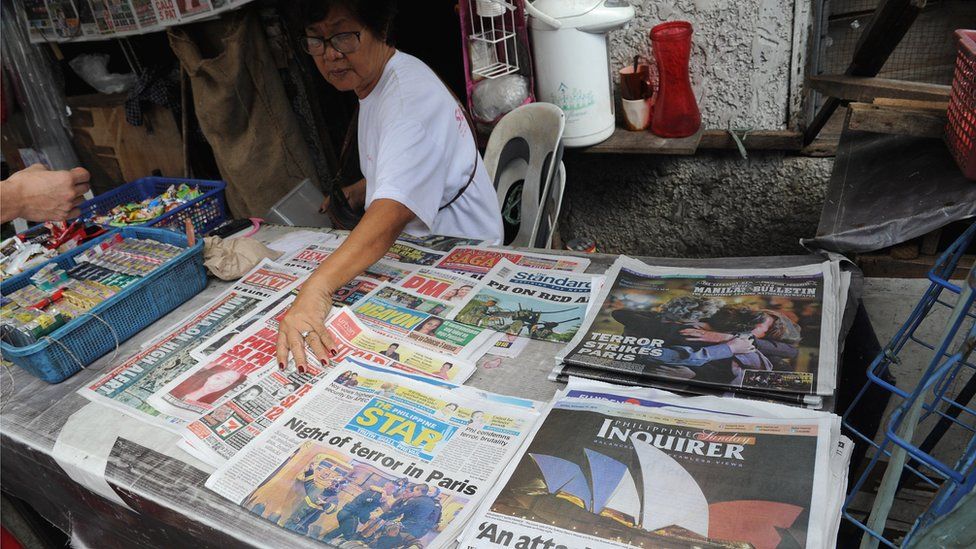 Powerful commercial interests control or influence much of the media.
The lively TV scene is dominated by free-to-air networks ABS-CBN and GMA. Some Manila-based networks broadcast in local languages. Cable TV has extensive reach.
Films, comedies and entertainment shows attract the largest audiences.
There are hundreds of radio stations. Manila Broadcasting Company is a leading network.
The private press is vigorous, comprising hundreds of newspaper titles. The most popular are Filipino-language tabloids, which can be prone to sensationalism.
Press freedom is guaranteed under the constitution. Government censorship is not a serious problem, but the Philippines is one of the most dangerous places in the world for journalists, says US-based Freedom House.
"Private militias, often hired by local politicians, silence journalists with complete impunity," says Reporters Without Borders.
There were 101 million internet users by July 2022, 91% of the population (Internetworldstats.com). Facebook and Twitter are the most popular platforms.
There is no systematic censorship of online content, says Freedom House.