India: Mayawati proposes division of Uttar Pradesh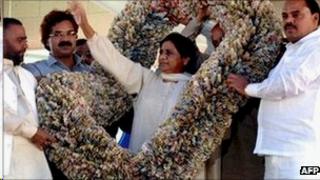 The chief minister of India's Uttar Pradesh state has proposed the division of the populous and politically influential state into four parts.
Ms Mayawati said she would table a proposal for the division in the upcoming session of the state assembly.
The final decision on a new state lies with the Indian parliament. But the state assembly must also pass a resolution approving its creation.
India with its billion-plus people has 28 states.
Correspondents say Ms Mayawati's proposal is a politically astute move ahead of the upcoming elections in Uttar Pradesh.
The plan is aimed at winning over people living in different parts of Uttar Pradesh who have been demanding separate states, correspondents say.
Uttar Pradesh is India's most populous state with 200 million people living in 75 districts. It has also produced most of the country's prime ministers.
'Popular demand'
Ms Mayawati has proposed splitting Uttar Pradesh, one of India's largest states, into four states of Avadh Pradesh, Purvanchal, Bundelkhand and Paschim Pradesh.
If there were to happen, Uttar Pradesh, which has 80 seats in the parliament, would lose its pre-eminent political status.
She said a resolution proposing the new states would be placed in the upcoming winter session of the state assembly, beginning next week.
"We expect a positive response [to the proposal] from the central government. The decision has been taken on popular demand," Ms Mayawati, who heads a government of her Bahujan Samaj Party, which represents the interests of Dalits (untouchables), said.
Ms Mayawati said her government had "always supported [Dalit leader BR Ambedkar's] ideology of smaller states and smaller administrative units".
"We believe that smaller administrative units can be better managed in terms of law and order as well as administration."
Political analyst Smita Gupta said Ms Mayawati's move is a "cleverly crafted pre-election strategy" to win next year's state election.
"So she has decided to work on demands that have arisen from different parts of the state from time to time," Ms Gupta wrote in The Hindu newspaper.
"For instance, both the people of the prosperous western part of the state as well as of the desperately poor and arid Bundelkhand have, for many years, expressed a desire to break away from Uttar Pradesh."
Analysts say it will be difficult for the federal government to concede to the demand as it is already facing protests over the demands for the formation of a new state of Telangana in Andhra Pradesh.
With a population of 40 million, the proposed Telangana state comprises 10 of Andhra Pradesh's 23 districts, including the state capital and India's sixth most populous city, Hyderabad.