John Key 'illegal tapes' row erupts in New Zealand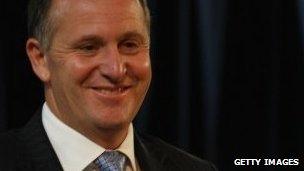 New Zealand police have ordered four media organisations to hand over evidence of an alleged illegal recording of Prime Minister John Key.
The police said they would carry out searches to get the material.
Opposition politicians have accused Mr Key of trying to gag the media in the run-up to an election next weekend.
Mr Key made a complaint after a freelance cameraman revealed he had inadvertently recorded the prime minister talking to a political ally.
The cameraman Brad Ambrose handed the tape to the Herald on Sunday newspaper.
No media organisations have published the material, and Mr Key says the comments he made were bland and uncontroversial.
But his decision to get the police involved has caused a storm of controversy in New Zealand, with a general election due for next weekend.
And the story has been followed closely by the media.
Radio New Zealand, which said it did not have a copy of the original tape, confirmed it had been asked to hand over unpublished material related to the story.
The organisation's head of news, Don Rood, said he had refused the request because he had to protect journalists' sources.
Phil Goff, leader of the opposition Labour party, said the issue had "got out of control".
"It's bizarre, the prime minister should put an end to it by just coming clean now, being up front, being honest," he told local media.
''When he made that complaint, it seems his intent was to gag the media. This isn't a matter of high principle.''