India minister says rural jobs funds spent on toys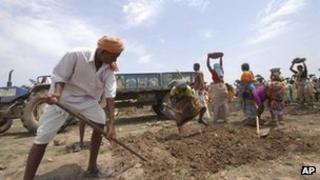 Funds meant to provide work to India's rural poor have been diverted by corrupt officials in the northern state of Uttar Pradesh, Rural Development Minister Jairam Ramesh has said.
Money has been used to buy calendars, tents, tables, chairs, plates and even toys in seven districts, he claims.
Mr Ramesh raised the issue with Chief Minister Mayawati in a letter which the BBC has seen. She has yet to respond.
But Mr Ramesh is calling for a police inquiry into the allegations.
Last month too, Mr Ramesh wrote a letter to Ms Mayawati pointing to what he said was the large-scale diversion of public money from the jobs scheme.
Ms Mayawati then wrote to Prime Minister Manmohan Singh saying Mr Ramesh's letter was "politically motivated".
Mr Ramesh says his letter is based on information presented by the independent State Quality Monitor which has pinpointed instances of deliberate and widespread misuse of funds.
Called the Mahatma Gandhi National Rural Employment Guarantee Act (MNREGA), the five-year-old multi-billion dollar jobs scheme is one of the world's biggest social welfare schemes.
It guarantees 100 days of work a year to every villager where they build local infrastructure like roads, ponds and community buildings.
'Funds siphoned off'
Allegations of official corruption have been levelled at each stage of the scheme.
But, Mr Ramesh's letter alleges a deep rot in the way the scheme is run in Balrampur, Gonda, Mahoba, Sonbhadra, Kushinagar, Sant Kabir Nagar and Mirzapur districts.
Millions of rupees were spent on buying "calendars, tents, water storage tanks, medical kits, complaint boxes, display boards, chars and tables, tin plates" and other items in Balrampur district in 2007 and 2008 and the bills for these articles were massively inflated, the letter says.
"Surprisingly, 4m rupees ($79,000; £50,000) were spent on buying toys in Gonda district," it adds.
The 14-page letter names several bureaucrats and villages officials who have allegedly siphoned off tens of millions of rupees.
"But the state government has failed to take any action against the corrupt officials," Mr Ramesh writes.
The minister is now calling for an inquiry by the Central Bureau of Investigation (CBI) into the irregularities.
Uttar Pradesh is India's most populous state with 200 million people.
It is also home to a large number of poor with 56 million people earning less than $1 a day and 300,000 not even managing to get one square meal a day.
Some analysts say that since assembly elections are due in Uttar Pradesh in the next few months, Mr Ramesh's letter is an attempt to embarrass Ms Mayawati.