Is Burma's political landscape changing for good?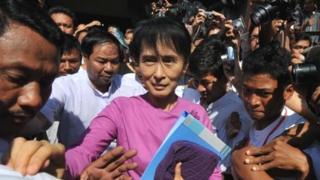 If there was any lingering doubt about whether or not there is a process of change under way in Burma, this past week will surely have dispelled it.
On Monday opposition leader Aung San Suu Kyi marked a year since her release from house arrest by delivering an overtly political speech. She described the past 12 months as "eventful, energising and to a certain extent encouraging".
Four days later she and her party, the National League for Democracy (NLD), backed that cautious optimism with concrete action by voting to re-register as a legal political party. The move opens the way for party members, including Aung San Suu Kyi, to contest a slew of forthcoming by-elections.
Just over a year after boycotting a process it rejected as a sham designed to perpetuate military rule in civilian guise, the NLD and its iconic leader are choosing to move back inside the official system.
It was, according to NLD Vice-Chairman Tin Oo, "a difficult decision taken after hard discussions". That may be an understatement.
The decision to boycott last November's elections, the first since the NLD's unconsummated landslide win of 1990, led to a faction breaking away to form their own party to contest the poll. What must they be thinking now?
The NLD points to recent developments, including amendments to electoral laws which had prohibited serving prisoners from participating, and the continuing dialogue between Aung San Suu Kyi and the new nominally civilian government, as justification for its decision.
Whatever the rationale, the move changes the political landscape in Burma.
'Travel down the road'
Where Aung San Suu Kyi leads, others follow. Even the president of the United States felt he should call her - his first direct contact with the pro-democracy icon - before announcing that he was sending America's top diplomat, Hillary Clinton, to Burma in December.
President Barack Obama outlined what he called the "flickers of progress" in recent weeks, making sure credit went in large part to his counterpart, Burmese President Thein Sein, seen as the main driving force behind recent reforms.
"We want to seize what could be a historic opportunity for progress, and to make it clear that if Burma continues to travel down the road of democratic reform, it can forge a new relationship with the United States of America," Mr Obama said.
But there are several steps that need to be taken before that point is reached - the release of all remaining political prisoners, resolving the armed conflicts which persist in some areas, addressing the rights of Burma's ethnic minorities and ensuring the fair and independent application of the rule of law.
Regional body Asean clearly thinks Burma is moving in the right direction. Its decision to award its historically recalcitrant member the rotating chair of the organisation in 2014 is both reward for steps taken thus far and encouragement to keep it up.
Derek Tonkin, a former British ambassador in the region says: "They (Asean) have also made it clear that they are looking for steady progress from now on. They are taking a risk, but they feel they have good reason to do so."
Sceptics will view all this with alarm, arguing that nothing that has changed in Burma so far is set in stone. The hawks, the military, could still bring these nascent signs of reform to a shuddering halt.
"You are never going to get that 'irreversible' assurance which Western countries say they are seeking," says Derek Tonkin. "There is bound to be some occasional backsliding, but provided the general trend is in the right direction, that is the best we can hope for."
'Practical help'
There appears now to be a consensus developing around that view and on the need to bolster and encourage the direction of travel.
Aung San Suu Kyi seemed to offer some guidelines towards the end of her speech earlier this week.
In it she appealed to all those who wish Burma well, to help by "criticising us when necessary, encouraging us at the right time and, if I may request it, providing us with practical help when we need it".
The first and second steps are being fulfilled. The challenge now is how and when to follow through on the last.