Australia begins releasing asylum seekers to community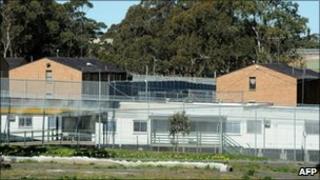 Australia has begun releasing asylum-seekers from detention into communities, following the collapse of its "Malaysia swap" plan.
Immigration Minister Chris Bowen said 27 men had been given bridging visas to allow them to live and work while their claims were assessed.
He said as many as 100 people could be given these visas each month.
The move follows a High Court ruling that ended a controversial plan to send some refugees to Malaysia.
Australia detains all asylum seekers who arrive by boat in processing centres on the Australian mainland and on Christmas Island.
The government tried to push through a plan that would have seen 800 such asylum seekers sent to Malaysia for processing over four years.
In return, Australia would have housed 4,000 refugees already living in Malaysia.
But the court ruled that Malaysia - which has not signed UN refugee conventions - did not offer adequate protection.
'Practical realities'
Mr Bowen said those receiving bridging visas were mainly from Sri Lanka and Afghanistan, and had undergone checks.
He blamed opposition leader Tony Abbott's refusal to back the legislation for the releases.
"The government's position remains that having processing offshore is an important deterrent to making that boat journey, that dangerous boat journey," he said.
"But we work within the practical realities and we work lawfully, and until Mr Abbott acknowledges that his obstructionism means that we can't have offshore processing, we need to process people onshore."
Mr Abbott wants the government to reopen a processing centre on the Pacific island of Nauru, which signed UN refugee conventions in September - something that would constitute a full reversal of government policy.
Human rights groups, however, have welcomed the move on bridging visas.
"Australia has been alone among industrialised nations in subjecting asylum seekers who arrive without visas to detention for the entire period taken to determine their refugee status," said Refugee Council of Australia's chief executive Paul Power.
The president of the Australian Human Rights Commission said she hoped to see as many asylum seekers as possible given the visas.
Australia's mandatory detention policy has been heavily criticised by rights groups and refugee advocates, who say prolonged detention can leave asylum seekers depressed, self-harming or suicidal.
But asylum is a hot political topic in Australia - despite the relatively small numbers involved - and both parties strive to appear tough on the issue.