John Key out in front as New Zealand votes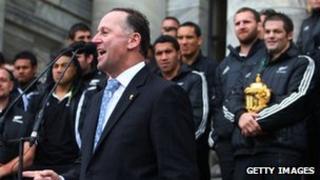 Polls have closed in New Zealand in a general election that could see the governing National Party secure an historic outright majority.
Opinion polls put PM John Key's party just over the 50% mark, with Labour, led by Phil Goff, trailing on 27%.
If the polls are correct, the National Party would be the first to win an outright majority since proportional representation was introduced in 1996.
It is currently in a coalition with three small parties.
The Green Party is also expected to make a strong showing, with support at around 12%.
The polls opened at 09:00 local time on Saturday (20:00 GMT Friday) and closed at 19:00.
'Long year'
On the campaign trail, both the big parties have focused on the economy.
Mr Key has promised to tackle national debt by selling stakes in state companies, while Mr Goff says he would introduce a capital gains tax and delay pension payments by two years to pay off debt.
But more public attention has focused on a row over the recording of a private conversation between Mr Key and a colleague after a media event.
A cameraman said he left the recording device on the table by mistake. Police have since served search warrants on four media outlets seeking the material. The contents of the recording have not been disclosed.
Mr Key said that he was both excited and tired ahead of polling day.
"It has been quite a long campaign and it has been a very long year if you go all the way back to the Christchurch earthquakes, everything from the World Cup to the [stricken merchant ship MV] Rena, it's been a lot happening this year," he said.
Cautioning against complacency, he urged people to turn out to cast their ballots.
"[The danger is] people just not turning up thinking that National's doing well in the polls and then saying: 'My vote won't really count'."
Observers say voters have warmed to John Key over his handling of both the Christchurch earthquakes and the deadly blast at the Pike River mine in November 2010.
The All Blacks' win in the Rugby World Cup has also played in his favour, they believe.
Mr Goff said he was proud of the way Labour had campaigned.
"We are focusing solely on tomorrow and maximising the Labour vote, making sure National don't get a majority and don't get an absolute majority.
"If they get an absolute majority, they will abuse it and sell the whole of our assets," he said.