Solomon Islands profile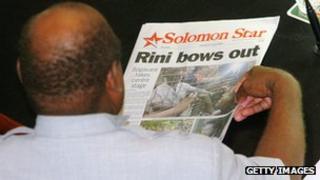 The Solomon Islands Broadcasting Corporation (SIBC) operates a public radio service. A high rate of illiteracy means that radio has a greater reach than the press.
Australia has donated equipment to SIBC and has sponsored programmes aimed at promoting peace. Taiwan has also granted technical aid.
Press freedom is generally respected, says US-based Freedom House.
The BBC World Service broadcasts in the capital on 105.6 FM.
There were more than 34,000 internet users by June 2012 (InternetWorldStats).
The press
Solomon Star - daily
Solomons Voice - weekly
Solomon Times - weekly
Agrikalsa Nius - monthly
Citizen's Press - monthly
Television
Radio
Internet