Pakistan buries 24 troops killed in Nato airstrike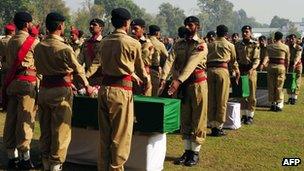 Pakistan has buried 24 of its troops who were killed in a Nato airstrike at a checkpoint on the Afghan border.
Army chief General Ashfaq Pervez Kayani led mourners in funeral prayers at military headquarters in the north-western city of Peshawar.
The incident on Saturday has heightened already tense relations between Pakistan and the US and Nato.
Nato has apologised, calling it a "tragic unintended incident", and is investigating what happened.
Nato chief Anders Fogh Rasmussen said he had written to Pakistan's Prime Minister Yousuf Raza Gilani to "make it clear that the deaths of Pakistani personnel are as unacceptable and deplorable as the deaths of Afghan and international personnel".
It follows a joint statement by US Secretary of Defense Leon Panetta and Secretary of State Hillary Clinton, who offered their condolences for the loss of life, backed the investigation into the incident and stressed the "importance of the US-Pakistani partnership, which serves the mutual interests of our people".
Pakistan has reacted angrily to the attack, which took place at two remote border posts in Pakistan's tribal district of Mohmand in the early hours of Saturday morning.
Prime Minister Gilani called it a "grave infringement of Pakistan's sovereignty".
A meeting of the cabinet's defence committee, convened by Mr Gilani, said it had decided to cut key supply lines to Nato in Afghanistan. Reports later appeared to confirm that Nato traffic was not being allowed through Pakistan's two border crossings with Afghanistan, at Torkham and Chaman.
The committee has also asked the United States to vacate, within 15 days, the Shamsi air base, which the US military has used to launch drones - although the BBC's Orla Guerin in Islamabad notes that Pakistan has made a similar demand before and the base may already be empty.
The committee further said it would "revisit and undertake a complete review of all programmes, activities and co-operative arrangements with US/Nato/Isaf, including diplomatic, political, military and intelligence".
Pakistan's government also summoned the US ambassador.
The night-time attack took place at the Salala checkpoint, about 1.5 miles (2.5 km) from the Afghan border, at around 02:00 on Saturday morning local time (21:00 GMT Friday).
The Pakistani army said helicopters and fighter aircraft hit two border posts, killing 24 people and leaving 13 injured. Local officials said the two posts were about 300m apart on a mountain top.
Pakistani officials said there had been no militant activity in the area, and most of the Pakistani soldiers were asleep. They also said Nato had the grid references of the posts and therefore should not have fired.
Military sources told the BBC's Quentin Sommerville in Paktika province in Afghanistan that a US-Afghan special forces mission had been in the area, where they believed a Taliban training camp was operating.
They said the mission came under fire from a position within Pakistan, and they received permission from the headquarters of Nato's Isaf mission to fire back.
The incident looks set to deal a fresh blow to US-Pakistan relations, which had only just begun to recover following a unilateral US raid that killed Osama Bin Laden in Pakistan in May.
Pakistani troops are involved in fighting the Taliban in the crucial border region area. Hundreds of militants have been resisting attempts by the security forces to clear them from southern and south-eastern parts of the district.