South Korea's Lee Myung-bak dons thermal pants to save power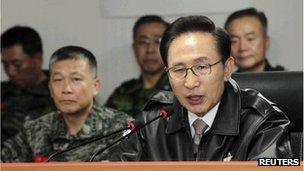 South Korea's president has said he will wear thermal underwear during the winter, as part of the government's effort to avoid power shortages.
Lee Myung-bak, nicknamed "bulldozer" for his no-nonsense style, said the underwear was uncomfortable initially, but he gradually got used to it.
He said all citizens needed to co-operate to avoid power shortages.
A surge in demand in September caused a massive blackout for millions of South Koreans.
Officials say unusually warm weather led to increased demand.
The government issued instructions to businesses, civil servants and citizens earlier this month instructing them to save power because the country's reserves were likely to be low all winter.
Big companies have been told to cut power consumption by 10% compared with last year during peak days.
Mr Lee said the country faced an "uphill battle" to avoid blackouts.
"I, for one, have recently lowered the thermostat in the place I work. Naturally, I had to wear warmer underwear," he said in comments reported by Yonhap news agency.
"[It] was uncomfortable initially. But after a while, I got used to it, and now I am very warm and comfortable wearing it."