China tycoon Huang Nubo angered by Iceland land move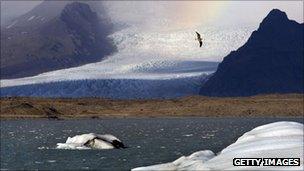 A Chinese business tycoon who hoped to buy a swathe of land in north-east Iceland has hit out at the government's decision to reject his bid.
Earlier this year Huang Nubo offered a billion krona (£5.4m; $8.8m) for the 300sq km (115 sq mile) Grimsstadir a Fjollum region.
But late last week Iceland's interior ministry said the deal did not comply with land sale rules.
Mr Huang accused the West of double standards.
"The rejection sent a message to Chinese investors that you are welcome to emigrate, or to buy properties and luxury goods, but if you want to engage in anything related with natural resources, you're not welcome here," he told the Global Times newspaper.
"We always hear some Western countries urging China to be more open, but at the same time, they set up trade barriers and guard against Chinese investors and companies."
Mr Huang had wanted to turn the land - about 0.3% of Iceland's total land mass - into an eco-tourist resort and golf course.
Some top Icelandic officials had backed the plan, saying it would provide jobs and was in the country's economic interests.
But others had voiced concern that the move would help China gain a strategic foothold in a region where climate change is expected to open up new shipping routes and make oil and gas deposits accessible.
On Friday, the interior ministry said that the deal would not go ahead because it did not comply with rules on foreign land ownership.
"The ministry believes that it's not possible to look past how much land the company wanted to purchase," it said in a statement.
"There is no precedent for land on this scale being sold to foreigners."
Mr Huang - who is the chairman of the Zhongkun investment group, and is also reported to have worked as a minister in the Chinese Central Propaganda Department and Ministry of Construction - said his proposed investment was purely commercial.
And he said he had not been made aware of the land-sale requirements.
"If I had known that we were not qualified, I wouldn't have wasted so much time and money on the case," he told the newspaper.