Singapore profile - Media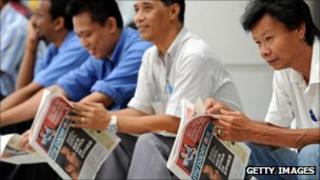 Singapore's media environment is highly controlled. Self-censorship is common, there are curbs on online content, and the private use of satellite receivers is not allowed.
Defamation and sedition laws allow the authorities to stop the circulation of news deemed to incite unrest or threaten national security, says Freedom House.
The government's Media Development Authority can censor traditional and online media, says Reporters Without Borders. It says the range of issues and public figures that are off limits for media coverage is growing.
Two players dominate the media scene. Singapore Press Holdings, which has close links to the ruling party, has a virtual monopoly of the newspaper industry. MediaCorp, owned by a state investment agency, operates TV and radio stations.
The BBC World Service broadcasts on 88.9 FM.
There were 4.7 million internet users by 2016 (InternetLiveStats). Up to 85% of Singaporeans go online for news, with 61% getting such content from social media, says Reuters Institute.
Websites carrying political content must register with the Media Development Authority, says Freedom House. Website owners and editors are criminally liable for any content deemed to be objectionable.
The press
Singapore Press Holdings (SPH) - publishes multiple newspapers, magazines, websites
The Straits Times - published by SPH
Business Times - published by SPH
Today - published by Mediacorp
Television
MediaCorp - operates entertainment-based Channel 5 and Channel 8, Malay channel Suria, Mandarin-language Channel U
Channel NewsAsia - news TV operated by MediaCorp
Radio
MediaCorp - operates more than a dozen stations including English-language news and talk station 938Live, music stations and Chinese, Malay and Indian services
SPH - operates English-language One FM and Kiss 92, Mandarin station UFM