China troubled by warming US-Burmese relations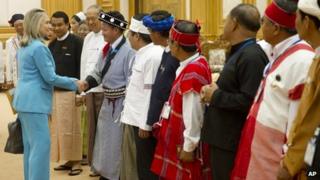 China appears nervous that its previously solid relationship with Burma could be under threat from the United States.
Beijing has publicly welcomed improved ties between its south-east Asian neighbour and the US - but it might not be as happy in private.
China has traditionally had strong ties with Burma, revealed in ever-bigger trade deals and greater military co-operation.
But US Secretary of State Hillary Clinton's current visit to Burma comes amid some signs of tension between Beijing and Nay Pyi Taw.
When the Burmese President Thein Sein visited Beijing earlier this year it seemed the latest in a series of friendly visits.
He said links with China were his country's "closest and most important diplomatic relationship".
But much has changed in Burma. National elections brought in a new government, which has initiated a series of reforms inside the county.
'Astonished'
Burma also seems to be taking a fresh look at its foreign relations.
As Mrs Clinton made her way to Burma, a senior state department official revealed how discussions between the two nations had altered recently.
At previous meetings, the Burmese would spend at least an hour lecturing the Americans - from a script - on topics such as imperial aggression.
"This has completely changed in the last several months," said the state department official.
Relations with China also took an unexpected turn in September when Burma ordered work to stop on a big Chinese-funded infrastructure project, the Myitsone Dam on the Irrawaddy River.
The project, agreed in 2006, was already well under way: people had been resettled, the site had been prepared and huge sums of money invested.
The postponement caught the Chinese by surprise.
"I learnt about this through the media and I was totally astonished," said Lu Qizhou, president of China Power Investment Corporation.
His company is the biggest investor in the dam project that will, if completed, supply electricity to China as well as Burma.
Military ties
Mr Lu said the Burmese prime minister had visited the dam site in February and urged his company to speed up construction.
"So the sudden proposal of suspension now is very bewildering," he added, in comments carried by China's state-run news agency Xinhua.
It is important not to read too much into this development, as China and Burma still have a very close relationship.
Two-way trade was worth $4.4bn (£2.8bn) last year - up from $2.9bn the previous year. This is expected to have grown significantly again this year.
Beijing is also behind a project to build an oil and gas pipeline across Burma into south-western China, to provide this massive nation with an alternative route for energy supplies.
And only this week a senior Chinese official from the People's Liberation Army promised greater military ties between the two countries.
During a visit by the head of Burma's armed forces, Min Aung Hlaing, he said there would be more sharing of equipment and training.
But Prof Jin Canrong, of Beijing's People's University of China, said Burma - also known as Myanmar - was pursuing a different foreign policy strategy.
"Burma is trying to normalise relations with the United States because it does not want to be too dependent on China," he said.
'No resistance'
That is not something Chinese officials say in public.
Speaking on Thursday, Chinese foreign ministry spokesman Hong Lei seemed pleased the US and Burma were talking at such a high level.
He said: "We believe that Western countries and Myanmar should enhance co-operation and improve relations."
He said "relevant countries" should lift their sanctions on Burma.
But privately China might be a little nervous, as an editorial in the Global Times newspaper suggests.
"China has no resistance toward Myanmar seeking [an] improved relationship with the West, but it will not accept this while seeing its interests stamped on," reads the article.
That could have been on Chinese Vice-President Xi Jinping's mind when he met Burma's military chief earlier this week.
"The friendship, forged by leaders of the older generation, has endured changes in the international arena," he said.
Mr Xi will probably be hoping that friendship survives intact, long after Mrs Clinton has left Burma.