Nepal leaders disagree over Maoists' army integration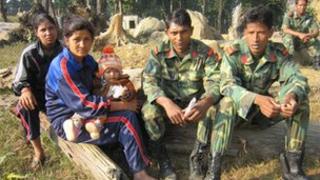 Nepal's main opposition has rejected pleas by the prime minister to allow more former rebels into the army.
In November politicians agreed that up to 6,500 former Maoist fighters could be integrated into the army. But many more than expected want this option.
They were given the choice of retiring, retraining, or joining the army.
Analysts say the development poses a dilemma for Nepal's leaders as the fate of these fighters has been the sticking point in Nepal's peace process.
Prime Minister Baburam Bhattarai met opposition leader Sushil Koirala to discuss the issue on Thursday.
But a spokesman for the Nepali Congress party said that it was not prepared to show flexibility, adding that it would "stand firm" over how many former insurgents would be allowed to integrate into the army and security forces.
Compensation condition
Opposition parties say that a new constitution for Nepal - a vital part of the peace process - cannot be drafted until the process of regrouping almost 19,000 registered former rebels has been completed.
Almost double the number of fighters expected have opted to join the army. Hardly any chose to be "rehabilitated" - the option most favoured by the opposition parties - which gives them cash incentives and training on income-generating schemes.
Correspondents say that Mr Bhattarai - himself a former Maoist rebel - personally urged Mr Koirala to agree to allow a larger number of former insurgents to join the military.
But the opposition Nepali Congress leader is reported to have argued that this should only be allowed to happen once people who lost land and property to the rebels during the war are adequately compensated.
Correspondents say that there is now the possibility of a protracted stand-off between the two main parties over the issue. Talks between them on the matter have in the past been bitter and hard-fought.
The Maoists launched their "people's war" in 1996. More than 13,000 lives were lost in the decade before the insurgency finally ended in 2006.